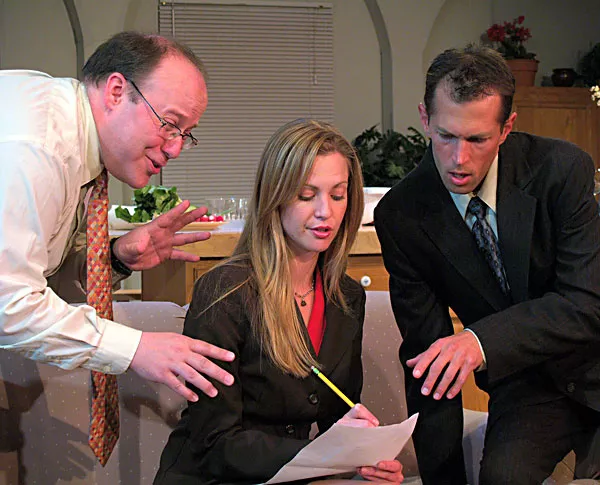 Edward Olson, Kimberly Haile and Victor Howard in NCRT's Love List.
Kimberly Haile (formerly known as Kim Hodel) has had featured roles with the North Coast Repertory Theatre, including Roxy in Chicago and Charlotte Corday in Marat/Sade, but this time she's central to the success of Love List, the buoyant comedy now earning laughs at NCRT in Eureka.
It's not that she carries it by herself. Edward Olson as Bill (a solitary statistician) and Victor Howard as Leon (a married but philandering novelist) have more dialog and stage time in this tale about two middle-aged men who draw up a list defining Bill's perfect woman. They establish the believable reality: Olson with his beguiling voice and early line readings that suggest an active acting intelligence, and Howard with his confidence and crisp delivery (as the writer, he gets more of the witty lines).
The script is itself a solid foundation, with built-in laughs and defined characters that still provide room for actors to add crucial colors. That it's perfect for community theatre makes perfect sense, because playwright Norm Foster (author of some 40 plays) started in community theatre in Canada.
But Haile's role of Justine, the "perfect woman" who suddenly appears, defines the direction that a production takes. When the guys change the qualities that define Justine, Haile ably and delightfully demonstrates more range than she's been called upon to produce before. But most important is how Justine is portrayed from the start. Since her fantasy perfection is defined by two men, she must be beautiful, but a tick towards the wrong kind of beautiful — too vulgar or too innocent — would throw off the feeling that in this context she's real and magic at the same time.
With her particular natural beauty, an ingénue enthusiasm channeled into relaxed and economical gestures, and the conviction she brings to the reality of Justine, Haile makes the magic work. She brings a quality of guileless sincerity that is breathtaking, and makes Justine not just a vain dream but the personification of perfection. No wonder Bill is so besotted that he's willing to forget that her existence is completely inexplicable: this perfect-for-him woman conjured by words and (it's broadly hinted) spare skin cells adhering to the household dust.
But of course there are multiple ironies ahead as well as a version of the old switcheroo, plus the lesson that perfection is impossible and the trick is to see "imperfection perfectly." Most reviews of other productions string innumerable clichés to make the point that this play is funny, with some adding that it's profound, and others that it's shallow. In at least one interview, playwright Foster glories in insisting that he's shallow (as he has Justine call Leon's novels), but for me, the truth lies somewhere in between. There are facile contrivances and conventional and bluntly stated insights, but Foster hides structural subtlety within a strong framework. He's dealing with both a pop culture phenomenon ("real" mates conjured by a love list, as recounted in the pages of Oprah's magazine) but also powerful archetypes from Galatea to Pinocchio. So: a fun summer comedy, plus.
Among her accomplishments, director Carol Escobar provides pace and motion, and probably was responsible for making the male characters younger than called for in the script — something else that likely adds to the sweetness and gentle ironies. Edward Olson designed the impressive set, Calder Johnson the effective lighting, and Genneveve Hood the expressive costumes. Howard Lang designed sound, and Olson also designed the poster, which doesn't look as if it caused him much pain. Kelsey Larson runs the light and sound, and William Nevins provided scenic art.
With Love List closing its current performance year, NCRT announced its upcoming season, beginning with a series of classics for fall and winter: The classic musical Guys and Dolls starts in September, the Dickens classic A Christmas Carol in November and Shakespeare's Romeo and Juliet in January (a run that includes Valentine's Day). In March the contemporary drama by John Patrick Shanley, Doubt, offers the opportunity to see the original stage version of the recent award-winning movie that starred Meryl Streep. The spring musical is Gypsy and the summer comedy will be Over the River and Through the Woods by Joe DiPietro. For season tickets: 442-NCRT.
Coming Up: Ferndale Repertory Company opens the Gothic musical thriller Jekyll and Hyde, based on the famous Robert Louis Stevenson story, on Aug. 6. The run of weekends includes four Sunday matinees, and ends with one on Aug. 30. Information and reservations: 786-5483.
Also on the 6th, visiting Cornerstone Theater opens Jason in Eureka at the Blue Ox Millworks Historic Park, with a cast of around 35, mostly from the North Coast. This site-specific production still needs some backstage help the week of Aug. 2. Volunteers can call 800-385-7791, which is also the number for reservations. The show runs just one weekend: Aug. 6, 7 and 8.
Redwood Curtain presents Fiction by Steven Dietz, a contemporary drama about a couple sharing more secrets than maybe they should, at the Arcata Playhouse on Aug. 7, with weekend performances through Aug. 22, including a matinee on Sunday, Aug. 16. 443-7688.