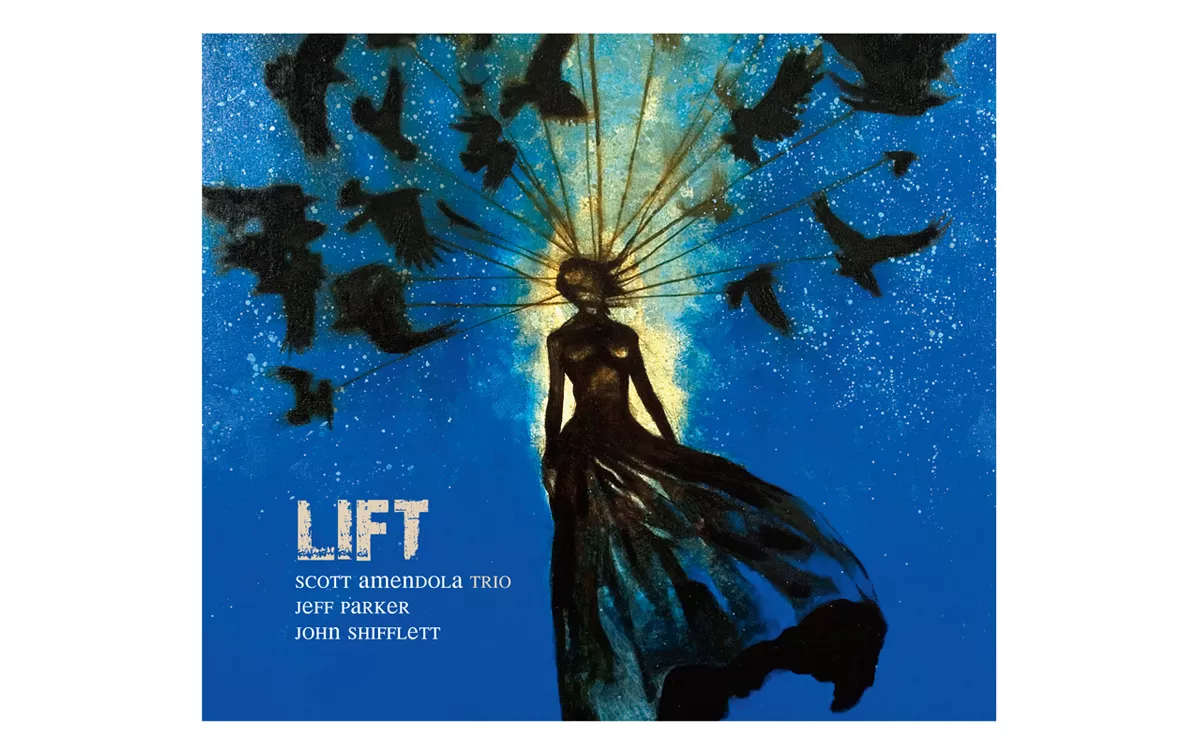 By The Scott Amendola Trio - Sazi Records
Lift
Oakland-based drummer, percussionist and composer Scott Amendola belongs to an elite group of contemporary musicians who have paved new avenues for contemporary music and jazz. Amendola's strength is his constant inventiveness and improvisational skill, or adding subtle touches within the deep pocket of unrelenting groove.
The list of musicians he has played and collaborated with is overwhelming, including John Zorn, Bill Frisell, Charlie Hunter (with whom he formed TJ Kirk), Carla Bozulich, Ben Goldberg, Jenny Scheinman and most closely with Nels Cline. Amendola, an integral force in The Nels Cline Singers, is a musician's musician whose wide array of skills keeps him in high demand.
It is not surprising that Amendola has brought a number of his direct influences into the compositions for his new solo release, Lift. He pared down the last formation of the Scott Amendola Band (previously a quintet) to a trio, with Jeff Parker on guitar and John Shifflet on bass. Lift, which was also produced by Amendola, reaches for a large sound as a three-piece unit. That, coupled with the absence of two key players, violinist Jenny Scheinman and guitarist Nels Cline, whose energy and vibrancy contributed to the excellent 2005 Amendola recording, Believe, presents a challenge.
"Cascade" is both minimal and dense, highlighting Amendola's love of active dialogue with the bassist -- be it Devon Hoff, Trevor Dunn, Charlie Hunter or in this case, longtime collaborator Shifflet, whose lyrical bass lines provide the central pulse of the piece. Amendola combines the organic with the industrial, blending warm tones with a number of effects. Musical themes of how the natural environment intersects with the urban one are often the most intriguing aspects to Amendola's compositions.
While the heavy Link Wray-meets-Ennio Morricone guitar-noir of "The Knife" and the somewhat misplaced "Death By Flower" display the trio's muscular side, it is on the subtle pieces that the trio is most effective. "Blues For Istanbul" contains dual melodies intricately executed by John Shifflet's rhythmical and tonal lines interplaying with Parker's fluid passages. The funky blues of "Lima Bean," reminiscent of Amendola's earlier work with TJ Kirk, allows for some explosive guitar work by Parker, longtime member of Chicago-based experimental outfit Tortoise.
Inspired by Mexican artist Victor Zubeldia, whose painting "The Angel" adorns the cover, Lift is an eclectic group of compositions that, like its cover art, attempts to fuse light and darkness. Though Lift doesn't quite match the arcs and the overall cohesive quality of Believe, it does show Amendola as a composer exploring new musical paths. The album's closer, "Lullaby For Sascha," perfectly balances the delicate "lullaby" with a darker sea shanty influence, quoting the chorus of the ominous Scottish folk song, "My Bonnie Lies Over the Ocean." At this apex, Lift quietly takes off.