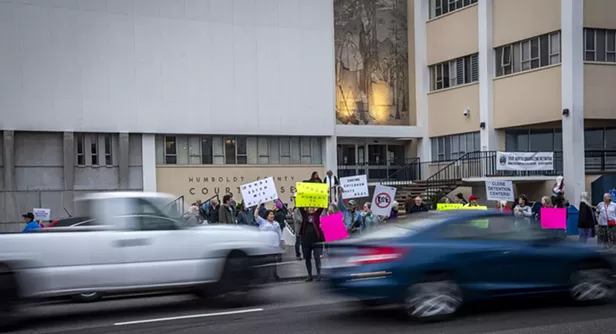 Mark Larson
Early arrivals gathered along Fifth Street in front of the Humboldt County Courthouse and waved signs to passing vehicles.
Mark Larson
Ashley Bissonette, of Eureka, and others arrived early to create protest signs from materials provided by the organizers.
Mark Larson
The short formal part of the vigil featured presenations by community activists and local religious leaders.
Mark Larson
Participants in the candle-lighting ceremony had to protect their flames from gusts of wind blowing along Fifth Street.
Mark Larson
As the formal presentions at the vigil ended, organizers invited attendeeds to light candles as a symbolic gesture of sharing.
Mark Larson
A spontaneous song fest closed the event, beginning with the song, "This Little Light of Mine," and an updated lyric, "All across the borders, I'm going to let it shine."
Mark Larson
These young children from Eureka at the vigil, accompanied by an adult (Not pictured), created their own signs to hold up along Fifth Street, which happened to fit in well next to the "Because they're children" sign.
Mark Larson
Sophie Jenkins, of Blue Lake, researched on line ahead of the event to find her favorite protest statement and then made her own sign to bring to the event.