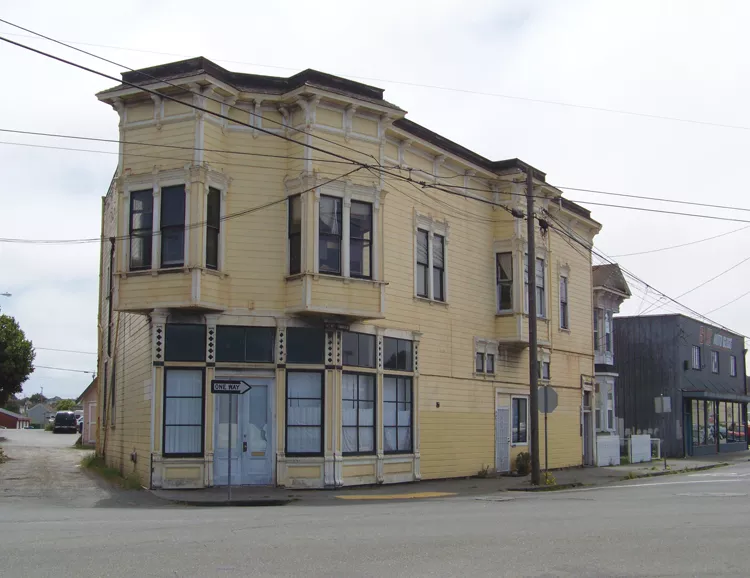 photo by HEIDI WALTERS
607 SUMMER ST.
It's been 10½ months since Humboldt County Superior Court Judge Dale Reinholtsen deemed the condition of six rental properties owned by Floyd and Betty Squires so bad they constituted "a substantial endangerment" to residents and the public, requiring immediate takeover by a court-appointed receiver.
The receiver, Mark S. Adams, president of California Receivership Group LLP, based in Los Angeles, was appointed a month later, on Oct. 24. His job? To seize the six properties, inspect them and begin managing and rehabilitating them -- collecting rents and hiring crews to fix the multitude of health and safety building code violations. (The receiver would use the rents to pay for the work, as well as liens put on the properties, as needed, which the Squireses would have to pay off.)
But none of that happened. Shortly after the judge's order, the Squireses appealed the ruling and posted a $50,000 bond to stop the judge's order -- effectively suspending the receivership, and Adams' inspections, and leaving the properties in the Squireses' hands until the case is resolved. (The Squireses, meanwhile, sued Adams, alleging he trespassed and violated tenants' privacy in his initial inspections. That case is active.)
Adams said in his 10 years as a receiver, he has never seen a case like this.
"I've handled a total of 64 cases, up and down the state, ranging from a small duplex to a Grapes of Wrath kind of migrant camp of 4,000 in the Coachella Valley," Adams said. "I've had three other cases in Eureka ... but Floyd Squires is by far the most vexatious and harassing slumlord I've had to deal with by far. And the really landmark aspect of the Squires case is that a city had the resolve to take on a 26-property slumlord in one case; as far as I know, that's not happened before or since anywhere else in California. For the city to perceive it as a systemic problem and to go after all the properties of an owner as opposed to just this property or that property -- it's extraordinary."
The six properties are among 26 named in the city of Eureka's lawsuit against the Squireses in January 2011, alleging "ongoing and pervasive" violations. With the exception of a vacant parcel and the Squireses' personal residence, the 26 properties constitute the couple's entire holdings within the city limits. The status of all 26 could change as the litigation unfolds -- but for now, what is happening with the apparently most-terrible, singled-out six? Are people still living in them? Have the Squireses fixed the violations?
Last week, many apartments in those buildings seemed lived in. Two tenants we contacted spoke freely. Others wouldn't talk. Some wanted to complain about problems they say the Squireses haven't fixed, but they didn't want to be identified, saying they feared being evicted. And many apparently weren't home, or it was difficult to get to their front doors without trespassing.
Brian Gerving, chief building official for the city of Eureka, gave us a rundown on the status of the six properties -- for some of which the Squireses have gotten permits to do extensive work, he said. But many violations remain.
117-119 Fifth St.
This is where the Squireses have done the most repairs, said Gerving. Since 2002, the city has been citing this two-building property, which contains a commercial space, two apartments and six boarding rooms. Among the issues: broken windows, crumbling stucco, cockroaches, plumbing and electrical violations, and a lack of emergency exits, natural lighting and ventilation in some apartments. The Squireses have finally repaired the dilapidated facade. But multiple issues remain inside.
202 Third St./315 C St.
Mark Lufkin, of Lufkin Photo at 202 Third St., wasn't home when we stopped by his quirky, Old West false-front styled studio. But he phoned later. His place is in good shape, he said, and in fact has had no code violations. It's the big warehouse on the same parcel, addressed 315 C St., that's got problems. Lufkin, who's rented his place from the Squireses for 12 years, said he's on good terms with Floyd Squires.
"I had a leaking water heater -- a slow leak that I had told him was not urgent," Lufkin noted, adding without rancor, "But it did take him a year to replace that water heater."
At 315 C, says Gerving, the 1950s-era warehouse has been illegally converted into two apartments. The city ordered the apartments vacated last January, before it filed its lawsuit, and had the power disconnected. Nobody's living in them now, as far as Gerving knows. But "nothing's been done to resolve the violations," either, he said.
1637 Third St.
Andrew Craig, who lives at this rambling apartment building with his mother, was standing barefoot outside last Friday afternoon talking to a friend. He said he has no problems with the Squireses' management.
"Our house is in pretty good shape," Craig said. "If we have a problem, they have one of their repairmen come right out."
Gerving said the Squireses have not applied for permits to repair the numerous violations in the five units on this property, including a rotting porch, broken windows and damage to a couple of apartments still unrepaired after a long-ago fire.
1233 A St.
Pigeons were getting in the attic and pooping everywhere, filling the gutters and endangering the health of the residents of the six apartments here, said Gerving. There were electrical and plumbing violations. Some apartments lacked emergency exits, others natural light and ventilation. Water heaters were installed improperly. In March, the Squireses got a permit to resolve some violations; a subsequent inspection by the city found the work to be incomplete.
607 Summer St./119 West Sixth St.
Of the six units in this large, shabby, pale yellow Victorian, two lack emergency exits and natural light. There are miscellaneous plumbing and electrical violations elsewhere; an apartment without a functional heater; and walls put up in two units without a construction permit. Gerving said the Squireses got a permit in June to do repairs, but a later inspection revealed most of the violations remained.
216 Third St.
Fourteen apartments occupy this smudgy white block of a building on the edge of Old Town. Over the years, the city says, some of them have had inoperable heaters, plumbing and electrical issues, inadequate emergency exits, smoke alarm issues, broken windows, cockroaches and rotten siding.
"They got a permit in January 2011 to do siding repairs, and those have not been completed," Gerving said.
Gerving said his department periodically gets calls from some of Squireses' tenants asking what's going on.
"They're wondering when things are going to get fixed, and we tell them we're waiting on the court of appeals," Gerving said.
The city continues to take in new complaints as well, and has opened some new code enforcement cases on some of the Squireses' properties, although Gerving didn't have an exact count.
"Many, many of these properties have had issues for years -- literally 20 years in some cases," he said.
The Squireses did not respond to our request for an interview. Their attorney, Bradford Floyd, said the trial for the city's case has been set for Oct. 1.