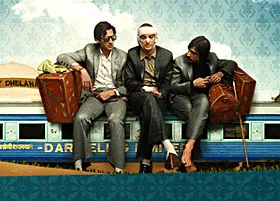 Darjeeling Limited. Charlie says: "...the viewer never knows what to expect."
Previews
I suppose the major opening on Friday, Nov. 2 is American Gangster , a film based on a true story and directed by Ridley Scott in a return to the action film genre. Starring heavyweights Denzel Washington as a Harlem drug king and Russell Crowe as the cop determined to take him down, the film is set in the '70s, which is bound to recall classics such as The Godfather . I hope it measures up. Rated R for violence, pervasive drug content and language, nudity and sexuality. 167 m. At the Broadway, Mill Creek, Minor and Fortuna.
Martian Child stars the appealing John Cusack as a sci-fi writer who is still trying to deal with his wife's death two years ago but who considers adopting a child (Bobby Coleman, Must Love Dogs ; Friends with Money ) who spends most of his time in a box and who believes he's from Mars. Also starring Amanda Peet, Joan Cusack and Oliver Platt. I've been looking forward to this film. Rated PG for thematic elements and mild language. 116 m. At the Broadway and Mill Creek.
From DreamWorks is the animated family comedy Bee Movie about a bee (voiced by Jerry Seinfeld, who also co-wrote and co-produced) with a B.A. who is bored just making honey and decides to sue us humans because we eat it. Also featuring the voices of Renée Zellweger, John Goodman, Chris Rock, Kathy Bates and a host of others. Rated PG for mild suggestive humor, and a brief depiction of smoking. 100 m. At the Broadway, Fortuna and Mill Creek.
Written, directed and produced by Adrian Belic, Beyond the Call is an independent documentary about three men who in their midlives decide to bring medical supplies and food to needy areas of the world that no one else is helping. An intriguing topic from the director of Genghis Blues , a film about a Mongolian throat singer. Not rated. 92 m. At the Minor.
Reviews
THE DARJEELING LIMITED: There is no question that Wes Anderson brings a distinctive style to his films. The old French New Wave film critics of the 1950s would have clearly labeled him an auteur . From Rushmore in 1998 through The Royal Tenenbaums (2001), The Life Aquatic with Steve Zissou (2004) and now The Darjeeling Limited , Anderson has developed his unique style and peculiar humor into an identifiable body of work. The fact that he writes or co-writes the screenplays gives him additional control over his material.
I would guess that for many viewers his films represent either an acquired taste or an innate identification with his sensibilities. I didn't cotton to Rushmore , which caused me no end of grief with friends who thought it was brilliant, but I enjoyed Tenenbaums and found Life Aquatic tiresome.
Darjeeling continues Anderson's balancing act between the serious and the send-up. The film begins with a clever short entitled "Hotel Chevalier" that is designed to be shown before the main film (eventually, it's labeled Part I of The Darjeeling Limited ). It introduces one of the brothers, Jack Whitman (Jason Schwartzman) who is visited by a former girlfriend, played by Natalie Portman.
As it transpired, I found the short more interesting than most of the main film. The primary story centers on the spiritual journey of brothers Jack, Peter (Adrien Brody) and Francis (Owen Wilson), the latter of whom has arranged the itinerary with tedious and occasionally humorous detail. Presumably the train trip across India is designed to bring them together again. Only later does Francis mention that one of the trip's goals is to track down their mother Patricia (Anjelica Huston), who is in a nunnery.
The joy of Anderson's films is that the viewer never knows what to expect. But, as usual for me, I found the film a mixture of interesting and humorous moments and tedium. Others will have their own individual reactions. At the very least, Anderson is willing to step well outside the mainstream. Rated R for language 110 m. At the Broadway.
ACROSS THE UNIVERSE: Julie Taymor's ( Titus ; Frida ) films may also polarize viewers and I can see where her latest, Across the Universe , might strike some as pretentious. As for me, I found myself totally captivated from the opening image and became submerged in Taymor's world.
In short, my critical sensibilities were largely put aside and I can't say it's because it brought back the '60s for me. I spent the first half of the '60s buried in a Ph.D. program and only in the second half of the decade did I realize there was an actual world outside the library and I didn't have a clue what was happening.
In an opening reminiscent of Stop Making Sense , where David Byrne walks out on an empty stage, sets down a tape player and turns it on, Taymor begins her film with a young man sitting on an empty expanse of beach who turns to the camera and begins to sing "Hey Jude" unaccompanied. His name is indeed Jude, a Liverpool dockworker who leaves his lady friend and travels to the U.S. to find his biological father (a G.I. stationed in England during World War II).
His father turns out to be a maintenance worker at Princeton, where Jude hooks up with Max (Joe Anderson, Becoming Jane ) and his younger sister Lucy (a wonderful Evan Rachel Wood). The three drop out and go to Manhattan, where the majority of the story transpires as they meet a varied and interesting group of people, including antiwar protesters.
Using the actors to sing the Beatles music, Taymor beautifully and skillfully weaves together the music, its themes, the culture of the '60s and a love story, taking stylistic risks at every turn, all of which worked for me. Note should be made of the excellent Dana Fuchs as Jude's singer/landlady, who manages to sing her Beatles songs in Janis Joplin's style without losing their essence.
But the whole cast deserves great credit. I guess it's not just depressing material that uplifts me. Highly recommended. Rated PG-13 for some drug content, nudity, sexuality, violence and language. 141 m. At the Broadway.
DAN IN REAL LIFE: I wish I could say Dan in Real Life added something to the commercial romantic comedy genre, but no such luck. Plus, I'm apparently the only filmgoer in America who doesn't find Steve Carrell funny.
The setup itself is promising. Dan (Carrell) is raising three daughters on his own following his wife's death. As the film opens, they are all off to Rhode Island for a family gathering at his parent's vacation house. In the nearby town, he meets Marie (a captivating Juliette Binoche) at a bookstore when she mistakes him for an employee and asks for his advice about a book to buy.
Dan almost immediately falls in love — who wouldn't? — but shortly thereafter, he discovers that Marie is his brother Mitch's (Dane Cook) new girlfriend. He and Mitch are close and, additionally, Dan has been trying to scotch a budding romance that his middle daughter Cara (Brittany Roberts) has been involved in because she's too young and hasn't known the guy long enough.
These barriers to true love should make for a challenging plot, but at every turn the story fumbles its development. Cook does puppy dog decently and Carrell is best in his serious moments, as in a nice scene where he apologizes to his youngest for ignoring her. Emily Blunt ( My Summer of Love ; The Devil Wears Prada ) is wasted in a small role where she's supposed to be a sexy alternative to Binoche. As if.
The film has its moments, most of them Binoche's, but I found it disappointing. Rated PG-13 for some innuendo. 108 m. At the Broadway and Mill Creek.
LOVE IS THE DRUG: I love to support independent films, but in all honesty I can find little of merit in this first feature from director Elliott Lester. The fault lies in the screenplay, not with the mostly young cast, who are decent actors.
The film tells the story of social outsider Jonah (John Patrick Amedori), whose single mother, Sandra (Daryl Hannah), sacrificed to send him to an exclusive prep school. Jonah has a serious crush on spoiled, sexy Sara (TV actor Lizzy Caplan) and he attempts to become part of her crowd, all of whom have too much money and no visible parents (Sandra is the only parent shown in the film). Endless scenes of bored caressing, joyless simulated sex, partying, drinking and drug-taking occupy much of the film.
So what's a poor guy from the wrong side of the tracks to do to get his dream girl when she's already got a boyfriend from her own class? Well, still waters run deep and a well-placed roofie here and there may do the trick.
The dialog is weak and the plot degenerates into the worst form of bloody melodrama, stifling whatever real emotions the film may have been after. Caplan provides the film's best moments when her nice reactions suggest a depth the film itself can't achieve. Rated R for pervasive drug and alcohol abuse, language, sexual content and an act of violence, all involving teens. 106 m. At the Minor. ENDS THURSDAY, NOV. 1.
Continuing
3:10 TO YUMA: Remake of the 1957 Western that made " yuma " universal Cuban slang for "America." Stars R. Crowe, C. Bale. Rated R. 117 m. At The Movies.
30 DAYS OF NIGHT. Bloodthirsty vampires invade a town in Alaska where they use the cover of winter's uninterrupted darkness to feed on the town's residents. Rated R. 113m. At the Broadway, Mill Creek and Fortuna.
THE COMEBACKS. Comedy that spoofs inspirational sports films. Rated PG-13. 87 m. At The Movies and Mill Creek.
GAME PLAN. Superstar quarterback (T. Rock) discovers he has a daughter. Rated PG. 110 m. At The Movies and Fortuna.
GONE, BABY, GONE. Ben Affleck's directorial debut, based on a novel from the author of Mystic River, examines the ongoing investigation of a little girl's mysterious disappearance. Rated R. 113 m. At the Broadway and Mill Creek.
THE HEARTBREAK KID. The Farrelly Brothers remake Neil Simon. Shmuck (B. Stiller) marries wrong girl, finds true love shortly thereafter. Rated R. 116 m. At The Movies.
INTO THE WILD. College grad abandons his material possessions then hitchhikes to Alaska to live in the wild. Rated R. 149 m. At the Broadway.
MICHAEL CLAYTON. Clayton, a sleazy lawyer at a New York firm, faces his biggest challenge when another lawyer sabotages a multi-million dollar case. Rated R. 120 m. At The Movies, Mill Creek and Fortuna.
RENDITION. An Egyptian-born chemical engineer falls victim to extraordinary rendition. His wife tries to track him down while a CIA agent questions his involvement in the man's interrogation. Rated R. 123 m. At The Movies.
RESIDENT EVIL: EXTINCTION. Title says it all. Rated R. 94 m. At The Movies.
SAW IV. A SWAT commander has 90 minutes to overcome demented traps and save an old friend or face the deadly consequences. Rated R. 95 m. At the Broadway, the Minor, Mill Creek and Fortuna.
WE OWN THE NIGHT. Bobby Green, manager of a legendary Russian-owned nightclub in Brooklyn in 1988, deals with police corruption, Russian gangsters and NY's booming drug trade. Rated R. 118 m. At the Broadway.