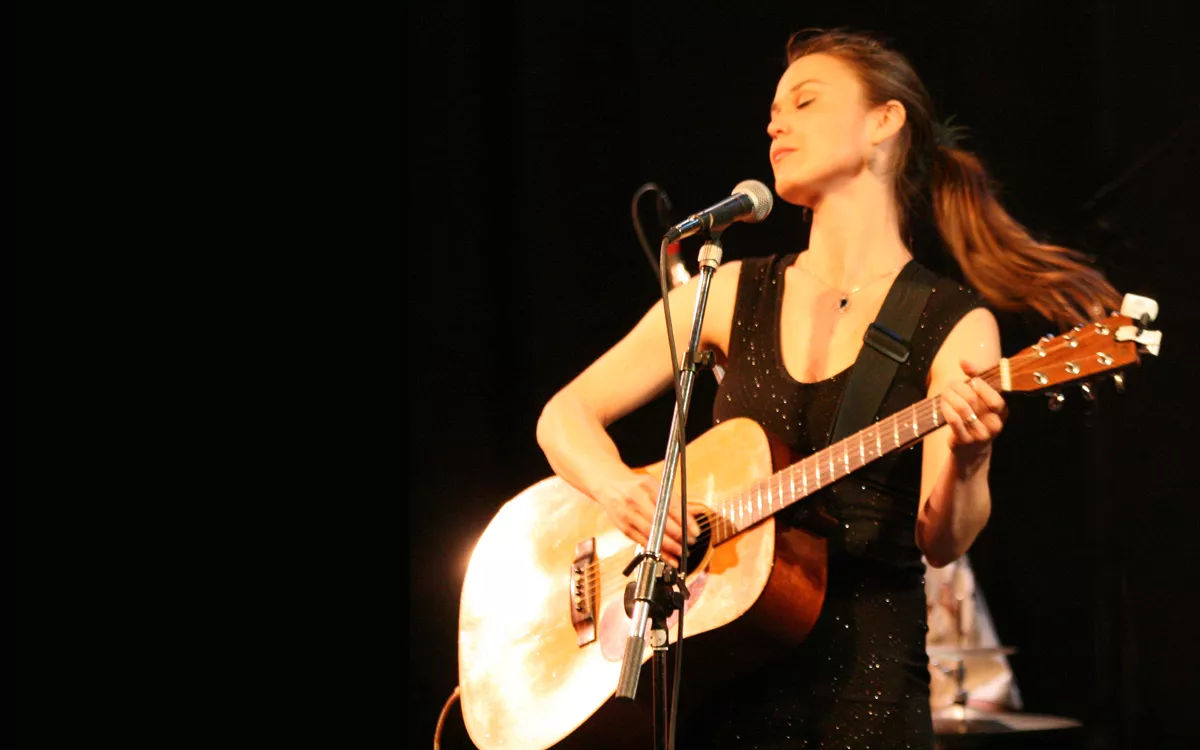 photo by Bob Doran
Lila Nelson
Remember "listening to music?" You know that experience where someone creates something that goes in your ears, is processed by your brain and, in some cases, ends up in your heart never to be released? Yeah, neither do we. We're old and busy now. Sucks, don't it?
Mike Dronkers would like to help you feel again. As evidenced every day from 10 a.m. to 2 p.m. on KHUM radio, the quickest and sharpest mouth/brain on Humboldt airwaves loves the connection human beings experience through music and would love to convert you. His latest proselytizing method? UpStage Live, a musical forum allowing both host Dronkers and the listening audience the chance to interact live with compelling soundsmiths.
UpStage Live is essentially an up-close-and-personal in-studio radio interview -- conducted onstage by Dronkers himself -- with the added benefit of the energy from a live audience. Giving an artist the opportunity to share not only their art, but also allowing them to ruminate on where it came from is an experience Dronkers describes as "brain catnip." There are three ways to get your fix: The shows are aired live on KHUM radio, shot and mixed live by Lynette Nutter and streamed by Streamguys through Upstage-Live.com and khum.com (with live commenting) or, most thrilling, staged live and in-person in a theater near you.
Excerpts from past ULs are easily YouTube-able. But this week, you'll have two opportunities to get UpStaged live. First, on Saturday, April 2, get cozy with uplifting musical and life partners Karen Savoca -- providing soulful, spiritual, introspective vocals -- and Pete Heitzman, whose guitar work is funkily rhythmic, yet tastefully sparse. The upstate New York duo have been featured on The Today Show, Mountain Stage and Prairie Home Companion and are currently touring in support of Savoca's seventh album Promise. They will follow their hour-long Upstage segment taped and broadcast from the Arcata Playhouse with a full-on concert.
Next, on Monday, April 4, allow yourself to be aurally seduced by folk singer/songwriter Lila Nelson, a former Humboldt fixture and once a KHUM personality in her own right. Nelson's lilting melodies and sharp wit will be complemented by the tight harmonies of Portland's Come Gather Round Us. UpStage Live's intimate format is almost tailor-made for Lila's people-winning skill set. Get in on this.
Both shows will benefit from the warmth of the Arcata Playhouse and start at 8 p.m. Remember, while the live feed for Upstage Live only runs for an hour, the concert continues for at least another set, sometimes two. Saturday's show is $14 or $12 for Playhouse/Humboldt Folklife Society members, Monday's is $12/$10. For more info, visit Upstage-live.com.