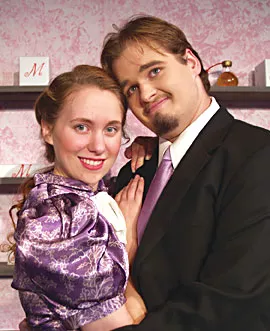 Caitlin McMurtry as Amalia, Rigel Schmitt as Georg in the NCRT production of 'She Love Me.' Photo courtesy North Coast Repertory Theatre.
She Loves Me at the North Coast Repertory Theatre is a delight not because the show features classic songs, or because the story has major surprises. It's because NCRT, which usually does these nostalgic musicals well, has put together a polished production with an accomplished ensemble cast to express the show's musical and character charms.
This show by stage veterans Joe Masteroff (book), Jerry Bock (music) and Sheldon Harnick (lyrics) was an old-fashioned musical comedy even at its premiere. She Loves Me opened on Broadway in April 1963. The Beatles released "She Loves You" that August. That pretty much tells the tale: Though there were a few classic shows to come, changing musical tastes and other factors meant that particular golden age of the Broadway musical was coming to an end.
That first production was considered a flop, but the double album of its music kept the show alive. It became a staple of regional and community theatre, leading also to somewhat more successful Broadway (and especially London) revivals in the mid-1990s. In 1983 it was the first production of the brand new North Coast Repertory Theatre in Eureka. It's now back on stage at NCRT to celebrate the theatre's 25th anniversary year.
Based on a play set in Hungary (which accounts for character names like "Arpad" and "Ladislav"), She Loves Me is set in a shop that sells perfumes, beauty creams and trinkets in an unnamed 1930s European city where unseen economic and political woes have no impact on sales or romance. Ignoring the Depression was common in 1930s film musicals, too, and crucial to their success.
The romantic plot -- two people fall in love through the mail with someone they've never seen, then unknowingly become involved in an antagonistic relationship with each other in real life -- has been done so many times (as in Nora Ephron's movie, You've Got Mail, which adds elements of the Tracy-Hepburn comedy Desk Set, penned by her screenwriter parents), that it's obvious from the first moments what's going to happen, and to whom.
So no surprises there, and no hit songs or rescued gems in the score. But the tunes are pleasant, and the lyrics deft and witty. (I envy these songwriters. "What did you did at the office today, dear?" "Oh, I rhymed 'adolescent' with 'incandescent.'") Most of the principal actors get at least one spotlight number, and they all shine.
In the romantic leads, Caitlin McMurtry as Amalia is particularly winning, and Rigel Schmitt as Georg capably leads us through the story with his character's ups and downs. Phil Zastrow hits the character notes of shopkeeper Mr. Maraczek, from blustery authority to wistful retirement.
Patrick Carlisle is convincingly reptilian as Kodaly, the perfume store Lothario. Kimberlee Brown's fine costuming is especially apt for this character: His polka dot bow tie and checked jacket are the definition of what once was called "snazzy."
Xande Zublin-Meyer entertains as the fetching Ilona, more a bemused modern than working-class floozy. Ethan Needham is an appealing Ladislav, the timid clerk with a cosmic perspective, and Ethan Vaughan as the young Arpad is especially winsome, with his ability to express emotion in his postures.
As usual, Anders Carlson makes the most of his one big scene, as the headwaiter who enforces his café's "romantic atmosphere" with Prussian insistence. The café scene is also notable for some accomplished comic acrobatics.
The unseen "orchestra" was economical and tasteful: Wally Cooper on synthesizer provided elegant variety, Laura Welch was admirable on piano (especially picking up her music box cues), and Bobby Amirkhan kept the pulse on bass. This instrumentation proved very effective.
Finally, directors Dianne Zuleger and Tom Phillips put together a show that flows and works as a whole, while constructing solid individual scenes with variety in staging, movement and acting. In addition to the musical solos, the harmonies and group numbers are crisp and affecting.
The first act is about 90 minutes and feels long, perhaps due to the number of songs without a memorable hit (although Caitlin McMurtry can stop the show more than once). But there are few if any slack moments in this production. The subplots and romantic byplay keep the story interesting, and the setting of the shop (with Cindy Brown's serviceable set) is used well. Who could not be charmed by a store where the clerks sing sweet farewells to the customers? The Christmas shopping theme and an evocative Christmas number might help to brighten an otherwise anxious holiday season.
As for that first production of She Loves Me at NCRT, there seems to be a dearth of documentation. So if anyone who was there -- or was part of it -- would like to share their memories, I'd love to hear from you.
Coming Up: The first performance of Dell'Arte's annual holiday show, The Glasnost Family Holiday, is Nov. 28 at the Carlo. Traveling dates are posted at www.dellarte.com. All shows until the final weekend are free ... Nov. 28 is also opening night for Ferndale Rep's stage production of the cult holiday film, A Christmas Story. Details at www.ferndale-rep.org.