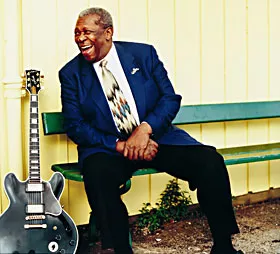 B.B. King. Submitted photo
It was around 60 years ago when young guitar player Riley B. King left his farm job in Indianola, Miss., for the bright lights of Memphis, Tenn. Living at first with his cousin, the bluesman Bukka White, he made an impression quickly and landed a spot on harmonica great Sonny Boy Williamson's radio show. Later he got his own show — "King's Spot," later called the "Sepia Swing Club." On the radio he was called the Beale Street Blues Boy, then Blues Boy King, a name that was eventually shortened to B.B. King. A string of hits that started in the '50s and continued for several decades earned him the title "King of the Blues." It's a crown he wears well.
When he brings his guitar Lucille to the Van Duzer on Tuesday, Sept. 11, B.B. will be just a few days short of his 82nd birthday, and while he now performs in a chair he doesn't seem ready to stop playing the blues. He takes good care of himself, doesn't smoke or drink, watches his diet (he's a vegetarian) and carefully monitors his blood sugar to keep his diabetes in check (you've seen the TV commercials). So it's possible the farewell tour he started when he was 80 might go on forever, but you never know. There are still a few tickets left for the show — if you love the blues, you should probably buy one. It's not likely anyone quite like B.B. will pass this way again.
Michelle Cable of Panache books all sorts of bands, none of them boring, and Old Time Relijun , a band from Portland playing Thursday, Sept. 6, at the Accident Gallery, is anything but. The incendiary, sometimes transcendental, often acerbic band is led by Arrington de Dionyso, a trained throat singer who explains, "My music ignores Western concepts of harmonic and melodic progressions and opts instead to converse with the raw elements like thunder, or sex, or earthquakes." Also on the bill, Othian and Nipplepotamus (about whom I know nothing) and The Monster Women , returning to the club scene after a brief maternity hiatus.
When he's not out on the road singing and playing guitar (or at home in England writing about the blues) guitarist Adam Blake plays sitar for Cornershop. (Remember "Brimful Of Asha"?) Adam plays blues guitar Friday at the Jambalaya.
It's been five years since the Arcata cops ran Bebop and Brew out of town. While similar music/beer events have popped up in other local cities, there was always a dream of resurrecting BB&B in some form, maybe in Blue Lake. KHSU's former development director Charles Horn was developing that idea when he was unceremoniously fired in July, which left event planning to others. As a result, Saturday's KHSU on Tap fundraiser at Blue Lake Casino's Sapphire Palace will be a bit different from Chas' original plan. The music's pretty good though, with Blue Lake's own Rubberneckers playing Political Songs About Drinking , DJ Dub Cowboy spinning reggae and such, swingin' old-timey tunes by Falling Rocks and maybe even a bebop number or two mixed in with the gypsy jazz from fiddler Rob Diggins and Friends , whose "friends" for this gig are the members of the Tom Toohey Trio.
Over in Eureka that day from noon until 4, it's the first in the Old Town Fall Concerts , assembled by Humboldtmusic.com with a diverse collection of local bands: Hwy. 36 rockers Melange , former Slackjaw guitarist Jeff Kelley (who currently plays with Peggy Martinez as one half of Fred and Wilma), Jimi Jeff with his Hendrix funk and soul and Mike Kapitan's Miles Davis jazz tribute, Miles Ahead . The series runs every Saturday in September and each show is equally eclectic.
Meanwhile, at Southern Humboldt Community Park, the Mateel presents Pipejam, a skater's dream, with a big half-pipe, pro-skater Frank Hirata doing demos, his kinda folky trio, End of June , playing tunes, along with locals Sub/Sab , North Coast Underground and a few other skaterish bands from out of town. Plus: The Rad Girls who are cute, edgy, and on cable TV, and that's like totally rad, dude.
Later that night, the Alibi plays host to a benefit for the Humboldt Council for the Blind , an advocacy group that's trying to make life easier for the sight-impaired. James "Little Jimmy" Forbes , bassist for Henpecker , is the council's president, so it's a natural that his band's playing. The above-mentioned Peggy Martinez of Fred and Wilma is a past prez, so F&W is on the bill. I think Jay Dirt (formerly of Slewfoot) sees just fine, but he's moving back to Sacto, so we probably won't be seeing as much of him.
Things are hopping on the HSU campus Sunday, Sept. 9, with the AS Presents Fall Harvest Festival in the Kate Buchanan Room while Portland's red-hot multi-culti neo-lounge act Pink Martini is at the Van Duzer. The 12-piece cocktail music ensemble has a cool new album out — Hey Eugene! , another trip around the world with the sultry vocalist China Forbes singing in French, Spanish, Russian, Japanese, Arabic and English. The Fall Harvest Festival moves indoors this year and goes quasi-bluegrass with hippie jamgrass band Hot Buttered Rum from the Sierra hills and The Devil Makes Three , a high-energy neo-old-timey trio from Santa Cruz.
Sunday afternoon down in Fortuna the folks at Redwood Memorial Hospital "celebrate the healing power of music" with another Concert on the Green , this time featuring songwriter David Fouche (who also plays at Gallagher's Friday and Saturday), jazz by the Eureka Brass Band , rockin' blues by St. John and the Sinners and bluesy rock by NightHawk (who play Saturday at B.L. Casino's Steelhead Lounge).
Also on Sunday afternoon, Ishi Dube and Massagana bring the reggae beat to the Arcata Plaza for the second show in a brief concert series aimed at reclaiming the town square. The first concert was this last Sunday, with Magnolia playing to a sparse crowd while the I Block Party was raging right around the corner. Will someone please tell the Arcata Main Street folks that it's a dumb idea to start this series on the Sunday before Labor Day, which has been I Block's day for a long time? (I'm thinking they might not listen to me, unless they're over all that Disorientation bidniz.)
The hardworking Ishi Dube is also part of a show Saturday night at Mazzotti's, with Virgin Islands reggae star Ras Attitude headlining and Ishi's friend Jah Sun sharing the bill playing songs from his new disc, The Height of Light . (Ras Attitude is on it.)
Massagana heads south after the Plaza gig for a Sunday evening benefit at the Mateel for the African Birth Collective , who describe themselves as "a group of international midwives, doulas and birth activists working together in West Africa to share skills and knowledge." The women are raising money for medical supplies, translation of midwifery textbooks and an ambulance for a community in Senegal. They are offering an African meal and the requisite silent auction, African drumming and dancing "to remind you of our true tribal nature" plus African-inspired world fusion by Takala featuring Malick Diallo Bah , followed by Ishi and Massagana . Expect a generally uplifting experience.
Speaking of uplifting, Up With People is in town next week bringing "56 young people from 19 countries" for a few days, culminating in a show Wednesday, Sep. 12, at the Arkley Center for the Performing Arts. As detailed in the almost always reliable Wikipedia, UWP was founded in 1965 as an offshoot of an international organization founded by Protestant evangelist Frank Buchman. Once called Moral Re-Armament, that group is now known as Initiatives of Change and is dedicated to "building trust across the world's divides of culture, nationality, belief, and background." My memory of UWP in the '60s was of an unrelentingly clean-cut crowd of pious do-gooders, ripe for parody. I get the impression that they've become less religious and a bit more multicultural in recent years (some even have beards) and I'm thinking their mission, "bringing the world together," doesn't sound all that bad. The question is: Do they rock? Somehow I doubt it.