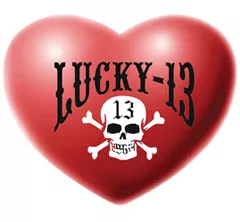 As you are undoubtedly aware, Saturday, Feb. 14 is Valentine's Day. It's not totally clear why the saint's days for a couple of obscure Christian martyrs morphed into an international celebration of romance and love -- and an excuse for the marketing of candy, flowers and greeting cards -- but that's what happened. Since the "holiday" falls on a Saturday this year, it's also being used as a marketing tool for various events, places you might want to take your Valentine for a romantic night on the town. In fact, the whole weekend has become Valentine-ized with even Friday events pulled into the lovers holiday concept.
That's where it starts getting a bit weird, since we're talking about Friday, Feb. 13 -- yes, Friday the 13th. How did Friday the 13th get a bad rap as an unlucky day? Again, it's uncertain, but some point to Frigga, a Norse goddess of love and fertility who was banished by Christians, then joined forces with 11 witches and the Devil to turn the day named after her into a Witch's Sabbath. And there are others who contend that it's because of the mass arrest of Knights Templar monks on a certain Friday the 13th in the 14th century, which led to torture-induced confessions of heresy. More recently, thanks to a very successful movie franchise, the day has become associated with hockey masks and machete mayhem on young lovers.
In some cases this weekend the two quasi-holidays get conflated, for example the Friday the 13th Valentine's Day Massacre at the Lil Red Lion, a show commemorating 80th anniversary of the execution of some Chicago gangsters featuring four metal bands: Awaiting the Apocalypse from Washington and locals Sadistic Hallucinations, Forcefed Trauma and Madhammer. For some, the Satanic vocals, piercing guitars and pounding drums will make for a romantic evening.
In last week's Hum, you learned a bit about Inferknow and their need for funds for the completion of the Area 74 plan. Their next benefit is on Friday, something they're calling the Villaintines Ball. This one's a worldbeat affair for lovers starting early (6:30 p.m.) with an optional dinner from Three Foods Café (reservations required) followed by music (at 9 p.m.) by local samba troupe Janky Mallets and Albino! a 10-piece Bay Area "heavy, heavy Afrobeat" ensemble inspired by the music and revolutionary message of the late, great, extremely funky Fela Kuti. Expect wild costumes, wild dancing and a generally wild time.
Local funksters Moo-Got-2 play a Friday the 13th show over at Humboldt Brews with local hip hop/DJ collective Open Minds. MG2 drummer Darin Mitchell, also the band's resident graphic artist, always creates inventive fliers for their shows. This week's borrows Jason's infamous hockey mask to chilling effect. "I figure if people see a cool picture, they'll think it's a cool show," explained the always cool Darin when I ran into him outside last week's Inferknow benefit at the Jam.
James Moore from Blue Rhythm Revue writes to say that BRR is playing Friday the 13th at Blue Lake Casino and on Valentine's Day at the Forks in Willow Creek. "Ha ha, I think our music is perfect for Valentine's," Moore notes. "The casino hinted they may make a special blue-colored drink for our Friday show. The Food and Beverage Manager apparently loves soul."
Which takes us to Valentine's Day proper. Chris Wixson's new band, Speakeasy Saints, plays on V-Day for something he's calling the Black Hearts Ball at Six Rivers Brewing. Wixson describes the Speakeasy Saints music as "blue groove," elucidating: "It's blues-tinged, mostly original -- not straight blues in a musical sense, but definitely with that vibe." Wixson's better known as a bassman, but he's out front playing guitar on this one. The other Saints are John Murdock on bass, Matt Engel from Steve Watts Band on keys, Justin Schwartzman from Massagana on horns, and SoHummers Fred Brock-Bunting on slide guitar and Michael Curran from Humboldt Time on drums. (BTW Humboldt Time plays Friday night at Cecil's.) Like Moore, Wixson figures the music will be just the thing for Valentine's. Of course blues and soul typically touch on the darker side of love and romance. "We do a lot of love songs, on both sides of the coin -- because love is like that," Wixson concludes.
Local Deadheads will surely take their Valentines to the Eureka Theater Saturday to hear BK3 (lots more about that show in our calendar section); then they'll head over to the Red Fox for the official Passion Presents after-party featuring Humboldt's top G. Dead tribute band, Play Dead. (Yes, the Dead did love songs.)
V-Day brings Elvis and the Houndogs, allegedly "Humboldt County's one and only Elvis tribute band" to Muddy's Hot Cup for a "'50's Sock Hop and Valentine's Costume Party" on Saturday with the jazzy Luscious Ladies opening. "Costumes of a retro and/or Valentine's nature are greatly encouraged," advises one of the Ladies.
The retro-rockin' Delta Nationals provide music for dancing at the Valentine's Dance at the Arcata Community Center, which doubles as the Fireman's Ball, with proceeds from the raffle, silent auction, no-host bar, etc. going to the Arcata Volunteer Fire Dept. Building Fund.
Über cool jamband Jacob Fred Jazz Odyssey plays Valentine's night at New World Ballet (in the Old Arcata Creamery) for the "Warm & Fuzzy Pajammy Jam" with a "special down-tempo set" by JSUN, plus Ragnarokk. "Why a ballet studio?" the organizers ask rhetorically, answering their own question: "Well, one word sums it: 'Heat.' That's right heat, because who wants to hang in pajamas in the cold." (They'll have prizes for the "styliest pjs.")
The Pajammy Jam starts late (11 p.m.) as does the V-Day show at the Alibi featuring self-described "psych-heads and way-outs" The Freeks, who indeed sound freaky, psychedelic and way out. They're on tour with Sassy, a two-piece from S.F. who favor go-go boots and fishnet hose. The ladies, guitarist Trixie Delicious and drummer Kitty Largewood, sent me their latest, Get a Grip, a blast of short, tight neo-garage rock songs with '60s-style girl-group vocals that sound, well, sassy.
How about before and after V-Day/F-13 weekend? Thursday, Feb. 12, at the Pearl Lounge you can dance to cutting edge electronica by 3WS, a collaboration between DJs Ana Sia and Danny Corn, who promise a bass-heavy 4-hour endless set as they kick off a 10 city tour.
That same Thursday at HSU's Kate Buchanan Room, the not-particularly reverend, Rev. Horton Heat heats things up with some balls-to-the-wall punkabilly with retro-rockers Throw Rag from Salton Sea along for the ride.
You find more punka-/psychobilly Monday night at the Pearl as The Hillbilly Hellcats barrel in from Boulder, Colo.
Along with the above-mentioned BK3 show, there's a TR3 show coming up Sunday at Humboldt Brews. TR3 is a trio led by guitarist/multi-instrumentalist Tim Reynolds, a long-time associate of Dave Matthews on a break from touring with DMB. TR3 is on tour with the like-minded Marcus Eaton Trio (aka ME3?)
And what would life be in Humboldt without a reggae show? Not to worry, the classic JA roots harmony trio The Mighty Diamonds plays HumBrews Monday backed by the Yellow Wall Dub Squad. Remember "Pass the Kouchie" 'pon the lef' hand side? Donald "Tabby" Shaw, Fitzroy "Bunny" Simpson and Lloyd "Judge" Ferguson got together in Kingston in 1969 and 40 years later they're still at it, still dread.
One more last minute addition: Oakland post-hip hop collective Restiform Bodies are on the road with EGadz and N1nth Cloud. The tour stops by Big Pete's Pizza Wednesday, Feb. 18, for an all ages benefit for KRFH radio. Be there!