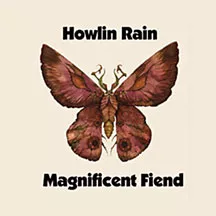 Magnificent Fiend by Howlin Rain
CD by Howlin Rain

American/Birdman
As Howlin Rain prepares for an intense year of touring in support of Magnificent Fiend, one cannot help but cheer the developing story of a small-town boy who has gone out into the world and done good for himself. From his days as an English major to his years with the much-acclaimed Comets on Fire, Eureka's Ethan Miller has been busy writing this tale. Howlin Rain is simply his latest chapter.
Howlin Rain's self-titled debut, released on Birdman Records in 2006, was a raw and rootsy affair that drew upon country, folk and psychedelic influences, the album's sound drifting wide across the spectrum, from lazy banjo rolls and acoustic wanderings to fuzz-busting and riotous guitar jams. And as Miller puts it, the band, just a trio then, recorded it "in a very short time with a very small budget and whole lot of whiskey and chance."
Magnificent Fiend, in contrast, benefits from a year of careful planning, the deep pockets of American Records, and the support of super-producer Rick Rubin. It also sees the Howlin Rain family, which includes Humboldt natives Ian Gradek on bass and Mike Jackson on guitar, grow to five members. Joel Robinow from Drunk Horse is a key addition to the lineup, his deep-grooving Hammond organ providing a rhythm and soul that has been long lost in rock 'n' roll. His playing is gospel-like in swing and gives the band the kind of white-boy swagger it needs to make songs like "Lord Have Mercy" and "Goodbye Ruby" authentic in their down-home approach.
After opening with some odd trumpet-led noodling, Magnificent Fiend kicks into gear with the hard rocking, guitar-laden groove of "Dancers at the End of Time," a song penned in homage to Michael Moorcock and his series of science fiction novels of the same title. The band has taken full advantage of its expanded roster by adding depth to their songwriting. Leads and solos that were played with reckless abandon on the first album are now performed with a consideration that displays great maturity without sacrificing intensity. Check "Calling Lightning Pt. 2" and its shrewd interplay of keyboard and guitar for evidence. Of course, not every song rocks. There's a bohemian mysticism woven in the mellow strains of "Nomads" and a bit of Dead-like harmonization in the album's closing "Riverboat," both of which seem appropriately representative of the band's Lost Coast origins.
Ethan Miller's vocal performance is impassioned throughout, varying from the ragged whiskey-gravel of a young Rod Stewart to a romantic melancholy reminiscent of Terry Reid. There are times when Miller appears somewhat pained by his separation from home, and in a recent interview he acknowledged Humboldt "is a place I have run to and run from at different points in my life. It is not a place where you can belong as an outsider, and yet its arms are always open if you are willing to stay." It's a paradox reflected in the lines of "El Rey," in which Miller assures us, or perhaps himself, "You don't have to change, you don't have to hold onto your past. You don't have to carry it down this path, it's all part of the deal."
Where will the tale of the small-town boy head next? Well, Howlin Rain's current tour takes it to Mexico, across the States, over to Ireland, England and Wales, up to Norway and beyond. With any luck we'll see Miller and company in these parts within the coming months and hear the story ourselves.