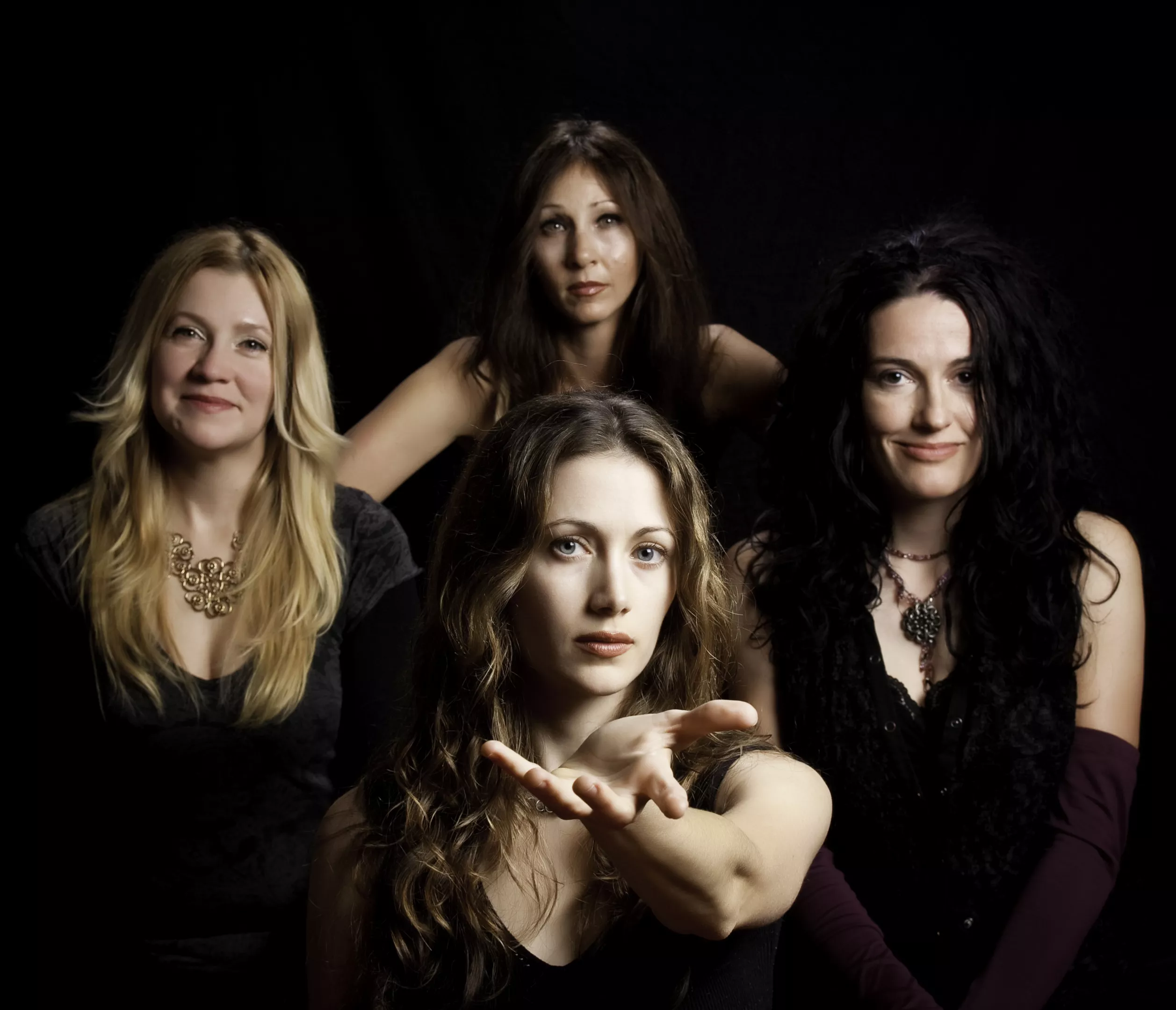 photo by Terrence McNally
Zepparella
Was there a better way to end a day of sun, oysters and beer? Doubtful. Humboldtians lucky enough to have snagged tickets packed the Arcata Theatre Lounge for a sold out, post-Oyster festival double-bill featuring the all-female Led Zeppelin tribute band Zepparella and local '80s metal killers Magnum. One thing was for sure: Eardrums would not survive the night.
Magnum triumphantly hit the stage first, thereby putting behind them the torment that was #zeparellagate [sic]. (Earlier this year the band was forced to pull out of opening for Zepparella under mysterious circumstances. No biggie. It's all in the past now.)
On this night, the band had the luxury of playing in front of a loop of '80s workout videos, projected monstrously large on a screen behind them. And work out they did. Lead singer Terrence McNally, dressed to the nines in a white suit and an "I <3 Bangkok" t-shirt, brought to the table a mixture of self-deprecating humor, over-the-top showmanship and a seemingly endless supply of combs. It's funny how perception changes with time. Whereas I was impressed with Terrence's vocal (we'll call it) range, a fellow concertgoer commented to me, "He sounds like Jack Black." Hmm... I guess he does, but... Oh well. Tight and well rehearsed, the band pleased those they were attempting to please and horrified those who "didn't get it." Well done.
Even before Zepparella began their set, fog machines filled the cavernous ATL with their mist. With the band clothed in angelic white and lit from below, from the outset you knew you were about to be blessed by spectacle. To be clear, their effort at Zep-emulation is impressive. Lead singer Anna Kristina has perfected her Robert Plant mannerisms. Bassist Nila Minarok displays the dexterity of John Paul Jones. Drummer Clementine plays spot-on fills, while headbanging like Bonham. But the reason the band is so effective at making you feel like you're in another time and place is their embrace of Led Zeppelin's penchant for improvisation. The original Zep's live versions of their songs never had quite the same feel as their albums. Neither does Zepparella. You'd have to agree, pulling off an engaging 20-minute version of "Dazed and Confused" is no small feat.
I might be off-base on this point. Admittedly, this was my first Zepparella show, but was I the only one who assumed that they were required to play "Stairway to Heaven." I didn't actually mourn its absence and can understand, musically, why it's not in the setlist, but I doubt AC/Dshe -- an all-female AC/DC tribute band where two Zepparella members first tribute rocked -- gets the luxury of not playing "You Shook Me All Night Long" because they think it's a cliché. Then again, I'm sure they had their reasons. Perhaps I just missed the (a la Wayne's World) "No Stairway to Heaven" sign. Did you see one?