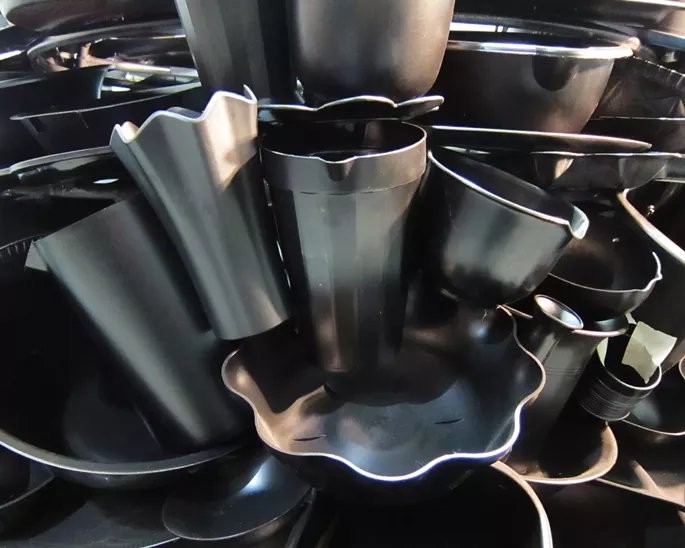 5 slides
Water. The planet is covered in it. Our bodies are made up of it. Here in Humboldt County, we get more than our fair share in the form of rain, rivers and the sea. When it comes to water, one thing's certain. Whether it's for drinking, cooking or bathing, whether it's bottled, boiled or briny -- any way you look at it, it's an inescapable, essential part of our lives.
Enter local artist Eric Tillinghast. He looks at water a little differently: He sees it as a material, a medium for his work.
Tillinghast's most recent work in an ongoing series of water-based sculptures and installations will be on display at Piante Gallery in Eureka starting in February. While his creations have been shown throughout the U.S. and abroad, the Piante exhibit, "Fountains," represents his first major installation locally.
Tillinghast has been using water as a major component in his work since the mid-'90s. It was, in a sense, a process of elimination that led him to choose water as his core medium. "I was just finishing school. ... I'd gotten to the point where I knew I was interested in making sculpture, but I'd done bronze and I'd done stone and all the different things you do and none of those really felt that exciting to me," explained Tillinghast. "I realized that water was sort of exciting to me as a sculptural element and a challenge." At that point, he began asking himself how he could make sculptures that incorporated or isolated water. "It just sort of took off on its own after that," he said.
The water series began as sculptures incorporating water elements, but the pieces developed over the years. They became what Tillinghast described as "sculptures of water with water."
With his fountains, Tillinghast returns to his earlier, more structural pursuits. The new work explores the technology and history of fountains. "This is a big change in terms of content," Tillinghast said, explaining that the new work is less controlled and more playful than some of his other recent work. "It's got a lot more going on, it's a lot messier, it's a lot more fun -- water splashing everywhere. ... It really is full circle. The first couple water pieces [back in the '90s] were real messy, impractical things." Still, Tillinghast noted, in his newest work water is "the primary, visceral element."
The Piante installation consists of three fountains. The main piece is a 12-foot-tall "wishing well" constructed of found objects including plastic kitchenware (bowls, cups, plates, etc.) and items scavenged at thrift stores. These materials are painted black and then fixed to a cone-shaped metal framework. The water gushes from the top and cascades down and through various objects. "I'm hoping it's challenging and fun," said Tillinghast. "I haven't seen a wishing well for many years now, but as a kid I used to really like them." Visitors to the gallery are encouraged to toss coins into the well, adding a performative element. The other fountains in the exhibition are smaller, thematically similar works suspended from the ceiling.
Despite working with water for close to 20 years, Tillinghast said, "I keep thinking of new things to do with it. As an artist, that's an ideal situation, because as I'm finishing one there's always ideas for the next one or the next several. ... And so that's what's kept it moving forward after all this time -- that element of discovering new things as you're working."
The catalog of images on the artist's website shows a range of his often minimalist, meditative work. In his artist's statement, he writes, "My primary interests are in our perceptions of water as a natural element and resource, and creating an experience that examines those perceptions."
While his stated goals sound a bit dry (pun intended), the work leaves the viewer with a strong sense of wonder and surprise, as something as familiar as water is presented in new, visually unexpected contexts. Look for Tillinghast's "Fountains" to add more surprises to this already impressive body of work.
"Fountains" opens at Piante (620 Second St., Eureka) on Saturday, Feb. 2, in conjunction with Arts Alive and runs through Feb 23. Gallery hours are noon to 5 p.m. Tuesday through Saturday or by appointment. To view more of Tillinghast's work, visit his website at www.erictillinghast.info.