They're tucked away in workshops large and small, in converted garages and industrial parks all over the county. They're Humboldt's luthiers, skilled craftsmen turning slabs of wood into exquisite acoustic and electric guitars, banjos, mandolins and less familiar stringed instruments. Their market is international, ranging from world famous musicians to casual pickers. A few of our local luthiers have been pursuing this musical trade for decades, building strong businesses and passing along what they've learned to apprentices. Now the next generation is doing the same.

Two of the most influential pioneers in Humboldt instrument making got going in the early 1970s. That's when Wildwood Music founder Mark Platin was building traditional banjos and building a business in Arcata. Around the same time, Steve Helgeson of Moonstone Guitars was setting up shop in an old shingle mill in Moonstone Heights, teaching himself how to craft fanciful electric and acoustic guitars.

Both businesses flourished, and Platin and Helgeson became employers, teaching others the trade. Some of them ended up setting up shop on their own. All the luthiers we visited for this photo essay have worked for Wildwood, Moonstone or someone schooled in their traditions; some have worked for both. And forget the six degrees of separation rule when it comes to these Humboldt luthiers -- they're all directly connected, one way or another.

Moonstone Guitars




Steve Helgeson sits among the woodworking machines in his shop in a double-decker garage at his home in Kneeland. The workspace is the latest incarnation of Moonstone Guitars.




A sheet of south seas abalone, known as pāua shell.




Helgeson glues in strips of pāua, adorning a guitar headstock.


Abalone and pāua decoration at the heel of a Moonstone guitar.
Helegeson plays his 18-string double neck acoustic. In the early days of Moonstone Guitars, in the '70s, Helgeson built a custom double necked guitar/bass hybrid with eagle head headstocks for Leland Sklar, a bass player who toured with Jackson Browne. It ended up on one of Browne's album cover, which led to a enough growth in his business that he once employed over a dozen woodworkers at a shop in Arcata. Today Helegeson mostly works alone doing custom orders.
Guitar forms hang on the wall in the Moonstone Guitars shop.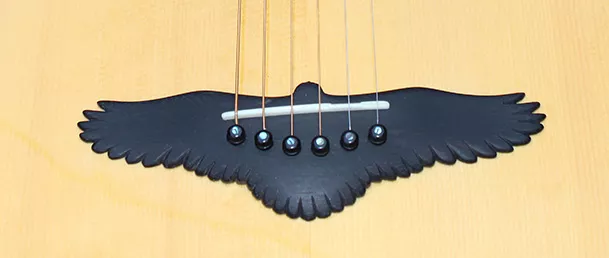 Hand-carved ebony eagle bridge.
A guitar in progress adorned with a spalted madrone sunburst. (Spalting is a discoloration caused by fungus.) The madrone was sliced from a piece of firewood Helgeson almost burned in his woodstove.
Navigate Making Wood Sing
Moonstone Guitars
Kenneth Lawrence Instruments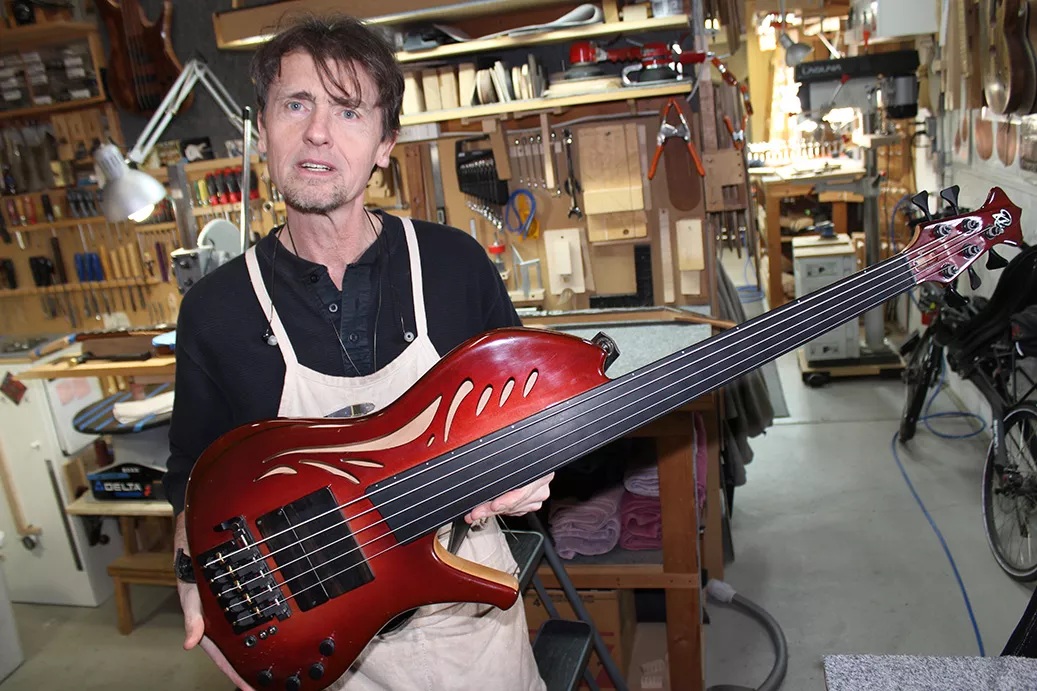 Ken Lawrence in his workshop is in the back of Wildwood Manufacturing. He holds a five-string fretless chamberbass he built for himself eight years ago.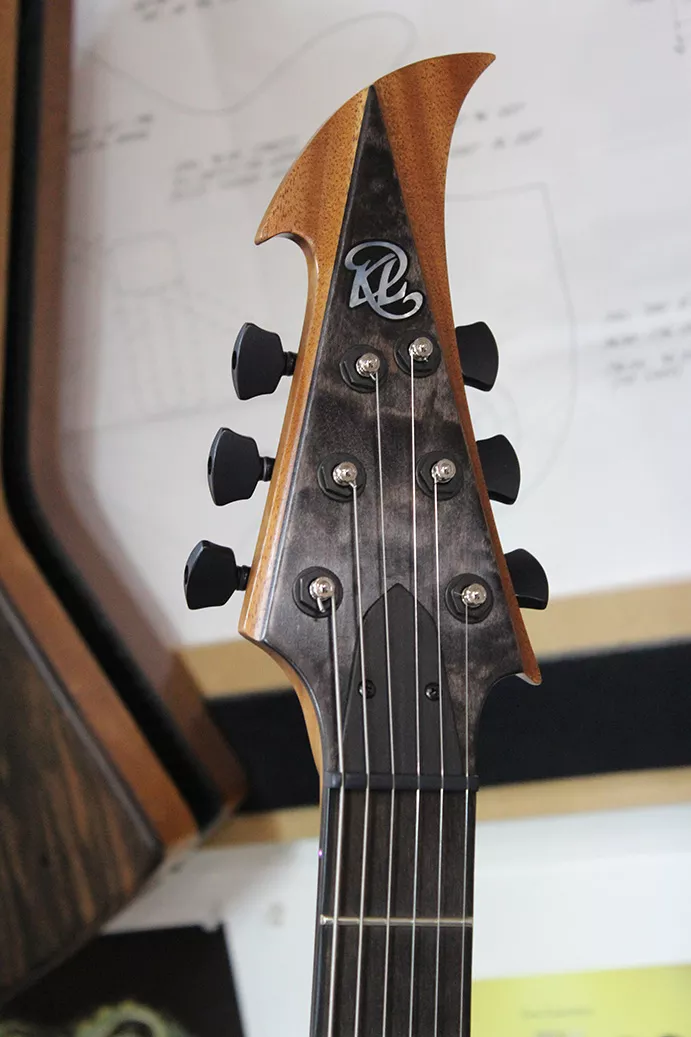 Headstock for a Kenneth Lawrence Instruments guitar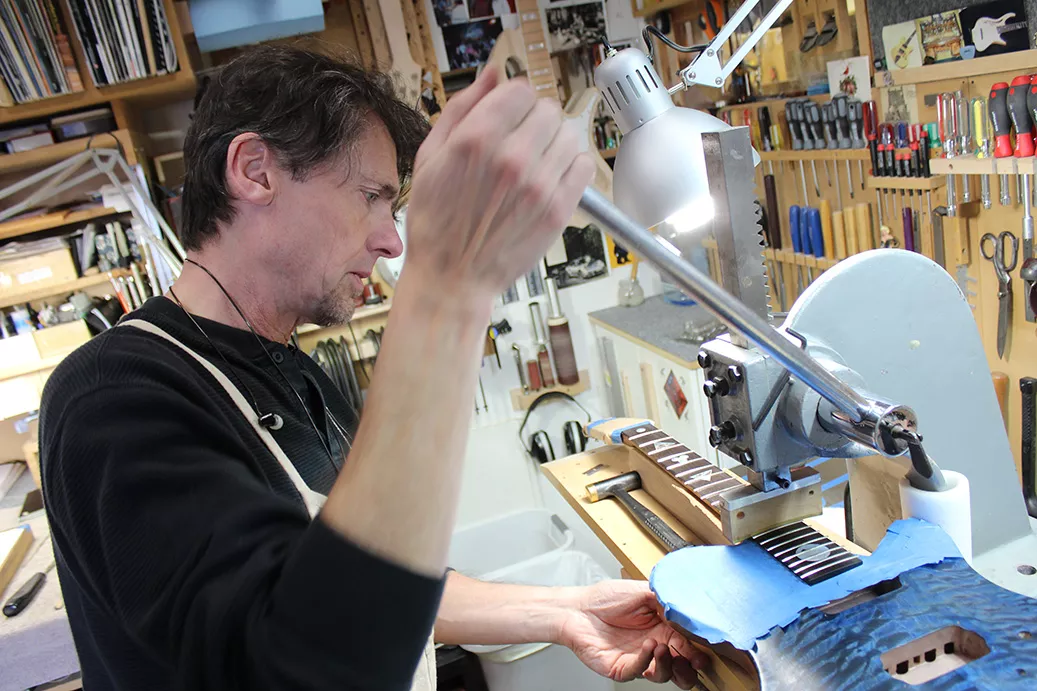 Lawrence sets a fret on a custom blue guitar he's building for Bruce Hamilton, owner of Wildwood Manufacturing since 2008.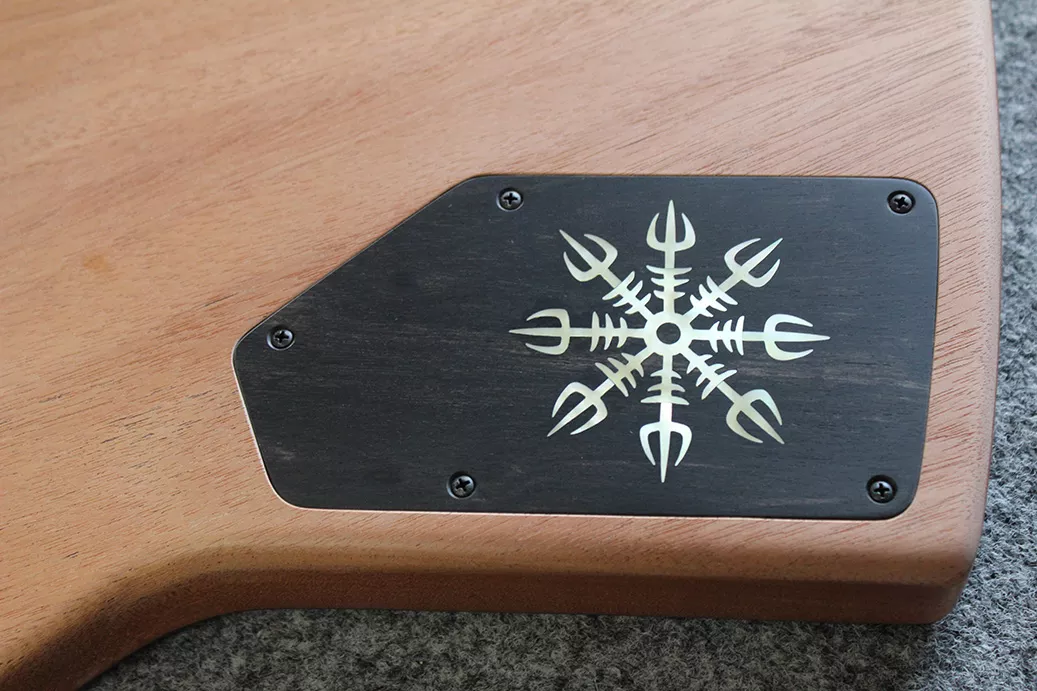 The ancient Norse design aegishlajmur decorates a custom guitar Lawrence is building for a heavy metal musician in Norway. Known as "the helm of awe," the symbol magically induces fear and protects its bearer. The Lawrence picked up a lot of new orders when he started building guitars for Metalica guitarist James Hetfield.




Stacks of guitar and bass bodies show Lawrence's backlog of orders. At this point he tells new customers to expect a two-three-year wait on new orders.

Navigate Making Wood Sing
P.W. Crump Co.




Phil Crump holds his first Irish bouzouki, an instrument he built after learning the luthier trade working with Mark Platin doing repair work at Wildwood Music.



In the mid-'70s, Crump set up a woodshop in the garage of his Fickle Hill home. His business picked up when he built a bouzouki for Michael Holmes from the Irish band Dervish.




A dozen necks for custom orders in progress await finishing. Crump specializes in instruments from the mandolin family including mandolins, mandolas, octave mandolins, citterns and bouzoukis.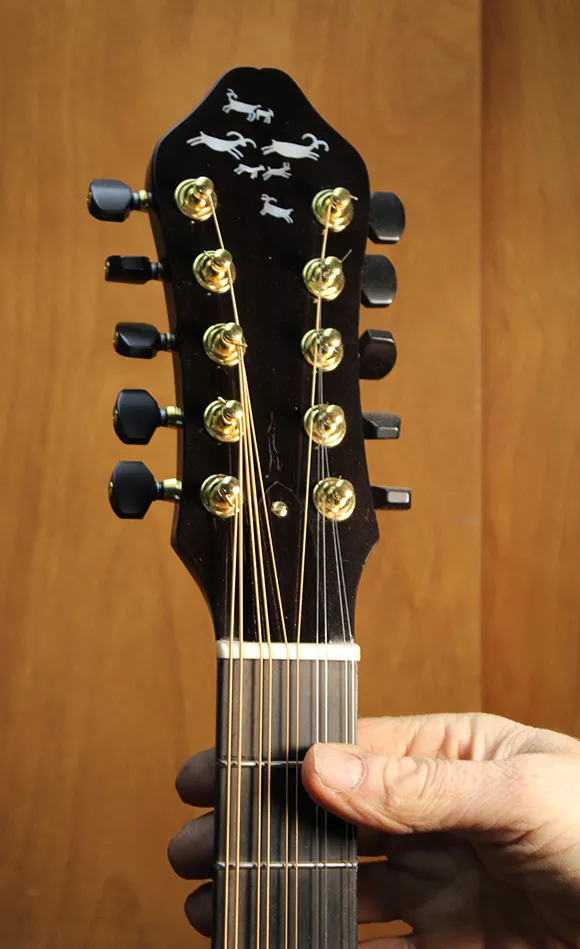 Inlays of mountain goat petroglyphs in the headstock of a custom cittern reflect the buyer's interests beyond Irish music.

Navigate Making Wood Sing

Moonstone Guitars
Wildwood Manufacturing




"We're not really luthiers," says Bruce Hamilton, head of Wildwood Manufacturing. The woodshop, located in an Arcata industrial park, specializes in what's known in the industry as OEM, original equipment manufacturing. The company ships around 600 unfinished guitar necks and bodies a month to small-scale guitar builders, with about 20 percent going to the international market.




Production Manager Jeff Callahan heads a small staff carving out bodies and necks, a dozen or so at a time, using a CNC (computer numerical control) milling machine.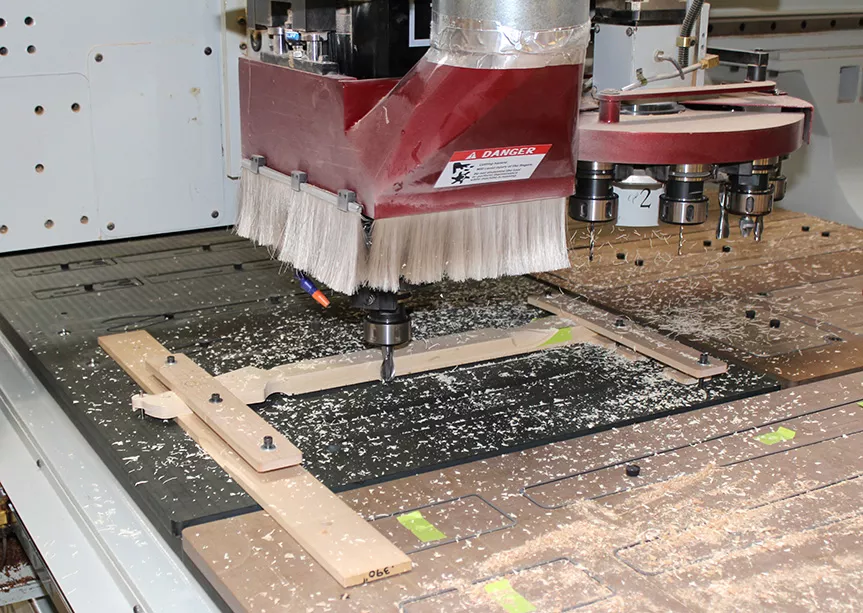 A computer-driven router carves out a guitar neck, a process that takes about eight minutes.




A polymer "island" attached to the carving machine holds the wood in place. This one is for a guitar body for left-handers based on the classic Fender Stratocaster form.




Jose Meza sets a fret in a guitar neck.




Ken Beidleman holds a 4-string Saint Blues cigar box guitar, built in Memphis using a neck made in Arcata by Wildwood.

Navigate Making Wood Sing
Vance Banjos




Colin Vance runs Vance Banjos in a Blue Lake workshop wedged between the Mad River Brewing Company Tasting Room and classrooms for the Dell'Arte School of Physical Theatre. His dog, Mason, helps out around the shop.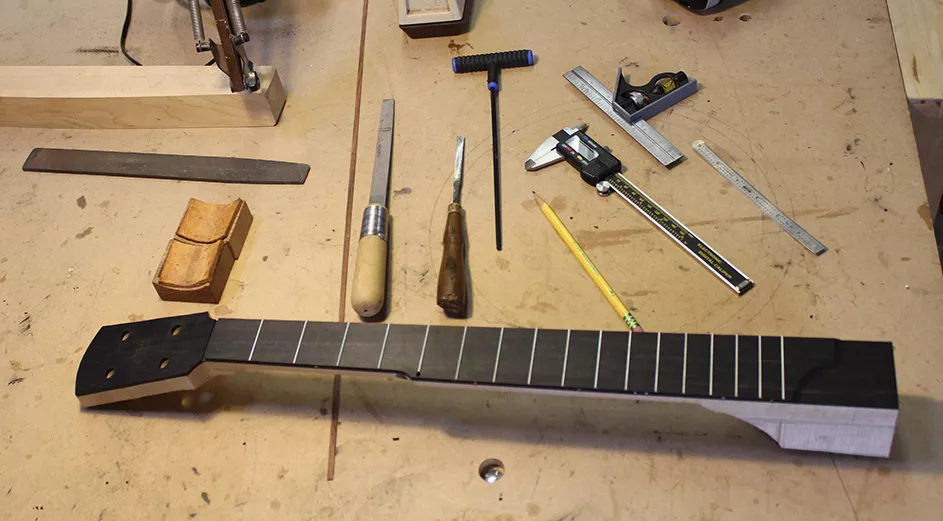 Vance sands the neck for an open-back banjo in progress. He learned the luthier trade working for Mark Platin at Wildwood Banjos. Since Platin relocated his shop to Oregon, Vance has continued doing finishing work for Wildwood, utilizing a spray booth in Phil Crump's workshop.




While his work is mostly based on classic banjo building techniques, Vance keeps an eye out for innovations that can set his business apart. He's experimenting with carbon fiber tone rings, sourced from a drum manufacturing company.




Luthier-in-training Cory Goldman picks out a tune on a banjo he built at Vance Banjos with guidance from Colin. The two musicians also work together as an old time music duo.

Navigate Making Wood Sing
Ian Davidson Instruments




Ian Davidson works on an electric banjo in the shop he built in the garage next to his home in Manilla. Like Colin Vance, Davidson learned to build banjos and guitars working at Wildwood Banjos and Manufacturing. The instrument is a custom order for Todd Fink, a member of a Midwestern rock/bluegrass hybrid combo known as The Giving Tree Band. 1507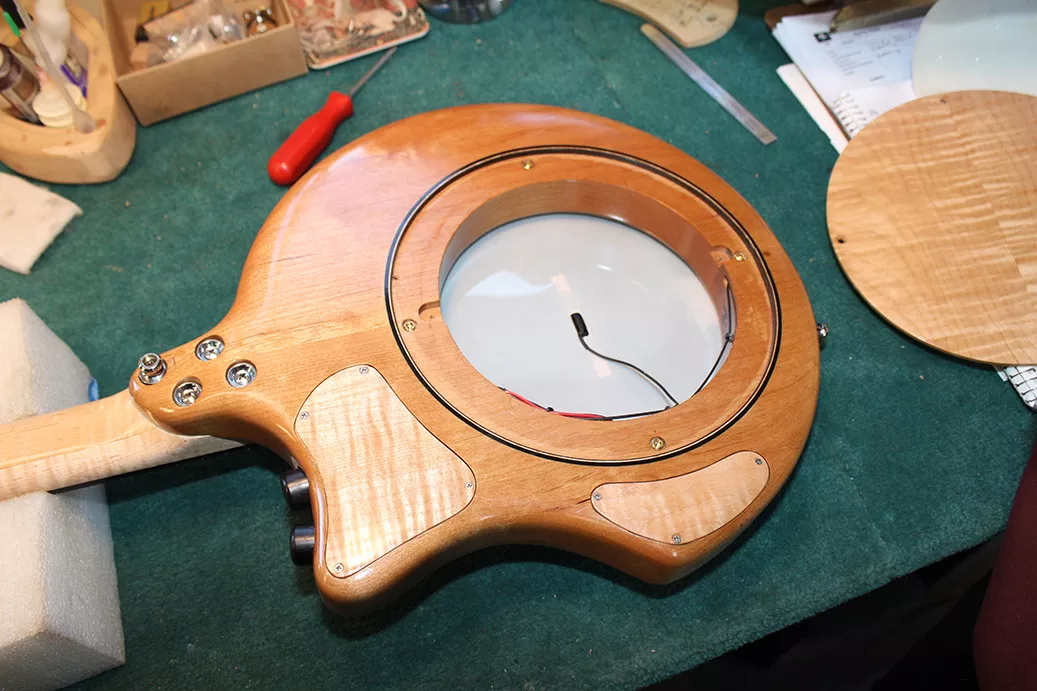 Removing the back reveals a pickup attached to the banjo's drum-like head; there's another electric guitar-style pickup built into the bridge.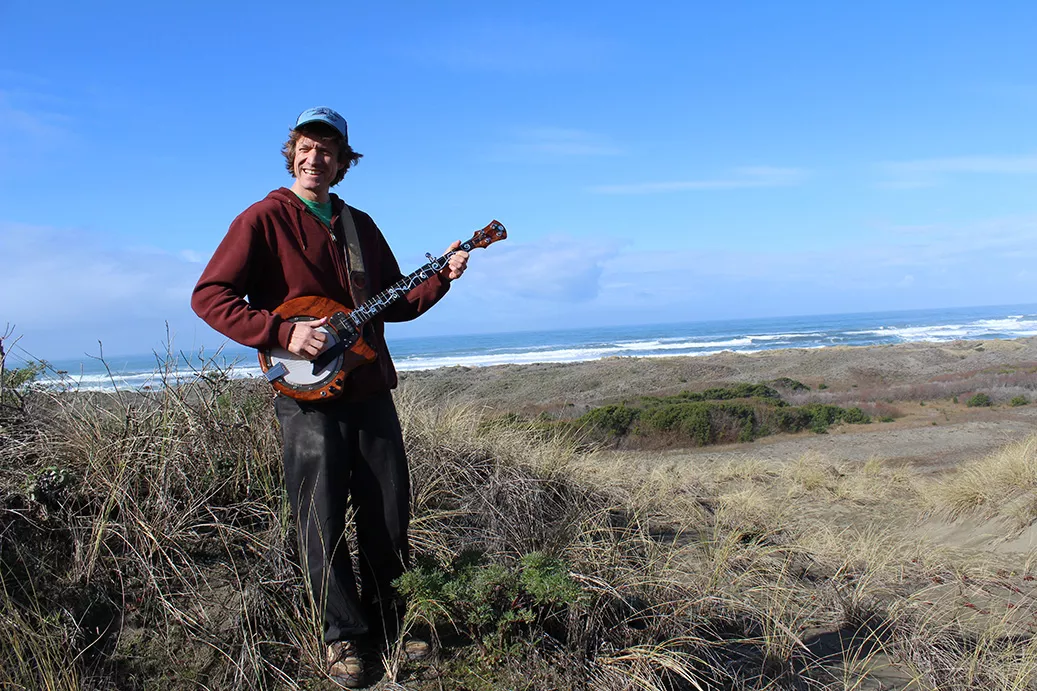 Davidson stands atop a Manila sand dune strumming an electric banjo he made for himself. Davidson plays in the "kinetic gypsy jamgrass" outfit Absynth Quintet. He built the hybrid instrument when the band added a drummer and he found he needed more volume.

Navigate Making Wood Sing
M. Walker Guitar Company




Michael Walker sands the frets on the neck of a classic Martin guitar he's repairing in his Arcata workshop. Born in Georgia, Walker got his start in the luthier business about seven years ago, first working in Phil Crump's shop, then setting up his own instrument spray finishing shop in Arcata. Walker left Humboldt a couple of years ago for Savanna, Ga. to apprentice with legendary guitar builder/repairman Randy Wood, whose client list includes the likes of Elvis Presley, Bill Monroe, Eric Clapton and Keith Richards.




Walker does repair work and builds guitars from scratch (1628). He also refurbishes and converts instruments like this 1920s-era Vega tenor banjo with a "Whyte Laydie" pot. (1619) He's replacing the four-string neck with a new five-string bluegrass-style neck that most players prefer today.




Walker returned to Arcata earlier this year to set up shop upstairs above Wildwood Music. While cleaning up the space, he came across an early brochure for Wildwood Banjo Company, the business that started out in the building. The photo shows Wildwood founder Mark Platin at work. The master banjo builder is still quite active: After selling off the OEM portion of his business in 2008, he moved Wildwood Banjos to Bend Ore. where he continues building traditional open-back and bluegrass banjos.

Navigate Making Wood Sing

Moonstone Guitars