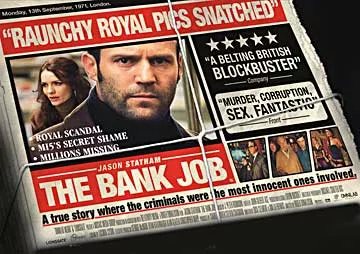 Previews
Rhona Mitra (The Practice; Boston Legal)leads a team of scientists to a quarantined Scotland in Doomsday in an attempt to find a cure for a lethal virus known as the Reaper, which is once again threatening the human race. The team failed to account for survivors of the original virus, who may turn out to be even more lethal. Sounds like a summer film, but I'd follow Mitra anywhere. Rated R for strong bloody violence, language and some sexual content/nudity. 115 m. At the Broadway.
From Blue Sky Studios, who released Ice Age: The Meltdown, comes the Dr. Seuss story Horton Hears a Who! The well-known story is about Horton the elephant (voiced by Jim Carrey) who protects a species known as the Whos despite the skepticism of his friends that anyone could live on a speck of dust, particularly Sour Kangaroo (Carol Burnett), who sets out to destroy the speck. Rated G. 98 m. At the Broadway, Fortuna and Mill Creek.
On the teen film front is Never Back Down, a film that deals with a teenage fight club. Sean Faris (TV series Reunion) plays new high school student Jake Tyler, who discovers an underground fight club involving mixed martial arts. Newly living with his mother in Florida and still angry from his father's death at the hands of a drunk driver, Jake takes out his frustrations in the club. Rated PG-13 for mature thematic material involving intense sequences of fighting/violence, some sexuality, partying and language, all involving teens. 120 m. At the Broadway and Mill Creek.
The Brazilian film City of Men is set in a rough area of Rio de Janeiro where teenage hoodlums whose fathers are long absent from their lives try to cope with their own emerging destinies. The film features some of the same actors and locales of the 2002 film City of God, and is based on the Brazilian TV series with the same name. If it's even half as good as the earlier film it will be well worth seeing. Rated R for strong language and scenes of violence. 120 m. At the Minor.
Written and directed by Michel Gondry (Eternal Sunshine of the Spotless Mind; The Science of Sleep), Be Kind, Rewind takes place in a New Jersey video store that rents only tapes, no DVDs. When the owner goes off on a trip, he leaves Mike (Mos Def) in charge, and when Mike's friend Jerry (Jack Black) accidentally erases the tapes due to his magnetized brain, he has a major problem. What to do? Well, the obvious solution is to reshoot the films with a camcorder using local talent. Mia Farrow plays one of the store's regular customers. Looks like fun. Rated PG-13 for some sexual references. 111 m. At the Minor.
Reviews
10,000 B.C.: I know that at the beginning of every year the studios dump their dreck for distribution since, they figure, no one, and the voters who chose Oscar nominations in particular, will remember any film released in January or February. It's a self-fulfilling prophecy. But come on, it's March now and we're still getting close to 100 percent crap. Shouldn't there be the odd film by now that's actually worth
seeing that isn't an unscreened leftover from 2007?
10,000 B.C. certainly fits nicely into the dreck/crap category. I wish I could think of one saving grace about this release; perhaps one will occur to me by the end of the review.
Let's begin with the generic coming-of-age-story plot. A lad on the verge of manhood fails in his assigned feat. As a result, he loses the girl he loves. But, when his girl is kidnapped by some baddies who also destroy his social structure he gets a second chance, during which he makes good after a series of additional tests, all of which eventually prove that he's a leader and a hero. The just order is restored, along with the girlfriend, who has proved herself as well.
This story can be set anywhere in any time period; it could be, say, Step Up 2 the Streets. But, hey, at least the viewer can come away with some valuable history lessons about the way things were in 10,00 B.C. For example, we learn that some tribes back then spoke English with a funny accent while others spoke in dialects that require subtitles. Or, slavery is despicable in whatever era it occurs. Or, a hottie's a hottie even when dressed in animal skins. Of course, I already knew the latter truth by reading the Alley Oop comic strip.
Well, you know the rest: The acting is terrible and special effects rule the day. The budding hero, D'Leh, is played by an uninspired Steven Straight and his one true love, Eyolet, by the truly awful Camilla Belle (When a Stranger Calls). Belle must have an awfully good agent.
Oh yeah, the silver lining: I'm counting on this being the fourth straight film that I've trashed that wins the box office for the weekend. I'm on a roll. [Monday P.S.: The film did take the weekend box office.] Rated PG-13 for sequences of intense action and violence. 119 m. At the Broadway, Mill Creek and Fortuna.
PENELOPE: With Penelope, we move from stupid to bland. The viewer can decide if this is an upgrade. At least this film had some nice moments. The plot is a fairy tale involving curses and salvation, with a tidy fairy tale moral thrown in to fulfill the form. Set in contemporary London, Penelope (Christina Ricci) is born with a pig's snout because of a curse put on her father's family for a slight going back several generations.
Her wealthy horrified parents, Jessica (Catherine O'Hara) and Franklin (Richard E. Grant), fake her death and cremation while secreting her away in the bowels of their mansion.
The curse can only be broken when a fellow blueblood marries her, so when she is of age, they hire a matchmaker who arranges a series of meetings with eligible men of her class (there's a sizeable dowry), all of whom run out of the house in one of the more tedious sections of the film.
However, reporter Lemon (Peter Dinklage) hires Max (James McAvoy) to be a suitor in order to get a picture of the exotic Penelope. Since this is a fairy tale, Max is not who or what he seems and Lemon actually turns out to have a few ethics.
When Penelope discovers the truth about Max, she runs away and experiences the world for the first time, her unfortunate appendage hidden by a scarf. At least this part of the plot resulted in an all-too-short appearance by Reese Witherspoon (one of the producers, perhaps fulfilling her fiduciary obligation), who befriends Penelope.
I won't spoil the little suspense the rest of the plot may hold. Suffice it to say that as in any fairy tale, neither the curse nor the solution is what its inhabitants believe. The cast is competent but the film doesn't deserve their talents. Plus, everyone could have used more of the energy the ever-perky Witherspoon brings to her brief stint in the film. Rated PG for thematic elements, some innuendo and language. 100 m. At the Broadway.
THE BANK JOB:Thank God for this British caper comedy; it almost managed to salvage the local movie weekend. It's not that it's an especially great film or that it exceeds the genre expectations. The Bank Job simply accomplishes its job with panache, good pacing and solid acting. Given the fare I've experienced recently, that almost makes it a masterpiece.
The story is based on an actual robbery of safety deposit boxes in a Lloyd's Bank on Baker Street in 1971. As in most such instances, end titles give the viewer the historical fate of most of the principals.
But what makes this film work is not its real-life basis but how nicely the plot is worked out by writers Dick Clement and Ian La Frenais and director Roger Donaldson (The World's Fastest Indian, also based on a real story). The story is a little complicated, happily. When Martine Love (Saffron Burrows, Enigma; Reign Over Me) is busted at an airport for drug possession, she calls her MI5 (or is it 6?) friend Tim (Richard Lintern), who makes a deal. If she can recover some very embarrassing photos of Princess Margaret from a safety deposit box in Lloyd's, she's off the hook.
In turn, Martine recruits old neighborhood friend Terry (Jason Statham) to help with the job without telling him her real purpose. As Terry is in hock to a serious criminal, he agrees even though bank robbery is outside his comfort zone.
Throw in some crooked cops, serious thugs who have put incriminating evidence in the bank vault, compromised government ministers (an S&M connection) and a somewhat cartoonish black revolutionary "Michael X" (Peter De Jersey) from Trinidad, and you have the plot's basic elements.
This is a thoroughly entertaining film, and I can never get enough of the talented Burrows. In a bit of an in-joke, Keeley Hawes from the British TV series Spooks, aired over here as MI5, has a nice turn as Terry's wife, Wendy.TheBank Job is a nice diversion for a March afternoon. These days, I can't ask for more than that. Rated R for sexual content, nudity and language. 121 m. At the Broadway and Mill Creek.
Continuing
BUCKET LIST.A corporate billionaire and a working class mechanic, who have developed a strong bond while sharing a hospital room, embark on the road trip of a lifetime. Rated PG-13. 97 m. At the Broadway.
COLLEGE ROAD TRIP.Girls-only road trip turns into nightmare adventure when one girl's police chief father tags along for the ride. Rated G. 86 m. At the Broadway, Fortuna and Mill Creek.
DEFINITELY, MAYBE.A Manhattan father, in the midst of a divorce, grapples with his 10-year-old daughter's inquisition about his love life before marriage. Rated PG-13. 122 m. At The Movies.
FOOL'S GOLD.Modern-day treasure hunter alienates his family by pursuing gold lost at sea, but regains allies upon discovery of a vital clue to treasure's locale. Rated PG-13. 112 m. At The Movies.
JUMPER.A man with the ability to teleport himself anywhere in time finds himself in a war that has been raging for thousands of years. Rated PG-13. 88 m. At The Movies.
JUNO.An intelligent teen, Juno, deals with the consequences of an unplanned pregnancy by seeking out the perfect set of parents to adopt her unborn child. Rated PG-13. 96 m. At The Movies and the Minor.
SAVAGES.Competitive siblings are forced to care for others when their elderly father starts showing early signs of dementia. Rated R. 113 m. At the Minor.
SEMI-PRO.Semi-pro basketball team on the verge of folding is purchased by one-hit-wonder musician trying to fulfill his life dream. Rated R. 90 m. At the Broadway, Fortuna and Mill Creek.
SPIDERWICK CHRONICLES.The Grace family moves into the Spiderwick estate, the home of a dead ancestor, and discovers the evil creatures that already reside there. Rated PG. 96 m. At the Broadway, Fortuna and Mill Creek.
STEP UP TO THE STREETS.Rebellious dancer at elite arts school forms a crew of classmates to compete in Baltimore's underground dance battle, The Streets. Rated PG-13. 98 m. At The Movies.
STRANGE WILDERNESS.Hosts of wildlife TV show in a steep ratings decline scheme to find the ultimate animal — Bigfoot. Rated R. 86 m. At The Movies.
THERE WILL BE BLOOD.Epic set in Cali's turn of the century oil boom chronicles a down-and-out silver miner's rise into a self-made oil tycoon. Rated R. 158 m. At The Movies.
VANTAGE POINT.Chaos ensues when the U.S. president is assassinated in Spain. Rated PG-13. At the Broadway, Mill Creek and Fortuna.