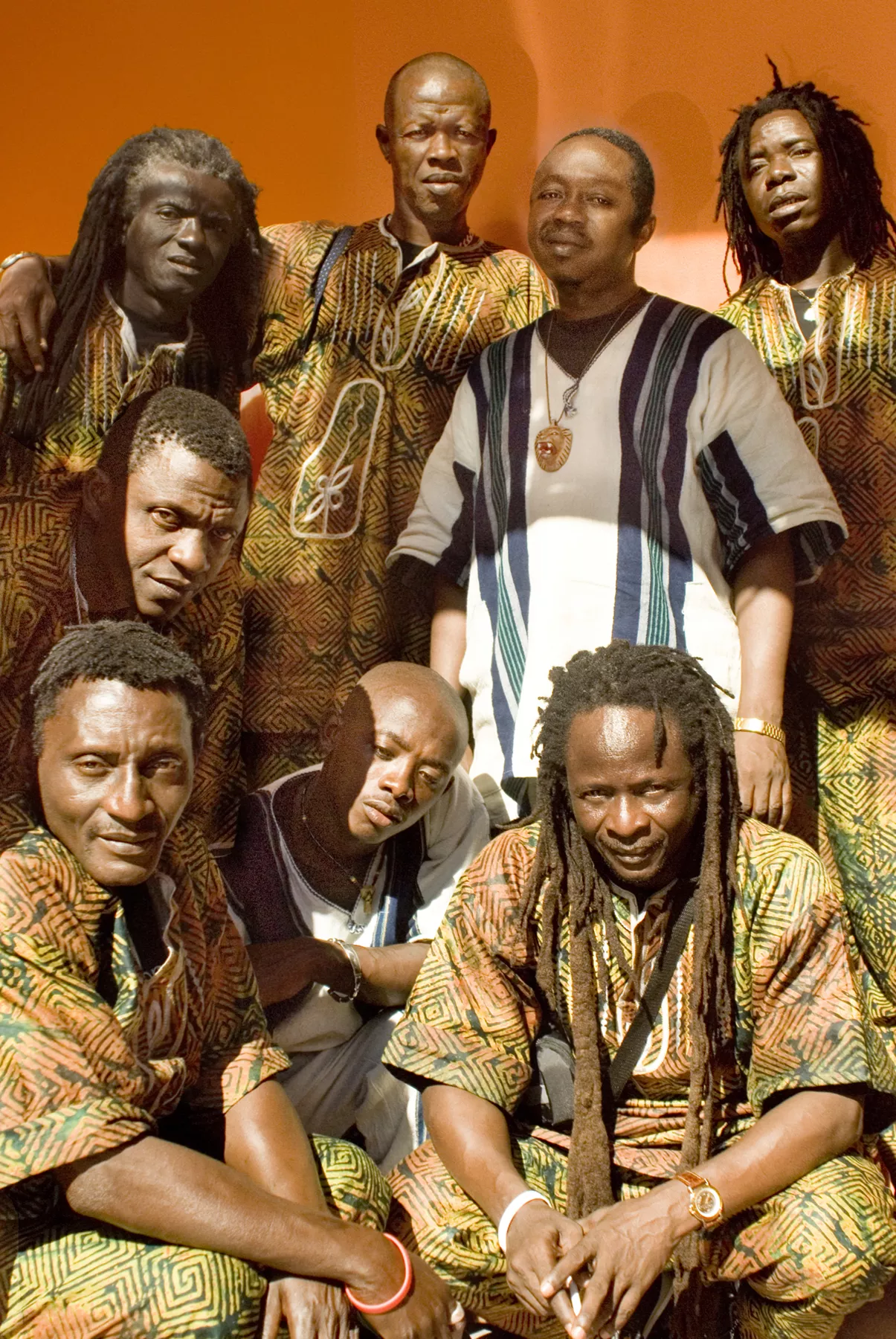 Sierra Leone's Refugee All Stars
Following on the heels of April showers, May is not typically the most active month for music and entertainment locally. College gets out halfway through and the full-bore summer festival season has not yet kicked in.
But that does not mean there's nothing going on; take for example, the blossoming of the Humboldt Arts Festival, now in its second year. More on that below, but first some of the other highlights.
CenterArts closes out the 2010-2011 season on Sunday, May 8, with a night of hot pickin' by the David Grisman Bluegrass Experience. Fronted by mandolin maestro "Dawg" Grisman himself, the band includes Keith Little from The Country Gentlemen on 5-string banjo, Jim Nunally from John Reischman and The Jaybirds on guitar, Chad Manning on fiddle and David's son Samson Grisman on bass. All are featured on the group's most recent CD for Acoustic Disc, DGBX. (Rest assured, Dawg will provide full details on the new record, the band and his online music distro AcousticDisc.com between songs.)
Coming Tuesday, May 10, to Humboldt Brews in Arcata, Sierra Leone's Refugee All Stars, a high-energy band from Africa mixing world beat with reggae. The name says a lot -- they formed the group while living in a refugee camp in Guinea after being displaced during the Sierra Leone Civil War. A documentary about the band and an associated CD brought them international fame. They've been touring the world since, singing and raising awareness for humanitarian causes, especially the plight of the refugee.
The Mateel Community Center hosts Fire Fusion Friday, May 13, a dance extravaganza benefiting a group called Save Our Schools. Blue Angel Burlesque put together the show and they promise "hot" performances by their troupe along with Aerial Dance Circus and Mischief Lab with DJ Knutz providing music for dancing into the night.
Arcata Playhouse invites you to its first annual Member Party Friday, May 13, a tropical affair featuring The Humboldt Calypso Band, hula lessons by Tatiana Robinson, tropical food and drink and a Don Ho-style sing-off. Playhouse members get in free; others are invited to join now or then.
The next night, Saturday, May 14, Arcata Playhouse and its associated teen brigade Apprentice Entertainment join forces with the Humboldt Juggling Society to present a big all-ages show at HSU Van Duzer Theater with the comic acrobatic ninja jugglers of Nanda. The foursome from the Great Pacific Northwest present an evening of something they call "acrobaticalism," a combination of high level Karamazov Bros-inspired juggling, crazy gymnastics, kung fu and tongue-in-cheek satire -- promised to rock you.
Saturday, May 14 (which is also HSU graduation day) and Sunday, May 15, the second annual Humboldt Arts Festival takes over part of downtown Arcata from noon until nighttime. The celebration of local art and culture includes more than 100 visual and performing artists spread around various stages and venues, including music by soul survivor Courtney Weaver, Strix Vega and The Bucky Walters, dance by New World Ballet and Ya Habibi Dancers, music and dance by SambAmore, and much, much more. Full details at www.humboldtartsproject.com.
Soulive, a jammy/jazzy soul/funk trio from Woodstock, NY, plays for the Black and White Ball at the Arcata Theatre Lounge on Sunday, May 15, with opening sets by Lettuce and Break Science.
Folky mystical singer/songwriter Mark Growden returns for a show at Arcata Playhouse Wednesday, May 18, Colin Vance from Striped Pig Stringband and Jameson Clay join him. Growden heads down 101 to play at Persimmons Garden Gallery in Redway the following night, Thursday, May 19.
The circus is coming, the circus is coming! To be more specific, the old time, big top, one-ring Culpepper and Merriweather Circus arrives in Benbow Thursday, May 19, for a couple of days. Check www.garberville.org for more information. Saturday, May 21, they roll into Rio Dell for a couple of shows. Not sure if they're coming further north; they used to, but they haven't in recent years.
Brooklyn's Dhruva Ganesan and Dave Sharma, also known as the bassy electro/dance duo Sub Swara, rattle the rafters at the Eureka Theater on Thursday, May 19.
Friday and Saturday, May 20 and 21, the Arcata Playhouse presents BOOM! an "International Lost and Found Family Marching Band," a wild comedy/music outfit inspired by and including members of Glasnost, Dell'Arte's faux East-Euro troupe from a few years ago.
You've read elsewhere in Muse about that Triathlon of the Art World, the Kinetic Grand Championship. Before the big race Memorial Day weekend, the Rutabaga Queens, who now run the show, must select and crown the 2011 Queen, who presides over the event. This happens "amid revelry and friendly cutthroat competition" at the annual Rutabaga Ball, May 21, the Saturday before the race, at Arcata's Portuguese Hall. The all-ages event includes a competitive talent show, special cocktails and lots of schmoozing. It's also a dance, although at this point the band they'd hired backed out so we don't know who's playing. That and other details can be found closer to the R-Ball day at www.rutabagaqueen.com.
Last but not least, Monday, May 30, the ever-funky B-Side Players bring their big, bad, Latin funk mélange to the Jambalaya. Watch out!