When local residents get their ballots in the mail this week, they'll face a bevy of choices. In addition to the race for the White House dominating all national airwaves and news sites, there are a dozen statewide propositions and races to represent in the North Coast in Congress and the California Assembly, not to mention 14 school board races, more than two dozen candidates vying for seats on four special districts, a runoff for a seat on the Humboldt County Board of Supervisors and seven city council races to follow. You would be forgiven for finding it all a bit dizzying.
In Humboldt County, voters will also face nine ballot measures — up or down referendums that will decide how much residents pay in taxes, how they elect representatives, how involved they want the government in building affordable housing, fire response times and whether school buildings get fixed up. Here's a look at each. Remember to check your voter registration status by visiting www.co.humboldt.ca.us/election/voter-status and, if need be, register at www.registertovote.ca.gov.
Measure A
With the unanimous endorsement of the Arcata City Council, Measure A asks voters to approve a special tax that would charge landowners $37 per parcel, per year, with the projected $175,000 in annual revenue going toward funding improvements and maintenance of city owned or controlled parks, trails, forests and open spaces. The money would be used to construct new trails, acquire property or conservation easements, and maintain and improve existing spaces and facilities. Because the tax earmarks the revenue for this specific purpose, it requires a two-thirds vote to pass. It does not include a sunset date and would remain in effect until repealed or amended by another initiative.
Arguing against the measure on behalf of the Humboldt County Taxpayers League, President Uri Driscoll and Vice President Kent Sawatzky wrote that the city's forest management plan was designed to cover the costs of maintaining parks and forests through revenue from sustainable timber management, which "has worked for many decades."
"Many of us enjoy the surrounding trails that have been created by this model," Driscoll and Sawatzky wrote. "If that model is no longer functional, we should have a more involved conversation as to why it is not before burdening city residents with an additional and unnecessary tax in a time when essential services are being slashed."
But those in favor of the measure argue that with COVID-19 significantly cutting into the city's sales tax revenue, it can "play an important role in our city's recovery efforts" by helping maintain parks and open spaces, and possibly preserve new lands under threat of "urban encroachment."
"The passage of this measure will provide a reliable source of funding that will allow Arcata to protect, develop and maintain natural resources such as forested hillsides, wetlands and streams, as well as recreation areas and agricultural lands now and into the future," an argument in favor of the measure states.
Measure B
Also holding the unanimous support of the Arcata City Council, Measure B would allow the city to more aggressively pursue the development of affordable housing within city limits.
Article 34 of the California Constitution prohibits governments from building or financing low income housing projects without voter approval. Back in 1992, Arcata voters passed Measure L, which set an affordable housing limit at 5 percent of the city's housing stock, which by the city's calculations, would equate to 401 of the 8,019 housing units within city limits. The city says it has provided loans or grants to help with the creation of about 380 low income units to date, meaning it would only have the ability to help with the building of about 21 more. But the city's 2019 Housing Element estimates it needs 237 more low or very low income housing units to meet demands over the coming decade and a more than decade-long trend has seen private industry repeatedly fail to meet low income housing demands countywide.
And that's why the city is putting forward Measure B, which would allow the city to have a hand in financing or building an additional 220 or so units and open the doors to federal and state financing.
A diverse group of community stakeholders — including Arcata House Partnership Executive Director Darlene Spoor, Open Door Community Health Centers CEO Tory Starr, Humboldt State University Executive Director of Initiatives Connie Stewart, former Mayor Alex Stillman and homeless advocate Nezzie Wade — wrote an argument in support of the measure, which notes that it has no fiscal impact on taxpayers and does not approve any specific project.
"There is a shortage of affordable housing in Arcata, despite continued efforts to meet the great need," they wrote. "We still see seniors on fixed incomes and working families struggle to pay rent. This ballot measure, if approved, will help provide more housing over the years for low income seniors, families, the formerly homeless, and people with disabilities."
No group has stepped forward in opposition to Measure B, which requires a simple majority vote to pass.
Measure C
Eureka voters will be deciding this election whether to take a new course in determining who represents them via Measure C, which would change the city's election process to what is known as ranked choice voting for mayor and council seats.
As the name implies, ranked choice differs from the traditional method by allowing voters to rank candidates by preference. For example, in a three-person race, a voter would order the candidates as their first, second or third choice.
If any candidate were to receive a majority of "first" designations, the process ends there. However, if that doesn't happen, the person with the fewest "first" votes is out of the race and anyone who voted for them would have their second choice selection counted.
The process continues from there until one candidate takes a majority of the votes.
"RCV is also called 'instant runoff' because it allows a majority winner to be determined in just one election," the impartial analysis of Measure C by City Attorney Robert Black states. "It is a substitute both for a separate runoff election and for a method in which a contest with more than two competitors can be won with the highest vote-getter having less than a majority."
Currently, a Eureka candidate who receives the most votes wins, regardless of how many people are running or how close the race ends up. Races for mayor and the council's First Ward seat in 2018 ended without the winning candidates receiving a majority of the vote, for example, so ranked choice voting could have come into play and shifted the outcome of those races.
If Measure C passes with a simple majority vote, Eureka's first ranked choice election would take place in November of 2022. The process would only apply to the mayor and council races, not county, state or federal offices, or to any ballot measures.
The idea has been floated in Eureka for more than a decade but never really caught hold until now, with the city council deciding in June to put the potential change to the city charter before voters.
Should Eureka voters adopt Measure C, it will be the second major change to city elections in recent years. Back in 2016, residents approved ward-only elections for council members, with the mayor continuing to be selected by a citywide vote. Two years ago — for the first time since the Prohibition era — three council members won their seats based solely on votes from those who lived within the geographical boundaries of the ward they represent.
According to the argument in favor of Measure C submitted by supporters, the ranked choice method comes with a number of advantages, such as encouraging more candidates to run and providing broader representation because it "empowers voters to fully express their opinion, and frees us from 'lesser of two evils choices.'"
California cities such as San Francisco, Oakland, Berkeley and San Leandro already use ranked choice, as does the state of Maine.
"RCV encourages a wider range of candidates and inspires higher voter turnout," the argument in favor states. "In winner-take-all elections, voters are often forced to settle for uninspiring candidates. Many do not vote at all. By allowing voters to rank their choices, from the candidate they want most to the one they want least, RCV encourages more candidates to run."
No argument against Measure C was submitted to the county Elections Office.
Measure D
The measure would authorize $5 million in school bonds to raise an estimated $312,000 annually for South Bay and Pine Hill Schools by assessing a 3-cent charge per $100 of assessed value for property owners in the district, which equates to about $60 annually for a $200,000 home.
The funds would go toward repairing leaky roofs on school buildings, giving students access to modern technology, modernizing classrooms and making energy efficiency improvements. Spending the bond money would fall under the oversight of a citizens' committee and the measure prohibits the school from spending the funds on administration or salaries.
There is no formal opposition to the measure, which requires a 55-percent vote to pass.
Measure E
Since 2004, the city of Trinidad has had a 0.75 percent additional sales tax to help fund city services. Measure E asks city voters to continue that tax, which brings in about $100,000 — roughly 15 percent of the city's budget — annually. The city argues the tax is "primarily paid for by tourists visiting Trinidad's restaurants, buying gas or taxable items from the market" and seeing as the city has a population of just 357, that's probably true.
"We're glad to live in such a special place but tourists who want to enjoy it need to contribute their fair share as well," states the argument in favor of the measure, which was penned by Mayor Steve Ladwig and former Mayor Dwight Miller, who note that the Humboldt Taxpayers League has come out in support of the measure, which requires a simple majority vote to pass.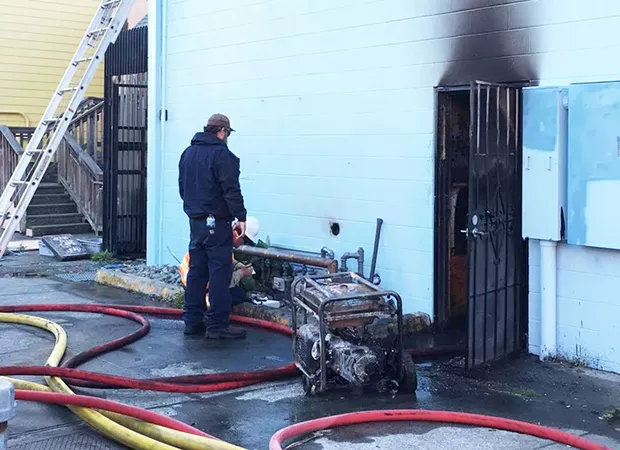 Photo by Ryan Hutson
Responders from the nearby Arcata Plaza fire station quickly extinguished a generator fire at Big Blue Cafe on Oct. 27, 2019 – before Measure R's failure curtailed the station's operating abilty.
Measure F
A kind of do-over after Measure R came up just short in the March primary, Measure F would increase the Arcata Fire Protection District special tax paid by district property owners in an effort to restore services to the level they were at prior to Measure R's failure.
The district — which serves 37,000 people spread over a 62-square-mile area that includes McKinleyville, Bayside, Manila, Jacoby Creek and Arcata — had operated for 14 years without any tax increases before going to voters in March, when officials said the situation had grown dire and warned cuts would follow if the tax measure didn't pass. After it fell just short — with 64 percent of the vote when it needed 66 percent — the district began rotating station closures and cut eight staff positions. That means slower response times, which the district warns could lead to higher insurance premiums for local residents.
If passed, the tax would impose varying annual taxes on different types of property — $75 for a mobile home, $98 for a single family residence, $338 for an apartment building with 10 or more units and $486 for a commercial property, to name a few — that would combine to bring in about $1.9 million a year to the district, which has been operating at a deficit in recent years, depleting its reserves. The additional revenue would allow it to re-hire staff, fully staff its three stations, rebuild its reserves and repair or replace fire trucks and other equipment as necessary.
Arguing against the measure, Driscoll of the Humboldt County Taxpayer League points out that 95 percent of the district's calls aren't for fires but medical assistance and posits that the additional tax would place to heavy a burden on community members already reeling from the economic impacts of COVID-19.
In an argument in favor of the measure, district Board President Nicole Johnson and Vice President Randy Mendosa argue that the measure really will dictate firefighters' ability to save lives and property.
"Five minutes can make a huge difference in saving lives and preventing major property damage," they state. "Budget cuts have already forced rotating fire station closures. This has created terrible conditions for both the community and our firefighters."
The measure needs a two-thirds vote to pass.
Measure G
The city of Fortuna is asking residents to extend a 0.75 percent transaction and use tax for an additional eight years, which would push its slated expiration date back into March of 2033 and keep an estimated $1.4 million in revenue rolling into city coffers for the next decade-plus.
The tax — which equates to 75 cents added onto every $100 spent on taxable goods and services within city limits — was passed by voters in 2018, its revenue going toward "essential city services" like parks maintenance, public safety and street repairs, as well as programs for youth and seniors.
"Keep Fortuna great!" a collection of local business owners and Mayor Sue Long wrote in a ballot argument for the measure, which has no formal opposition and requires a simple majority vote to pass.
City of Eureka
Sinkhole on Myrtle Avenue in Eureka.
Measure H
With a budget hit hard by the COVID-19 pandemic, the city of Eureka is asking its residents to extend an existing sales tax at a higher rate and without a sunset date.
Measure H, if passed, would increase the city's transaction and use tax to 1.25 percent — up from the current 0.5 percent — which would bring an estimated $9.6 million annually to the city's cash-strapped coffers.
The Eureka City Council voted unanimously in July to bring the matter to the ballot, with city officials saying the resulting funds would continue to be directed toward maintaining essential services, including the city's police and fire departments, as well as youth, senior and homeless services, community health care, parks and recreation, and road repair.
The 2020-2021 fiscal year budget was reached by cutting $4.65 million in general fund spending compared to last year, which include staff reductions, the elimination of "non-essential travel and training" and reductions in contractual services and supplies.
And still, a remaining $500,000 deficit is being covered by dipping into reserves and using one-time unallocated funds.
Eureka previously went to city voters in 2010 and 2014 with sales tax measures to help generate funds for city services, but, unlike its forerunners, Measure H would continue until repealed by voters.
If Measure H passes by a simple majority of voters, the city's total tax rate would increase to 9.25 percent, not the highest in the state by any stretch but toward the upper end, according to data from the California Department of Tax and Fee Administration.
A survey of likely Eureka voters conducted by EMC Research, an independent public outreach firm, found overwhelming support for the proposed measure, according to a July staff report presented to the city council.
If that proves correct, Measure H would go into effect in July of 2021, after Measure Q — passed in 2014 — sunsets.
Measure I
The county of Humboldt is looking to take a more active hand in the development of affordable housing in its unincorporated areas and — like Arcata's Measure B — is asking voters for authority under Article 34 of the state constitution.
Specifically, the measure would allow the county to obtain state and federal funding to construct, develop or acquire enough housing for low income families, seniors and people with disabilities in unincorporated areas to account for up to 2.5 percent of the total housing stock in unincorporated areas. If approved, that would allow the county to help finance and/or build up to approximately 1,400 low income units.
According to the 2019 housing element, the county is projecting that construction of 574 low income units is required over the next decade to meet local need, but the element notes that private industry has failed to meet the demand for low income housing over the past decade.
Like Measure B, approval of Measure I would not commit any taxpayer funds or approve any specific project, leaving any future development to go through public processes before construction could begin. There is no formal opposition to the measure, which requires a simple majority vote to pass.
"We all recognize that housing in the county has become increasingly expensive to the point that it is now out of reach for many low-income residents," Board of Supervisors Chair Estelle Fennell writes in a ballot argument in favor of the measure. "Passage of Measure I will give the county an important new tool to help reverse this trend by taking a more active role in affordable housing development, creating a more balanced community with a variety of housing opportunities."