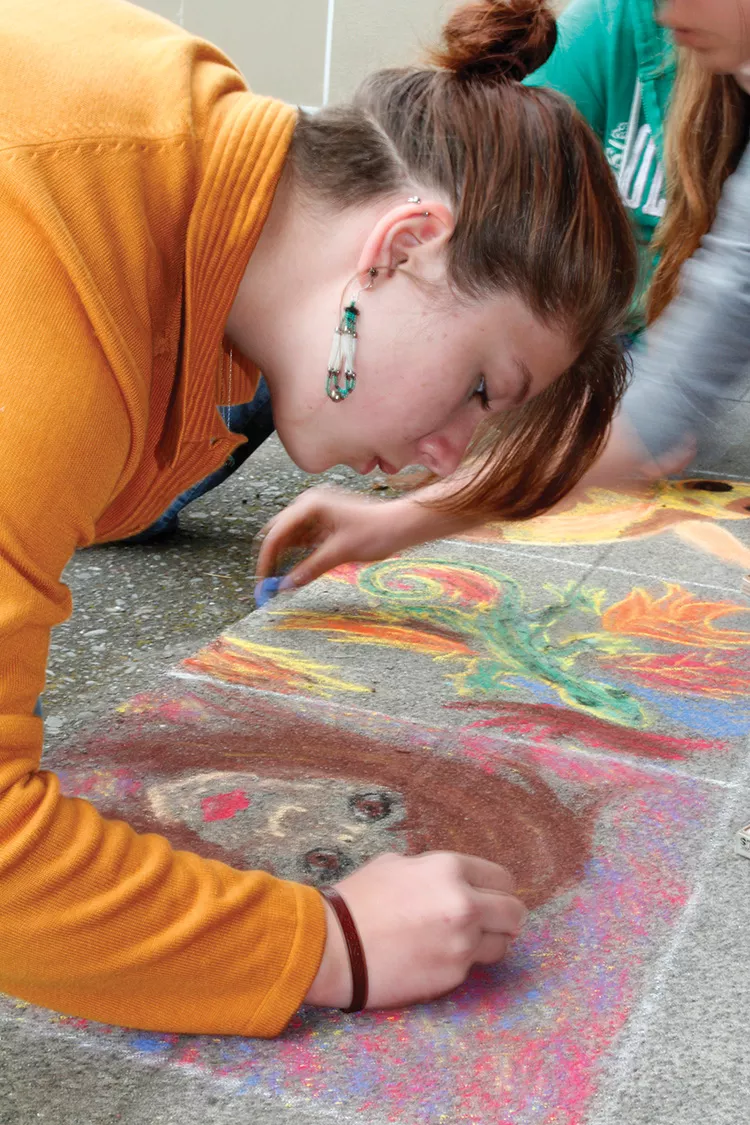 photo courtesy mckinleyville arts night.
McKinleyville High School student Wendy Witte creates one of the pastel drawings on the school quad. Materials will be supplied for people who want to add their own bit of creativity during McKinleyville's arts night.
1. EUREKA-ARCATA AIRPORT 3561 Boeing Ave. Long-term exhibit coordinated by the Redwood Art Association, featuring eight local female artists: Regina Case, Natalie Craig, Joan Gold, Linda Mitchell, Kathy O'Leary, Linda Parkinson, Lien Truong and Roberta Welty.
2. SILVER LINING 3561 Boeing Ave., #D (at the Eureka-Arcata Airport). Joe Garceau plays original music from 7-10 p.m., and an arts night after party begins at 8 p.m.
3. MCKINLEYVILLE HIGH SCHOOL 1300 Murray Road in the Multipurpose Room. Earth: A Hands-on Experience, featuring Pastels on the Quad and Earth Week posters created by students. Materials will be provided for those who would like to add to pastels on the quad with Justine Smith or to participate in an open ceramics lab with Jim Hannon.
4. MCKINLEYVILLE FAMILY RESOURCE CENTER 1450 Hiller Road. Loren Lavine, photographs of Italy, plus sea-themed special activities for children of all ages.
5. BLAKE'S BOOKS 2005 Central Ave. Anastasia Zielinski, mixed media.
6. CHURCH OF THE JOYFUL HEALER 1944 Central Ave. Spring Garrett, Rumpelsilkskin Designs: Upcycled neckties transformed into unique hats, bags and neckpieces
7. HUMSPA 1660 Central Ave., Suite C. Felicia Ambrosini: "Tripeclectic" paintings.