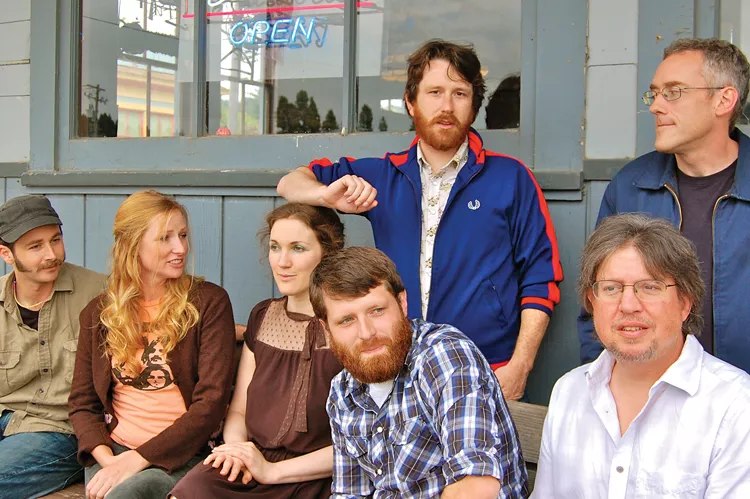 The Crawl Crew: Andy Powell, Alanna Goldsmith, Katie Hennessy, Will Startare, Andrew Goff, Larry Trask, and John Matthews
Joining in first ever official (maybe) Humboldt Rural Bar Crawl were:
Larry Trask, 49, Fortuna. Humboldt County's second most popular DJ is the host of countless shows that air between the hours of 2 and 6 p.m. on 104.3/104.7 KHUM. He probably enjoys drinking too much.
Will Startare, 26, Arcata. Bearded star of Seven-O-Heaven who is never not somewhere in the pages of the ol' NCJ. Very bearded. (Note: Will couldn't make it to Day Two.)
Andy Powell, 30, Arcata. The insanely polite voice of The Night Show on 100.3/102.7 The Point and bass player for local (insert genre) band Strix Vega. His facial hair is always evolving.
John Matthews, 38, Ferndale. The inquisitive, knowledgeable voice between Green Day songs on 94.1 KSLG. John does not get excited.
Katie Hennessy, 32, Eureka. Humboldt socialite. She has socks and eye shadow for every occasion.
Alanna Goldsmith, 28, Blue Lake. Longtime golden-haired fiddle player for The Singing Nettles, she's recently been romantically linked to, oh, one of the other people on this list. (Note: Alanna couldn't make it to Day One.)
Andrew Goff, 29, Eureka. Your author.

The Breathalyzer, 3 days old, my pocket. The handy device you can purchase at CVS pharmacy for $50 that would ensure none of us were in danger of arrest or death throughout our weekend. Drink responsibly, kids.