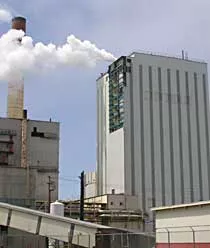 Evergreen Pulp Mill. Photo by Heidi Walters
Our Evergreen Pulp, Inc. — the largest unbleached kraft pulp mill in North America — has been in the news recently because it will spend $5 million to settle state and federal charges of air pollution. According to findings by the U.S. Environmental Protection Agency (EPA), the mill spewed noxious air pollutants that exceeded federal emission standards by 230 percent. Under the recent settlement, Evergreen will pay out $900,000 to three regulatory agencies — the EPA, the California Air Resources Board and the North Coast Air Quality Management District. The company has already spent $4 million on an air pollution control device, installed on its lime kiln, that significantly reduces the output of particles of air pollution.
Across the Pacific, the Chinese firm that owns Evergreen, Lee & Man Paper Manufacturing Ltd., has other environmental concerns to deal with. That's because Lee & Man has broken ground on a new paper megaplant in Vietnam, which — if completed — will be the country's biggest to date. But residents of Hau Giang province on the Mekong River Delta, the plant's proposed site, as well as government officials and experts, have voiced their concern over the shortage of feedstock for the plant and the possible toxic effluents it will release into the watershed there, according to a September report in the Vietnam National Youth Federation's news publication Thanh Nien . Critics of the plant warn that large amounts of chlorine used as a bleaching agent in the paper-making process — expected to be around 28,500 tons per year — will have a huge negative impact on the local environment.

But Dr. Nguyen Ngoc Tran, former deputy head of the Vietnamese parliament's Foreign Affairs Committee, is more sanguine. After returning from a recent fact-finding trip to another Lee & Man plant in China, Tran is certain that due to the company's production technologies, wastewater from the plant will have no negative impact on the Mekong River Delta region.
Hopefully Lee & Man's environmental track record in China is better than that of most paper mills there. According to an April report from National Public Radio's Marketplace, over a hundred Chinese cities face "severe" water shortages as a result of pollutants. Situated in one of the country's agricultural hubs on the Yangtze River, Dongting Lake, China's second-largest, has 101 paper mills in operation, and just two of them meet environmental standards for wastewater. As a result, local fishermen are finding it harder and harder to make a living due to poor water quality.

Back in Hau Giang, the plot thickens. VietNamNet Bridge reported last month that Lee & Man's paper and pulp plant were granted an investment license even though the firm had not submitted an environmental impact report. But that doesn't mean that the factory will be able to disregard environmental standards in the area. According to Tran Quoc Thanh, who heads up the Hau Giang Industrial Zone Management board, Lee & Man has committed to submit an environmental impact report to the Ministry of Natural Resources and the Environment. If the Ministry concludes that the project doesn't meet Vietnam's environmental standards, it will be canceled. But Tranh is fairly optimistic. Lee & Man has promised local authorities that wastewater will be treated thoroughly and will not cause pollution, he said. Additionally, the paper giant plans to import 80 percent of the materials for the plant, relieving fears that it will over consume local resources.

Still, says VietNamNet Bridge, "It's quite a surprise that the biggest paper and pulp plant in Vietnam, which has a total capacity of 570,000 tons a year, still doesn't have an environmental report." The plant is also expected to consume 4.5 million cubic meters of water a year from the Mekong River Delta region, where 26 percent of Vietnamese have no access to drinking water.

Evergreen Pulp CEO David Tsang said last week in an email that none of the pulp produced in Samoa, which is chlorine-free, will end up in Lee & Man's Vietnam plant, which — if eventually built — will produce a bleached product.