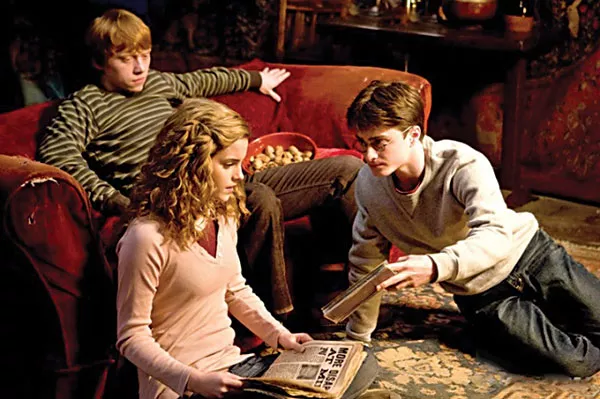 Harry Potter and the Half-Blood Prince.
Previews
Opening Friday, July 24, is Disney's 3-D mix of live action and animation G-Force about a team of government-trained guinea pigs out to save the world. With voices of Nicolas Cage, Penelope Cruz and others. Rated PG for some mild action and rude humor. 120m. At the Broadway, Fortuna and Mill Creek.
Opening to a threatened boycott by adoption groups, Orphan is a horror thriller about a couple who adopt a young girl after losing their unborn child. It's probably not going to work out well. With Vera Farmiga and Peter Sarsgaard. Rated R for disturbing violent content, some sexuality and language. 123m. At the Broadway and Mill Creek.
The romantic comedy The Ugly Truth stars Katherine Heigl as romantically clueless TV producer Abby, who accepts advice from her macho TV host Mike (Gerard Butler) about how to land a handsome and sensitive doctor. Gosh, I wonder who will end up together? Rated R for sexual content and language. 101m. At the Broadway and Mill Creek.
Authors Michael Pollan (The Omnivore's Dilemma) and Eric Schlosser (Fast Food Nation) investigate the corporate food industry in the documentary Food, Inc. I'm probably already genetically modified. Rated PG for some thematic material and disturbing images. 94m. At the Minor.
I'm up at the Eureka Library with Otto Preminger's 1944 noir Laura starring Gene Tierney. Tuesday, July 28 at 6:30 p.m.
Reviews
HARRY POTTER AND THE HALF-BLOOD PRINCE: In my preview for the sixth entry in the Harry Potter film series, I mentioned that I had increasingly enjoyed the series as it had gotten darker. Although still a very enjoyable film experience, Harry Potter and the Half-Blood Prince represents a bit of a speed bump in the progression.
It's not that the film lacks dark elements; indeed, the film's ending is the grimmest one yet. But I must admit that I was somewhat put off by the raging hormones aspect of the plot, which at times seemed to dominate. Particularly irritating was the character of Lavender Brown (Jessie Cave) who attaches herself to Ron (Rupert Grint) in a juvenile, over-the-top fashion as a running subplot that otherwise only serves to make Hermione (Emma Watson) childishly jealous. In fact, the whole hormone thing made all the main characters regress from the rather mature young adults they had heretofore been.
Perhaps this was meant as a brief bit of comic relief in preparation for the final battle that will presumably occur in Harry Potter and the Deathly Hallows. Okay, teens have hormones and maybe I'm just over-reacting because of last week's sorry exercise in teen romance, I Love You Beth Cooper.
The film certainly begins on a promising note, as we see the Death Eaters attack Ollivander's Wand Shop, kidnap Ollivander and destroy the Millennium Bridge (a feat it almost accomplished on its own just after its opening). This opening, along with the scene where Draco Malfoy (Tom Felton) is chosen to be the one to assassinate Dumbledore (Michael Gambon), nicely set up the primary plot of Harry's sixth adventure, which will lead inevitably to the final confrontation.
Perhaps the film's biggest weakness is that it too often seems to be playing a waiting game. The best scenes are those between Harry (Daniel Radcliffe) and Dumbledore, particularly during their joint search for the third Horcrux, although the return to Hogwarts of Horace Slughorn (Jim Broadbent, who knows how to mix comedy and serious elements effectively) also provides some lively scenes.
Director David Yates, currently filming the two-part Harry Potter finale, keeps the plot moving effectively, intermixing action with more contemplative scenes. There is one crucial bit of information revealed in the film: the identity of the Half-Blood Prince. This will not be a surprise to fans of the novels, but even those viewers who have only followed the films will likely not be taken aback.
Warner Brothers is no doubt understandably anxious that Harry is coming to an end, given the huge box office success of the series. They've already pissed off fans by delaying the release of The Half-Blood Prince from late 2008 to July 2009, presumably in order to guarantee the studio a summer box office hit. The final book has been split into two parts (which should double the box office take) to be released in late 2010 and the summer of 2011. As the book was released in 2007, fans might be forgiven for losing some of their passion for the film adaptations coming 3-4 years later.
As for this non-reader of the books, I can only note that the three principals are currently 19, 19 and 20, presumably with better-trained hormones. Rated PG for scary images, some violence, language and mild sensuality. 153m. At the Broadway, Mill Creek, Fortuna and Minor.
AWAY WE GO: I can easily understand why Away We Go caused such a mixed reaction among both filmgoers and critics (it was panned by as many critics as those who wrote positive reviews). The film's appeal rests on a wry, offbeat sense of humor that some will not find amusing, and the central characters are not always very likeable.
As for me, it hit just right: no bathroom humor, no tired ethnic jokes and no slapstick, although there are the occasional references to scrotums and vaginas. Co-written by Dave Eggers and his wife Vendela Vida and directed by Sam Mendes (American Beauty; Revolutionary Road), the film has a definite indie vibe.
The setup for this road film is simple: Burt (John Krasinski, The Office) and Verona (Maya Rudolph, Saturday Night Live) are expecting their first child -- she's six months pregnant but looks ready to deliver at any moment -- and they are discontent with their circumstances despite the fact that both have jobs that allow them to work from home. Furthermore, Burt's parents, who live nearby, are moving to Belgium.
As a result, they embark on a road trip to find the perfect place to have their daughter, a location that proves to be elusive. In Phoenix, Verona's former co-worker Lily (a very funny Allison Janney) has a lousy relationship and comes on to Burt. In Madison, Burt's childhood friend Ellen, now LN (played with glorious commitment by Maggie Gyllenhaal), has become a nutty new agey Women's Studies professor with odd child-rearing ideas. In Montreal, college friends seem to have a good family situation, having adopted a multicultural set of children, but the woman is secretly bitter that she can't have her own children. Finally, in Miami, where Burt's brother Courtney (Paul Schneider) and his daughter have been unceremoniously ditched by his wife, Burt and Verona finally begin to understand themselves. Verona refuses to be married to Burt, but they have their own series of "I do's" in a touching scene on a trampoline.
Viewers' reaction to Away We Go will depend on how they react to the humor involved in the interchanges between Burt and Verona and the people they meet on their road trip, and to how they relate or not to the central characters. Krasinski and Rudolph are very likeable, low-key actors, but, again, some viewers might find this simply masks the utter condescension of the characters themselves. I found the film to be amusing and warm, and the story itself illustrates Albee's famous line from The Zoo Story: "Sometimes it's necessary to go a long distance out of the way in order to come back a short distance correctly." Rated R for language and some sexual content. 98m. At the Minor.
Continuing
BRUNO. Sacha Baron Cohen is at it again, this time as a gay Austrian supermodel on a quest to become famous in the U.S. Rated R. 88m. At the Broadway.
THE HANGOVER. Getting severely trashed with your bros at a Vegas-based bachelor party can have serious consequences, especially when no one remembers what happened. Rated R. 100m. At the Broadway and Mill Creek.
I LOVE YOU BETH COOPER. Super nerd shouts out to a hottie during his valedictorian speech and then he gets stoked when said hottie shows up at his door the next night. Rated PG-13. 102m. At The Movies.
ICE AGE: DAWN OF THE DINOSAURS. The gang makes a rescue mission for Sid that takes them into a mysterious underground world where they have close encounters with dinos and generally run amuck. Rated PG. At the Broadway (3-D), Mill Creek and Fortuna (3-D).
MY SISTER'S KEEPER. Parents with sick daughter have another child just to harvest her organs; harvested kid takes a stand when she gets old enough. Rated PG-13. 109m. At The Movies.
NIGHT AT THE MUSEUM: BATTLE OF THE SMITHSONIAN. Museum exhibits come to life leading to a history-packed battle of good versus evil. Rated PG. 105m. At The Movies.
THE PROPOSAL. When a high-powered book editor faces deportation to her native Canada, she declares she's actually engaged to her assistant, who she's tormented for years. Rated PG-13. 108m. At the Broadway, Mill Creek and Fortuna.
PUBLIC ENEMIES. A Depp-alicious true crime drama set during the dawn of the FBI. Rated R. 140m. At the Broadway and Mill Creek.
STAR TREK. Get the action-packed backstory on Kirk and Spock's rivalry-ridden relationship. Rated PG-13. 127m. At The Movies.
TRANSFORMERS: REVENGE OF THE FALLEN. Once again, Sam Witwicky finds himself in the middle of the war between the Autobots and the Decipticons with the fate of the universe at stake. Rated PG-13. 151m. At the Broadway, Mill Creek and Fortuna.
UP. In Pixar's latest, an elderly gentleman sets out to fulfill lifelong dream despite annoying Boy Scout tagalong. Rated PG. 101m. At The Movies.