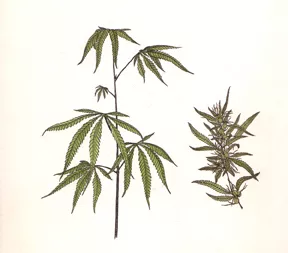 By Artist Briony-Morrow Cribbs. Courtesy of Wicked Plants by Amy Stewart.
Finally, an open and substantive discussion on how Humboldt can transform its underground economy into a legitimate business! With a legalization initiative firmly on the ballot, there's no better time to figure out what the Emerald Triangle might look like in the post-legalization environment. I just hope Humboldt's growers can take some cues from the rest of the horticulture industry. University botanists, plant breeders, wholesale nursery growers, garden centers and gardeners themselves participate every day in a legal, above-board commerce centered around plants -- all plants, that is, except for this one.
And there are important lessons that Humboldt's homegrown horticulture can take from the rest of the plant biz. After having spent a few years studying the cut flower industry, and many years watching the plant and garden industry as a whole, I think there are some good ideas out there worth considering. Such as ...
Patents and trademarks. The idea of "branding" cannabis grown in Humboldt is a fine one, but I hope growers are bracing themselves for the day when Big Tobacco walks into the US Patent and Trademark Office and files a patent for every strain of cannabis on the market. That's a patent, folks, as in, a piece of paper that prohibits anyone else from asexually reproducing, selling or using the patented plant without permission. Now, plant patents are complicated and well beyond the scope of this article, but suffice it to say that the day may come with the patent office is ready to accept plant patents for cannabis. Who's working on that paperwork?
A trademark is another beast entirely. Plant trademarks are controversial; some plant growers (including outspoken nurseryman Tony Avent) point out that a trademark only protects a brand, not individual products within that brand. So trademarking an individual plant species or cultivar is, people like Avent claim, a misuse of the trademark process. Trademarking a line of plants all sold under one brand name would be a legitimate use of trademarking.
And yes, the Feds are probably not ready to accept a trademark application for what will remain, in their view, an illegal product. But that could change. Who's going to be the first to file a trademark when it does? And what happens when the owner of that trademark starts sending lawyers to Humboldt to block the use of terms like "Trainwreck" and "Purple Haze"?
I'm not a plant patent and trademark lawyer, but if I had a stake in this game, I'd sure call one.
Responsible business practices. Legit agricultural businesses have to file reports of their pesticide use with the county ag department, enforce health and safety standards for their workers, pay fair wages and taxes, pass inspections and generally run a clean and safe operation. Those laws are on the books for a reason: Without them we risk chemical spills, electrical fires and a total lack of worker protections. Sound familiar?
Now, the tricky bit here is that a person who decides to make their living growing pot is probably doing it in part because they don't want to deal with the Establishment. But this is California, and we regulate our agriculture. I'd get busy complying with those laws and learning how to keep records, follow rules and all that grown-up stuff. In fact, why not just voluntarily start complying with California's agricultural and labor laws? It's the right thing to do. Right?
Eco-labels. We all know that our homegrown industry is an environmental nightmare. Pollution, harsh chemicals, massive energy consumption, diesel spills -- it's a mess. Meanwhile, the rest of the ag business has been focused on cleaning up its act and marketing its products as organic, eco-friendly, or sustainable.
What's that going to look like for marijuana? Want to sell organic pot? Guess what -- you can't use the term "organic" unless your operation has been certified by one of a number of third-party certification programs. Are any of those programs ready to start inspecting marijuana grows? If I was hoping to sell organic, Humboldt homegrown to the masses, I'd be Googling "USDA National Organic Program" right about now and schooling up. Even if the USDA's not ready for it, we should be.
Or what about creating a new standard just for pot? One that takes into account energy consumption, worker safety and spills and runoff, but perhaps allows limited use of mild synthetic chemicals in some situations? Guess what -- mainstream agriculture's already doing it. Google "ANSI Sustainable Agriculture" and start reading about what the Leonardo Academy's doing to develop voluntary, industry-wide standards that define "sustainable." A similar sustainability standard for pot could have Humboldt's name on it -- or not. Depends on who gets there first.
Go to Holland. And no, I'm not talking about studying Amsterdam's permissive pot economy. I'm talking about their flower industry. As the actual growing of flowers moved to regions of the world where the climate, labor costs and real estate costs made agriculture more affordable -- think Bakersfield for pot -- Holland's flower industry adapted. They kept the tourism piece of the business. They patent and market new plant varieties. They export their expertise, their technology and their equipment. They have established eco-labels, developed a giant auction and warehousing business, created the best industry trade shows and generally remained the leader in the flower business -- even as more and more of the actual flowers are grown in Africa and Latin America. Don't be in denial about this change; it will happen. Figure out how to embrace it and own it.
Develop standards for THC content. It's like the proof on a bottle of alcohol. Be kind to your new customers; let them know what they're in for. If Humboldt cannabis tourism is going to happen, let's make sure our visitors have a safe and pleasant experience that doesn't send them to the hospital, run them off the road or knock them off their feet.
Own the home gardening market. Expect to see a lot of gardeners adding a new plant to their backyard next year. Trust me, there are legions of garden writers out there who have no idea what to tell their readers about it. Let's create a gardener-friendly retail business that offers helpful advice, friendly service and products that are easy to use -- and then work with the mainstream garden media to promote it. Garden centers and hydro shops are miles apart in terms of atmosphere, appearance and customer service. Just as Restoration Hardware started here and went national, why not get the home gardening retail model figured out here and go statewide with it, cementing the Humboldt brand along the way?
I could go on -- and perhaps I will in a future column, particularly if you write in with your comments and questions -- but for now I just hope that our local growers will look to the horticulture, agriculture, and mainstream gardening communities for inspiration and expertise in running a legitimate industry.