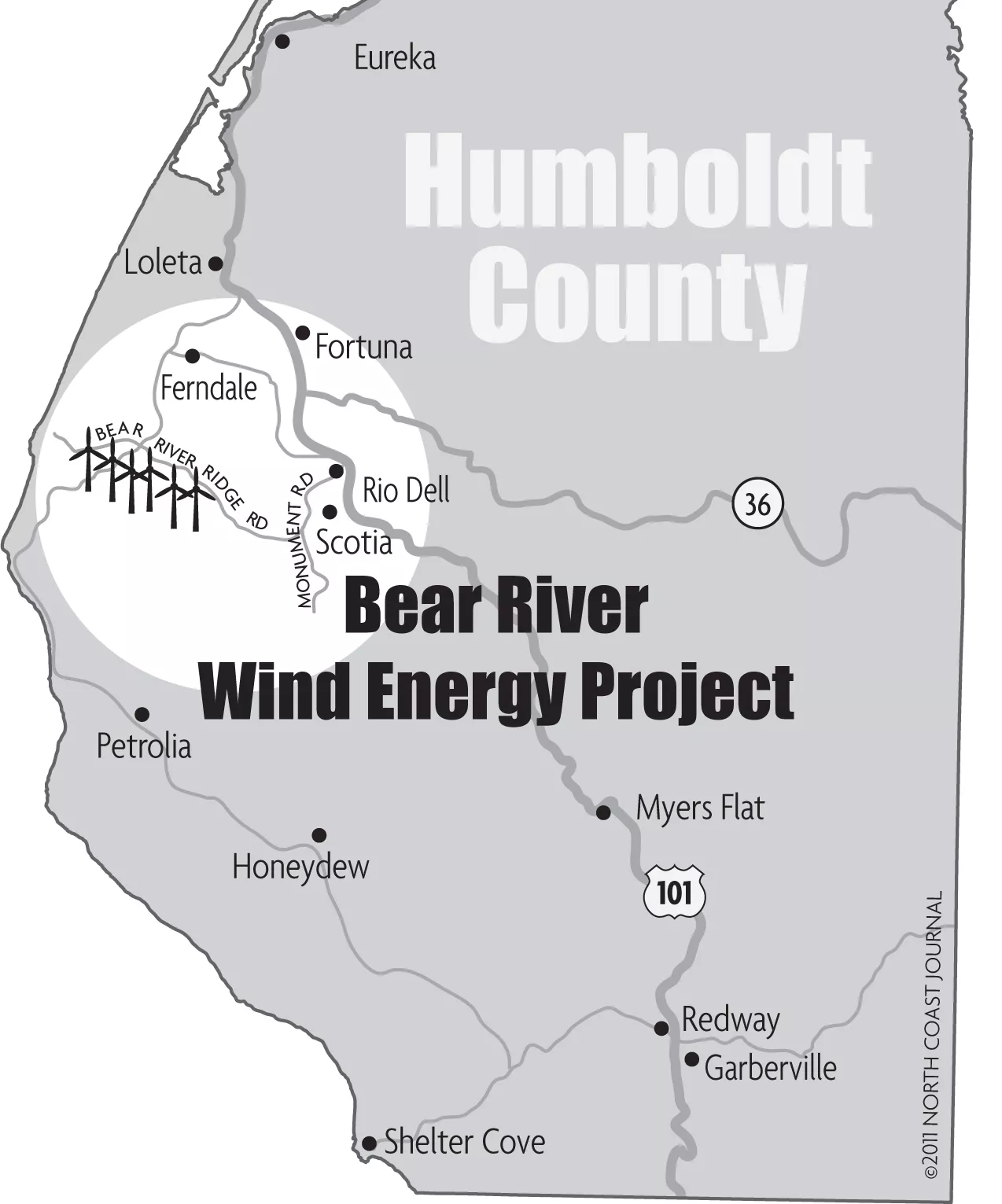 Shell WindEnergy, the corporate giant looking at building a 50-megawatt wind farm on a coastal ridge south of Ferndale, has a message it would like everyone in Humboldt County to understand.
When it comes to the Bear River Wind Power Project, tearing down homes and Victorian-era inns so that turbine-toting trucks will have room to make their way up to the high spot -- known as Bear River Ridge -- isn't part of the equation.
"We will not take any homes. We will find an alternate route," said Kevin Simmons, a Shell team leader for business development.
Ferndale resident Nancy Trujillo hopes that's true, but she can be excused if she has her doubts. After all, until just a few weeks ago, she had no idea that her home, a 1,100 square-foot wood-frame bungalow, was even under discussion.
She learned that alarming fact one day in late July when she walked into the Cream City Cafe -- a local hangout -- and three or four people all wanted to know the same thing: What was she going to do about her house?
"I said, 'I don't know what you're talking about,'" Trujillo recalled. "And they said to me: 'Shell's going to take your house down.'"
Soon Trujillo was reading a copy of the Ferndale Enterprise that had just hit the streets. Sure enough, there in black and white, in a front-page story, was ominous news.
According to a Shell consultant's study done in March, the newspaper reported, one potential route for transporting turbine components would "certainly require the removal of the existing single family residence on the northwest corner of Fifth and Ocean." Trujillo's house, in other words.
"I was blown away," Trujillo said. "It was the worst feeling in the world."
Adding to her alarm was the fact that her residence, which she bought for $284,000 in 2005, is more than just her home. It's also where she runs her business, a bookkeeping service called HumBooks, LLC.
Trujillo's home wasn't the only one targeted. According to that same consultant's study, a house next to Trujillo's might also have to be removed. So, under a slightly different transportation route, might a "multi-story historic building on the northwest corner" of Ocean Avenue and Main Street. That would be The Hotel Ivanhoe.
Ferndale, the "Victorian Village" out in pastureland southeast of Fortuna, is not happy. This stuff should be hashed out in public forums, residents wrote in a "letter of concern" to the town council, signed by 58 people.
In July, Shell met privately with officials in both Ferndale and Rio Dell.
"If everything is good and green about this project, why aren't they providing this information to the public?" said Sandra Mesman, co-owner of Golden Gait Mercantile and one of the driving forces behind the letter.
The Ferndale Council seems to be getting the message. In a recent vote that City Manager Jay Parrish referred to as "guidance," the council said future meetings with Shell must take place out in the open.
Meantime, in an apparent attempt at damage control, Shell officials are making appearances this week at -- you guessed it -- public forums on transportation and transmission lines. One is scheduled in Rio Dell on Wednesday, Aug. 31. A second, in Ferndale, is scheduled for Thursday, Sept. 1.
The intense focus on transportation reflects a basic fact about wind power: Wind turbines are huge.
How big are they? Well, the turbine blades are 150 feet long. And the towers, which will stand close to 260 feet tall once erected, are shipped in three pieces, each running about 85 feet.
Then there's the nacelle, the housing for the generator at the tops of the towers. It's extraordinarily heavy, about 80,000 pounds.
Transporting 25 nacelles to fit on top of 25 wind turbine towers, as called for by the Bear River project, is going to take its toll. "Certain road compaction requirements must be met," was the way Shell's Simmons put it in a telephone interview from Shell WindEnergy's corporate offices in Houston last week.
The components would all arrive in Humboldt Bay by barge and be offloaded at a site that hasn't yet been chosen. Then they'd be trucked down U.S. Highway 101. Once the transports leave the highway, things get thorny.
Simmons said any time a wind farm is located on a hilltop, "you're going to have the issue of how to get the equipment up the road safely." Construction and maintenance crews need year round access.
For the Bear River project, there is no good way to get up there. Shell has analyzed five different routes, three going through or near Ferndale and two going out of Rio Dell. All have problems.
The Ferndale routes, aside from having a few structures in the way, would travel a steep road beyond town. Wildcat Road, which eventually turns into Mattole Road, is also narrow, twisting and subject to landslides.
Given that, Simmons said, Shell is exploring the possibility of bypassing a portion of Wildcat Road and building several thousand feet of new road instead.
The most direct route to Bear River Ridge is southwest out of Rio Dell, either via Monument Road or Blue Slide Road. But these roads also present challenges in terms of steepness, tightness of turns and, in the case of Blue Slide Road, a less than sturdy bridge.
So road improvements will have to be made, Simmons said. Humboldt County's Community Development Services Department estimates that large trucks delivering turbine components would make would make 850 trips, and construction workers would make 60 round-trips daily. That construction phase, the county says in a March 2011 "scoping report," would also include more than 2,500 trips by dump trucks, concrete trucks, water trucks, cranes and other vehicles.
Simmons said some equipment could be flown in to lessen the impact.
"Whenever you run into problems on a project, you have to ask: 'What can we do to mitigate this?' In this case, airlifting in the blades would be one way to mitigate," he said.
But mitigation has its limits. Helicoptering in the nacelles, for example, isn't possible because of their weight.
"If those mitigations can't be overcome, then you need to make some hard decisions," Simmons added, sounding a bit like a man trying to give himself an out.
Actually, as the Ferndale Enterprise also reported this summer, a 2009 study done for Shell had stated flatly that transportation was "a potentially fatal flaw" for the entire project.
When asked about that last week, Rana Patana, a Shell spokesman, said the statement was still valid.
Patana said that Shell would likely finish studying the transportation issue sometime early next year and make a decision about whether to proceed with the project in the last half of 2012.
If it decides to go ahead, then a round of regulatory review -- accompanied by extensive public comment periods -- would follow.
Shell would need a conditional use permit from Humboldt County. It would have to prepare a Habitat Conservation Plan that satisfies the U.S. Fish and Wildlife Service about any potential harm to the marbled murrelet, an endangered seabird.
Pacific Gas & Electric Co. and the California Public Utilities Commission would also be looking over Shell's shoulder because the Bear River project calls for building a 12-mile transmission line.
Asked when the project might actually go into operation, Simmons and Patana, along with another Shell official, Craig Scheffler, chuckled a bit during last week's interview. Given the extensive regulations in California, they said it would be awhile.
After being pressed, Patana said: "The soonest would be by the end of 2014."
As for Trujillo and her worries about her home, John Miller, the Humboldt County official in charge of reviewing the Bear River project, went out of his way to reassure her last week.
"I can't imagine Shell would select an alternative that would include knocking down buildings," Miller said. And even if the company did, he added, "That's hardly something we'd recommend approval on."