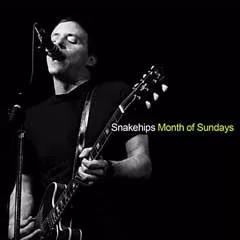 Singer/songwriter/bandleader Mark Harrison has swung back and forth between Memphis and Nashville without breaking ties with the musical influences that come from both sides of Tennessee. Starting in 1993, Harrison led his Memphis-based band, Snakehips, with their debut full-length, Lit, a solid recording that wore its T.Rex/Replacements/Big Star/Stones influences proudly, accompanied with that Memphis soul-based swing. However, Harrison's ballads, such as "Girl in Black" (from Lit) and "Blue Star" (from 1997's excellent Memphis Juke) were closer to sweet folk ballads of the 1940s and '50s, the kind of thing heard in his native eastern Tennessee. It proved to be a good combination.
Harrison has quietly released an impressive catalogue of power pop, rock and hauntingly spare ballads, colored by an increasing assortment of musical flourishes, from the country-tinged pedal steel, to the use of a Wurlitzer organ, a horn section, strings, or a Theremin. In the interim, Harrison also teamed up with his brother Price Harrison, founding member of the unheralded garage/glam band, The Botswanas, with a side project, Golden Mean, releasing Black Operation in 2005. Though a collaborative project between the Harrison brothers, it was Mark's "Don't You Want It," a Mink DeVille/Velvet Underground-influenced gem that stood out. For the fifth Snakehips record, Month of Sundays, he brings a cohesive set of songs, filled with pop hooks, eccentric nods to artists such as Todd Rundgren (the homage to "I Saw the Light" in the upbeat "Wonderland"), and out-and-out rockers (the sly, cool strut of Ric Steff's B3 organ on "Come On" and the pounding chords of "Killing Floor") and mid-tempo ballads.
On the new Snakehips offering, Harrison's flare for the pop-tinged, tight, and no-frills rock number, such as "Time to Cry," or "Walk Away" is executed with such ease; it surpasses its initial influences. Yet, it's the mature confidence in his softer, folk-based songs that demands attention. The aching "Love Poison" hosts an ingenious, scant electric guitar line that drops in a bed of church-like keyboards, with Harrison's near-country, deadpan vocal delivery of lines like, "Though I may wonder more, I know the color of my dreams," is near perfect.
The following "When I'm Blue," accompanied with Jonathan Kirkscey's cello and Doug Easley's subtle pedal steel, provides a brilliant ambiance of melancholy and beauty. "When I Walk Away," the record's closer, employs a chugging acoustic guitar and synthesized strings, pointing to a new musical direction that Harrison has toyed with in the past.
Month of Sundays is the kind of record that one might hope that Alex Chilton still has in him, or that Paul Westerberg could be bothered to put together. And this is what I mean by "surpassing" influences, Mark Harrison, with his new Snakehips release, has quietly progressed with this record of varied pop nuggets.