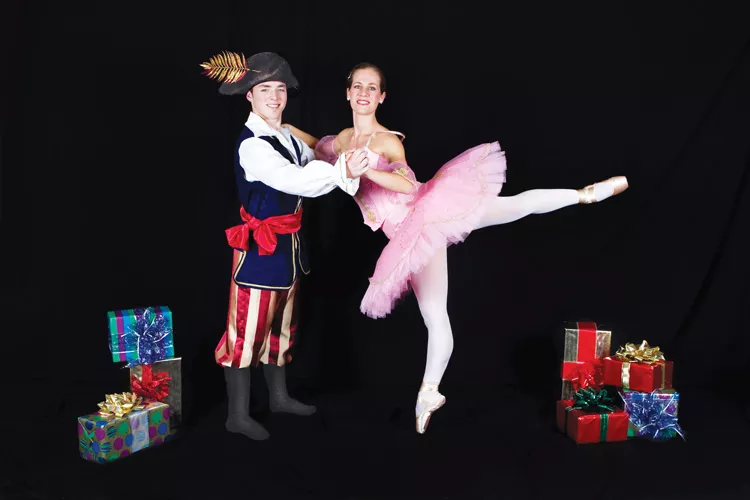 Photo by Sacred Images Photography
Kyle Ryan as Pirate King and Julie Hayes-Ryman as Ballerina Doll in Trillium Studio's 'Twas the Night Before Christmas.
Just as Macy's Thanksgiving Day Parade marks the start of the holiday season in New York City, Dell'Arte's holiday production begins Humboldt's yuletide festivities. The Dell'Arte graduate students and faculty who create each original production bring fresh ideas to the notion of theater and dance and what exactly we are celebrating here as the year comes to an end. This season's hilarity unfolds with The Nutcaper, revisiting the Nutcracker of classical ballet renown with a side story told by the mice.
With fantasy characters like human-sized mice, Dell'Arte's forte, physical theater, blurs the line between dance and acting as the characters are realized through their physical qualities. Hugely bulbous rodent bottoms beneath Dickensian costumes immediately make the performers other than human as they waddle, twitch and scurry through their scenes. Choreographer Laura Muñoz worked with the cast to create the movement sections, which are as important to character development as the dialogue. Their take-off on classical ballet to the Tchaikovsky score becomes a starting point, spinning the familiar into a new adventure. In my favorite scene, the Mice Girls pile crates to blockade the door against the evil Rat King in a Keystone Cops-like exchange. There's a choreographic ingenuity in the use of a few simple props moved around to change the scene in full view of the audience, another specialty of the Dell'Arte gang. Catch the final performances this weekend in Blue Lake.
Walking into Redwood Raks, you enter a world of bright silk, rich velvets and twinkling lights, the hallmarks of Shoshanna, whose lush imagination produced Nutcracker: Arabian Nights, an enchanting community extravaganza. This enormous undertaking, telling the story of the Nutcracker in bellydance with scores of students of all ages, along with her Ya Habibi Dance Company and other local Middle Eastern dance troupes, paid off with a full house of enthusiastic fans for Saturday's opening night. All signs lead to this full-scale production easily becoming a mainstay in the local December dance repertoire as the show settles into itself over the next few seasons.
The show is part dance school recital, where adult dance students get their bellydance on and the kids charm most when they are not being perfect. The skilled professionals were a delight, like the marvelous women dancing with swords balanced on their heads. Guest artist Ziva Emtiyaz presided as the Sugar Plum Fairy, overseeing Candle Dancing, Belly Dancing Dolls come to life, a Waltz of the Persian Flowers, and the Arabian versions of Spanish Chocolate, Chinese Tea and, of course, Arabian Coffee.
Combine festive party dancing with children and scarves, women's veil dancing known as Khakiji, Humboldt Rockers wowing us by combining Tahteeb, the Egyptian stick fighting martial art with break dancing and the Land of Turkish Delights, where a slew of court dances entertained a sultan and a sultana, and you have Clara and the Nutcracker taking the usual journey -- on a magic carpet. Quite a triumphant beginning venture -- who knows where the magic will lead.
Trillium Studio's 'Twas the Night Before Christmas was another epic performance, worthy of Cecil B. DeMille, telling a story of love being stronger than pirates. Combining Clement Moore's Christmas tale with Peter Pan and Wendy, you had Lost Boy orphan pirates destined to skirmish with little elves, reindeer, teddy bears, "Bellerinas" and other good guys, until the Ballerina Doll convinces her league to kill the bad guys with kindness. In a mini parade, Samba students glittering in gold marched through the aisles as Christmas Lights came to life, one of many colorful moments that lit up the Van Duzer Sunday afternoon. Maybe it's the time of year, but although I knew the ending, I had a tear in my eye when the Pirate children received their first Christmas present and returned the Star stolen off the Christmas tree. Kyle Ryan and Hayes-Ryman as the gallant Pirate King and Ballerina Doll are creating classic roles reminding little girls of what we glimpsed every time we opened our jewelry boxes -- another seasonal tradition is born.
Putting on the classical Nutcracker is a major feat, from the large cast to the elaborate costumes to the throngs of kids included on a bill alongside seasoned professionals. This is not only Danny Furlong's 10th anniversary season at North Coast Dance, but also his 29th year involved in a Nutcracker, whether as choreographer, director, stage manager or principal dancer.
Some Decembers just going to see another Nutcracker ballet feels like a chore; I couldn't imagine putting one on year after year. But for many ballet companies, it's the annual moneymaker -- and the most loved ballet in their repertory. This is no different for North Coast Dance, the resident company of the Arkley Center. A choreographer like Furlong has to keep coming up with new stuff to tell the same story to the same Tchaikovsky score (which he must know note for note by now), not only to keep his audience engaged, but himself, too. Furlong explains that one way he keeps the cast of 90 moving is to pace this "classical 19th century work with a 21st century tempo." Guest artists from the professional ballet world are often surprised by the way Furlong can pack a phrase, which is great fun for us to watch -- stellar technicians challenged to dance beautifully and speedily.
This year, even a Nutcracker Scrooge like me is eager to see Furlong's totally new version of Chinese Tea, with its cluster of Tea Leaves, original characters danced by 9- to 11-year-olds. Watching the kids develop is one of the upsides of seeing dance in a small community. This year a group of young teens, who have moved up to pointe, will be dancing a new Angel section. "I kept it simple," says Furlong, to give them this first feeling of performing onstage in pointe shoes. Furlong has again coaxed rising stars up from San Francisco to become part of our holiday revelry. This year the bright talent Ikolo Griffin returns bringing along his fiancé, Sarah Bukowski, to partner in the sultry Arabian Coffee. Watch for their contemporaries Micah Savin as the Nutcracker and Brendan Barthel dancing the robust Spanish Chocolate.
North Coast Dance's The Nutcracker runs Friday and Saturday, Dec. 16 and 17, at 8 p.m. with matinees Saturday, Dec. 17, at 2 p.m. and Sunday, Dec. 18, at 4 p.m. Tickets are $20, $12 for children 12 and under. A Closing Night Wrap Party Tuesday, Dec. 20, at 7 p.m., includes catering by Avalon, $10. All shows at the Arkley Center for the Performing Arts, 412 G St., Eureka. 442-1956.
The Nutcaper plays one more weekend at Dell'Arte's Carlo Theater in Blue Lake, Thursday, Dec. 15 through Sunday, Dec. 18, at 7:30 p.m. Advance tickets (mandatory): $10, $8 for students and seniors. 668-5663 www.dellarte.com
Heads Up! If you want to get out of those muddy Bogs and put on a pair of high heels, New World Ballet's Red Carpet Gala at Arcata Community Center on New Year's Eve is the happening place: Dinner, drinks, the Richmond Ballet and dancing 'til dawn. More info: www.humboldtdance.org or 822-4947.