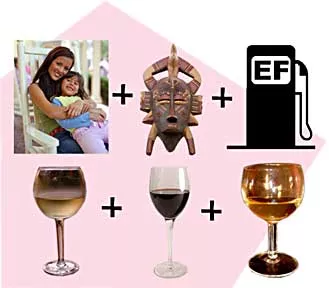 This Sunday is Mother's Day. If your mom is somewhere far away, you just might still have time to send her a card. If your mother is nearby and you're planning on honoring or pampering her (or perhaps the mother of your children) by taking her out to dinner, I'd advise getting on the phone as soon as you read this to try to find a reservation at a nice restaurant. I believe I offered similar advice around this time last year, but it's worth repeating. Your favorite dinner house may already be booked solid. According to the National Restaurant Association, Mother's Day is the No. 1 busiest day of the year for the restaurant trade. And local restaurateurs, particularly those in Arcata, are faced with a one-two punch. This is also Humboldt State's graduation weekend, which means hundreds of extra moms and dads in town taking the grads out for a fancy meal.
My plan? I'm taking my mom out for Mother's Day Brunchat the Bayside Grange, where the Emma Center is putting on a benefit. I don't know much about the Emma Center - I'm told it's a group offering counseling and assistance for women traumatized by abuse of one sort of another. Their eventual plan is to establish a residential healing center. My mom says it's a good cause - she's a fervent supporter of good causes - and that's where she wants to go. So be it. (It also allows me to steer clear of the restaurant scene.)
What's for breakfast? I honestly have no idea aside from the promise of "wonderful gourmet food." (My guess is there's probably eggs involved.) The Fabulous Blue Jayz are playing music, there'll be bellydancing by the Amiras, a silent auction - that sort of thing. That's this Sunday, May 13, from 9 a.m. to 1 p.m., at the Bayside Grange, 2297 Jacoby Creek Rd. Bayside. Brunch is $15, $5 for kids 10 and under. Emma Center founder Paige Alisen can probably tell you more. (She's at 825-6680.)
And the mother of my child? She wants to go out Saturday night for an Authentic African Dinner, also at the Bayside Grange. The meal will be prepared by Humboldt State lecturer (and Benin native) Hermine Amoussou and students from her anthropology class on "Peoples of Africa." It's another benefit, this one raising funds for an orphanage in Cote d'Ivoire. You may have tasted Hermine's cooking before - she and her husband Guy-Alain (from Cote d'Ivoire) have run an African food booth at the North Country Fair for the last few years supporting their nonprofit Consortium for Education and Technology by serving, among other things, grilled chicken and rice with a wonderfully flavorful peanut sauce.
Saturday's all-you-can-eat menu is a bit more elaborate. It begins with an appetizer: aloko, an Ivorian-style fried plantain topped with a tomato sauce "spicy/or not." Then you have the Amoussou's salade riche, a mixture of macaroni, potatoes, carrots and corn, all marinated in a homemade sauce, with eggs, tuna and beef optional. (They're ready and willing to accommodate vegetarians.)
For main courses, you again have vegetarian and omnivore options: There's sauce legumes, vegetables cooked in a spicy tomato sauce served over Moroccan-style couscous; mafe, with vegetables in peanut sauce served with rice; agoussi, a savory spinach dish with a tomato/sesame sauce served over rice; and Senegalese poulet yassa, marinated chicken slowly cooked in an onion, garlic, mustard and lemon sauce served over steamed rice.
Dessert is a sweet and savory pastry called tchin tchin. Drinks include a sweet hibiscus tea, bissap, a homemade ginger brew or, for the less adventurous, coffee. African music will accompany the meal.
The African dinner takes place Saturday, May 12, at 6:30 p.m. at the Bayside Grange. The organizers ask that you make reservations in advance ASAP by calling 498-9780, so they'll know how many to expect. Dinner is $25 or $10 for children under 10. Bring extra cash for the benefit raffle with African masks, tapestries, fabrics and other objets d'art among the prizes. All proceeds go to the Consortium for Education and Technology orphanage project.
If you read the Eureka Reporter with any regularity, or if your saw our own Town Dandy last week, you know about the ER's Economic Fuel contest for local entrepreneurs. It ended last Thursday and there were a couple of food-related businesses among the $25,000 prizewinners. Kalindi Rogers and Erin Slattery will use their award money to kick-start Agogo, a food truck offering vegetarian sushi in various locations in Arcata. You may remember Shail Pec-Crouse and Sarah Brunner of Wild Chick Farm from a "Talk of the Table" column last year about their organic free-range chicken business ("Chicks Gone Wild," April 13, 2006). At the time they were working their way through the first Economic Fuel competition. This time they won.
Between egg sales at Saturday's Farmers' Market, Shail explained that they'll use the $25 grand to take their business to the next level, specifically to purchase a certified mobile poultry processing unit, a metal trailer used as a slaughterhouse for hens raised expressly for meat. That's a major step for a couple of women who used to be vegans. It'll take a while, but the plan is to eventually offer organic, free-range meat at the market. In the meantime you can get Wild Chick Farm eggs at their booth on the Arcata Plaza every Saturday (show up early if you want the large ones) or you can get the eggs poached at Café Brio.
Art of Wine presents another of their winemaker receptions at Gabriel's Restaurant Saturday, May 12, this time featuring wines crafted by a couple at the forefront of Humboldt winemaking: Maggie Carey and Joe Collins of Briceland Vineyards. A number of local vintners, particularly those who grow their own grapes, credit Joe and Maggie as being instrumental in helping get their wineries off the ground. They're pouring half a dozen different wines: their marvelous Sparkling Brut, Sauvignon Blanc, Chardonnay, an Italian varietal called Arneis, Pinot Noir and Nebbiolo, each one paired with a taste of some appropriate dish. It starts at 4 p.m. Cover is $30 apiece upfront, paid by card over the phone (268-0626) or at Art of Wine, 308 2nd St., Eureka. (Advance reservations are required.)
A bit of advice based on my own experience at one of these affairs at Gabriel's, where Donald Bremm and Sharon Hanks of Moonstone Crossing were pouring their excellent wines: The food paired with the wines is in small portions, and does not quite add up to a full meal. Make a reservation for dinner afterward.
Incidentally, if you can't make it to the Art of Wine tasting, Jo and Maggie host an open house at the winery outside of Redway every year on Memorial Day. Briceland Vineyards is at 5959 Briceland Rd. Call them at 923-2429 for details on the open house.
Another pending event in the local wine world: the first ever Willow Creek Barrel Tasting Weekend, coming up Saturday and Sunday, May 19 and 20. The Klamath-Trinity Wine Grower's Association is bringing together seven winemakers from the greater Willow Creek area: Gary Barker's Dogwood Estates, Sentinel Winery, Coates Vineyards, Cabot Vineyards, Meredith Family Vineyard, Vinatura Winery and Winnett Vineyards for winery tours, hors d'oeuvres and the opportunity to sample splashes of all sorts of wine in one of those etched commemorative wine glasses, all for $15. Pick up your glass at the Willow Creek Chamber of Commerce kiosk just off Hwy. 299, starting at 11 a.m. The event runs until 5 p.m. An optional food and wine pairing dinner is offered Saturday evening at 6 p.m. by Cinnabar Sam's, with the various winemakers in attendance. For dinner reservations call (530)629-3437. For details on the big event call Dogwood Estates at (530)629-3750, Sentinel Winery at (530)629-2338 or Winnett Vineyards at (530)629-3478. Or talk to David and Sharon Winnett at their booth this coming Saturday at the Arcata Farmers' Market
Just about all of the wineries mentioned above and several more will also be at the Humboldt Arts Council's 4th Annual Art, Wine and Cheese Festival on Friday, June 1, from 5-8 p.m. at the Morris Graves Museum of Art. Along with wines from 19 North Coast vintners you'll sample the wares of Loleta Cheese Factory and Cypress Grove Chevre, listen to Holbrook and Bear and bid on art at a silent auction -- and yes, your $25 ticket gets you yet another etched commemorative wine glass for your collection. Call HAC at 442-0278 for further details and reservations.