Heads up, Humboldt:
While the county's masking mandate has been lifted, Public Health is still strongly recommending masking indoors in public, social distancing and "avoiding crowds and poorly ventilated spaces." COVID-19 is still with us, so be sure to check the protocols at event venues.
Movies Under the Mural
When: Sat., May 30, 9-11 p.m., Sat., June 27, 9-11 p.m., Sat., July 25, 9-11 p.m. and Sat., Aug. 29, 9-11 p.m. 2015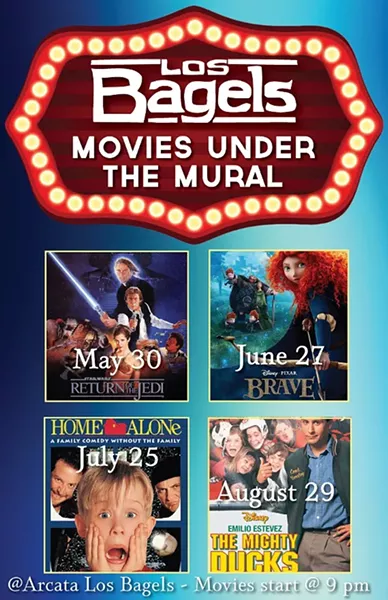 Coming Soon, the last Saturday of the month, to a Los Bagels parking lot near you... Movies Under the Mural! We're kicking-off the first MUTM with Star Wars: Return of the Jedi on Saturday, May 30th, 9 pm at the Arcata café. Bring your own seating & blankets, and enjoy the free popcorn and movie on the big screen under the stars!
Price: Free