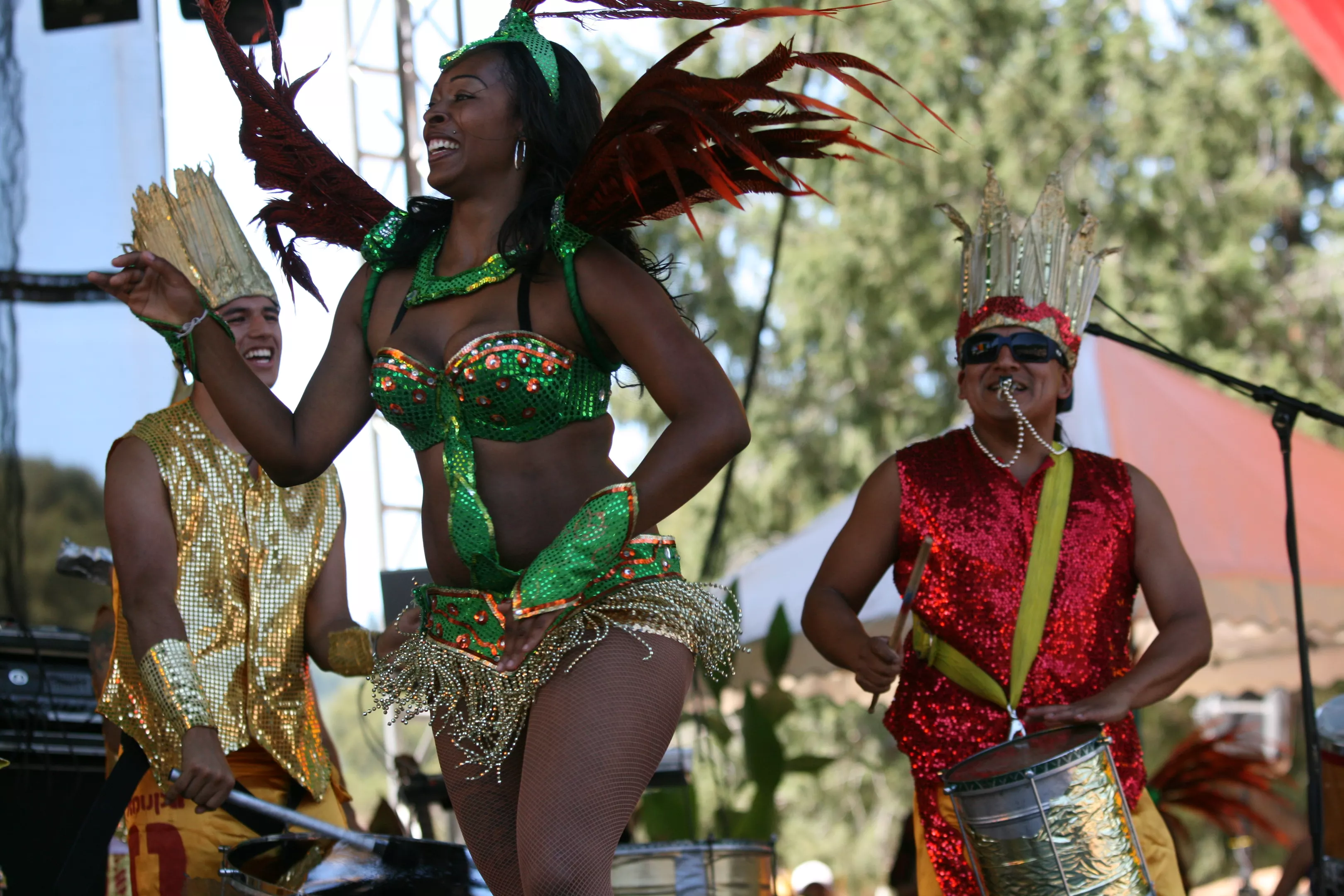 photo by Bob Doran
Fogo Na Roupa - Jose Rivera at right
A dance festival in Humboldt County? That's the stuff dancer dreams are of made of. It's happening in Arcata the last weekend in March when New World Ballet presents the first annual Humboldt International Dance Festival at the Old Creamery. Performances, prominent teachers and dance artists, back-to-back classes and lots of dancers to meet and take class with are promised. For a dancer it's a chance to move out of the comfort zone of the local dance scene, and be renewed and inspired, expanded by a gathering of others of your kind -- all together for one purpose: to move together. For others it's the moment to take a class from a gifted artist who has traveled from afar to share his or her magic. The cadre of drummers and dancers NWB Artistic Director Victor Temple has assembled from his extended family in the Bay Area and beyond brings a wealth of dance styles and drumming to our sometimes isolated oasis behind the Redwood Curtain.
The HID Fest comes in two parts with master drum and dance classes this coming weekend, then again in April, when the festival will also include a showcase performance. Temple describes the invited artists as representing the African diaspora with this first wave including classes with world famous AfroCuban drum and dance teacher Jose Barroso as well as West African dance teacher Alseny Soumah, originally from National Ballet of Guinea and griot/drummer Caramba Doubaté, also from Guinea.
The festival features the Bay Area Afro-Brazilian samba troupe Fogo Na Roupa (whose name translates as "clothes on fire") who Victor met when he was crowned 2004 King of Carnaval in San Francisco. He reconnected with them in 2009 and worked with them when they performed on stage at Reggae Rising that year. The troupe's leader, Metzi Henriquez, will be here this weekend teaching Carnaval-style samba dance; drummer Jose Rivera leads a percussion workshop.
Fans of Temple's predecessor ballet mistress, Nadine Cole, (founder of NWB) will be happy to learn she is teaching ballet and pointe classes during the festival, too.
Among the teachers coming in April for the second wave are Kiazi and Muisi-Kongo Casquelourd, the son and daughter of Congolese master Malonga Casquelourd, who was at the forefront of introducing America to the drumming and dancing of his homeland. Malonga performed and taught in Humboldt County a few times before his tragic death in 2003; Temple was part of a parade that marched through the streets of Oakland the day the prestigious downtown Alice Arts Center was renamed the Malonga Casquelourd Arts Center in his honor. He is extremely pleased to help Malonga's children continue their father's legacyof bringing Congolese culture out into the world.
This festival is Victor's baby. These internationally renowned artists are his friends and he said he's honored by their presence in his home, Arcata, and his house, the New World Ballet Studio. Temple, who performed with the Dance Theater of Harlem, Shanghai Ballet and Oakland Ballet, is working on a contemporary piece featuring his own New World studio dancers to be premiered in April. He says the piece, called "Egypt," was inspired by the political activity and changes that have recently taken place there.
Perhaps Temple's happening will encourage impresarios to put on more dance festivals in Humboldt. We certainly house enough ballet schools and ballerinas to spur a weekend of ballet workshops and perhaps a concert of contemporary ballet works. There's also a wealth of Middle Eastern and belly dancers, samba galore, as well as fire arts, aerial and hoop dancers. And, of course, my fantasy would be a modern dance weekend joining the modern forces with some of the smaller, but hardy modern companies from the Bay Area and/or Portland, to teach and perform. Humboldt could become a destination where dancers and dance lovers commune with the trees, the beaches, dance studio floors and concert halls.
Part one of the first Humboldt County International Dance Festival runs Friday through Sunday, March 25-27, with master classes offered all weekend. All classes take place at New World Ballet and next-door at Redwood Raks, 824 L St., in the Old Creamery Building in Arcata. Drop-in classes are $15; there's a discounted fee for the entire festival. For the complete festival schedule go to www.newworldballet.com.
Heads up
In early April look for the Upper Studio's rendering of A Midsummer Night's Dream, choreographed by consummate ballerina Heather Sorter and the incessantly witty modern dance artist Bonnie Hossack. The cast includes dancers from many of the local studios including North Coast Dance, The Dancer's Studio, No Limits and Dell'Arte. The show is in two acts, incorporating ballet and modern as well as silk aerial work. We can look forward to fantastical costumes, even a fog scene. The concert is April 1-3 with Friday and Saturday evening shows at 8 p.m. and Saturday and Sunday matinees at 2 p.m. at Redwood Raks. Tickets are $15, $10 for children, available at Holly Yashi and Wildberries.
Pencil in Saturday evening, April 30, or Sunday afternoon, May 1, at the Raks, too, for the latest presentation of Two Left Feet, a community-wide dance showcase, originally founded by Bonnie Hossack many moons ago, now run by a gifted young dancer, the effervescent Lindsay Bond. Two Left Feet opens its stage to choreographers and dancers of all levels of experience, making for a diverse concert performed by hoofers from all over the area. Being onstage or in the audience is always a blast at this show, where you're sure to see lots of folk you know and love.