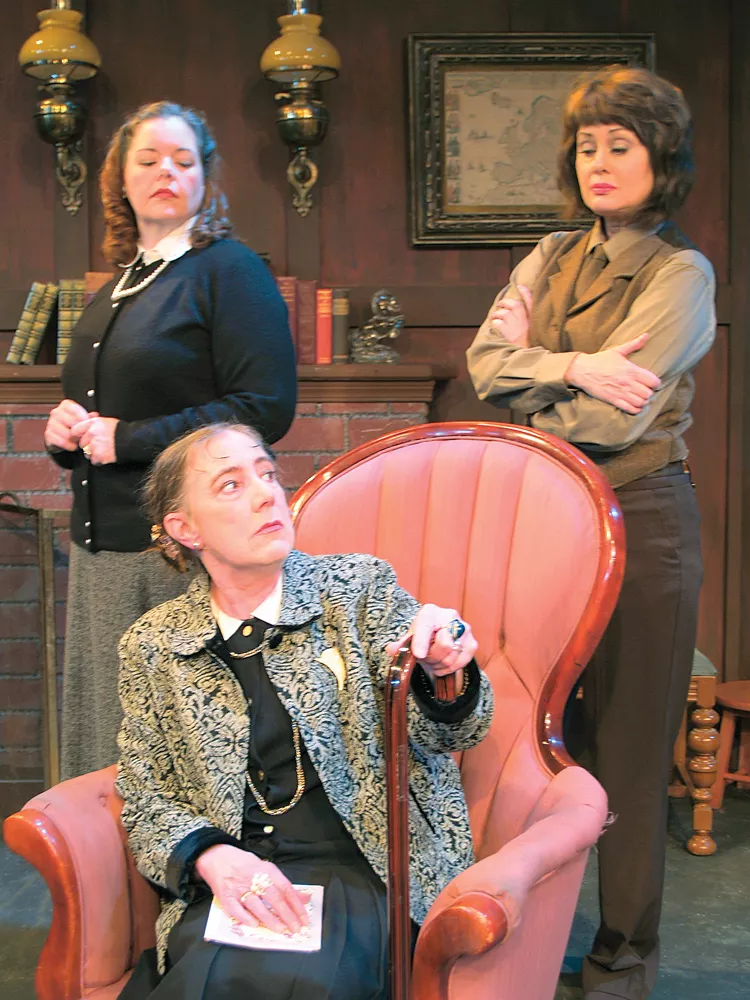 Photo courtesy of NCRT
Shannan Dailey as Mollie (standing, left), Toodie Boll as Mrs. Boyle (seated), and Gloria Montgomery as Miss Casewell in NCRT's Mousetrap.
Though Agatha Christie is the best-selling novelist of all time, I suspect most of us now know her stories principally from the many television and movie versions. Christie herself adapted a dozen or so of her stories for the stage, sometimes ruthlessly. She staged three stories starring her famous detective, Hercule Poirot, but eliminated Poirot. In Appointment with Death she outfoxed her readers by reproducing the novel's plot and characters but she chose a different murderer. This play premiered in 1945 with a young Joan Hickson in the cast. Christie wrote to her, hoping she would one day play her other famous detective, Miss Marple. Hickson did -- in the 1970s BBC series that's arguably the best of the available DVD sets.
Stage mystery aficionados rank three of her plays among the best of the genre: Witness for the Prosecution (which was successfully filmed at least twice), Ten Little Indians, and by far her most celebrated play, The Mousetrap, now on stage at North Coast Repertory Theatre in Eureka. The Mousetrap premiered in November 1952 in London, where its record as the longest running play in history is unlikely to be broken, especially since to this day it is still running at the St. Martin's Theatre.
With their relatively slow pace and reliance on plot mechanics, stage mysteries aren't done much anymore. Christie's plots in particular inspired parody, from the self-consciousness of the all-star movies in the 1970s based on Christie novels (with Albert Finney and Peter Ustinov each portraying Poirot) to the hilarious burlesque of Tom Stoppard's play, The Real Inspector Hound, and an affectionately funny episode of Doctor Who a few years ago.
The Mousetrap is handsomely mounted at NCRT, as directed by Tom Phillips, with set by Calder Johnson, costumes by Shelley Stewart and lighting by David Tyndall. The cast capably provides the required shades of sympathy and suspicion for each character. Shannan Dailey and Anders Carlson are Mollie and Giles Ralston, welcoming a group of strangers into their old Guest House in suburban London during a snowstorm. The guests include Mrs. Boyle, a demanding older woman (played by Toodie SueAnn Boll); Major Metcalf, a retired soldier (Scott Malcolm); Christopher Wren, a fey young man (Selavy Skaggs); and Miss Casewell, a mannish woman (Gloria Montgomery, with the best British accent). David R. Simms plays Mr. Paravicini, a mysterious foreigner who arrives unexpectedly. (Christie hoped audiences would think he might be Poirot.) Jasper Anderton plays Detective Sgt. Trotter, who shows up to investigate a murder.
The characters are recognizable types, and while some of the portrayals might seem over the top, the main task of keeping the mystery alive is accomplished. The first act ends with another murder. By the end, the murderer among them is revealed, but there are enough clues (and enough loose ends left dangling) to lead plausibly to several other suspects.
The Mousetrap includes the sly social commentary that enlivens some of Christie's stories, and it preserves a sense of the dislocations in British society being felt in the years immediately following World War II. Absent the expectation that it will rival the televised stories, it may provide fun for an entertaining night out.
Agatha Christie's The Mousetrap plays weekends at North Coast Repertory Theatre through Dec. 10.
The Human Nature troupe brought its latest climate crisis comedy to the Arcata Playhouse last weekend, before taking it to a United Nations climate change conference in South Africa. Tripping at the Tipping Point: Climate Comedy for Adults in Need is clever and elegant in its pointed comedy, with unique interpretations of such cultural myths as Adam and Eve, and Mother Earth. David Simpson and Jane Lapiner are up to their delightful old tricks, but the show's revelation is Joyful Simpson, particularly her funny and scary portrayal of Gaia as a kind of Janis Joplin abused by her lover: humanity. Good luck finding a better planet than me, she says. Whether felt as elegy or call to action, it's a well-crafted satirical hour that makes its points unmistakably.
This is my first opportunity to follow up on the late October reading at Dell'Arte of Sinclair Lewis' It Can't Happen Here. As one of the readers, it was remarkable to participate in an event that not only commemorated history, but made history. This play was first produced by the Federal Theatre Project in 1936, in 18 cities simultaneously. To mark its 75th anniversary, it was given public readings in at least 24 theatres around the country.
I was suitably impressed with the acting talent that surrounded me on the Carlo Theatre stage, but at least as impressed by the attentiveness of the audience. There was no scenery, costumes, music or even a microphone: just 15 people sitting at tables across the stage, reading the play and interacting as much as they could. Yet a near-capacity crowd listened to every word for more than two hours. In my introduction to the event, I noted that the Federal Theatre of the 1930s showed there was a popular audience for a "theatre of meaning," and this evening suggested it's still true.