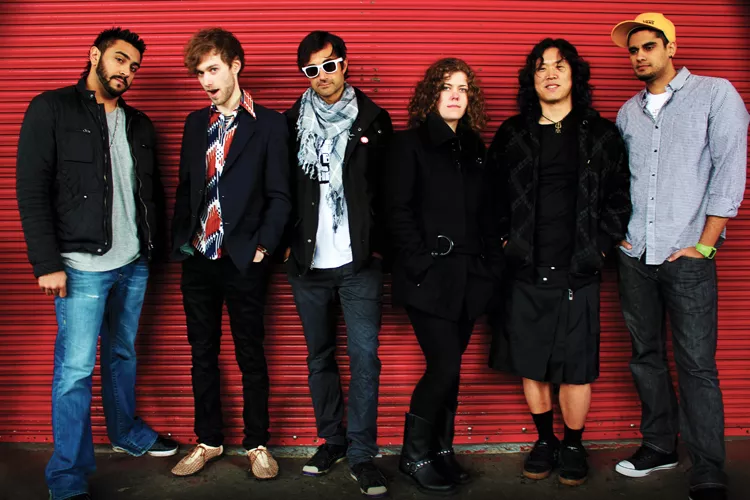 Everything in life is political. You have your office politics, sexual politics, environmental politics, food politics, local, national, international and -- particularly right now -- straight-ahead electoral politics. How does music fit in? As we head toward Tuesday's big election, we'll take a look.
The eco-political Environmental Protection Information Center, aka EPIC, celebrates its 35th anniversary Friday night with a dinner and dance concert at the Mateel. The epic event starts at 6 p.m. with cocktails, a meal of gourmet Indian food and speeches honoring enviro-hero Rick Klein, founder of Ancient Forest International. Then at 9 p.m., it's music time with the Canadian global fusion band, Delhi 2 Dublin, whose name sort of explains what the band does: combine Celtic fiddle with sitar, tabla and a touch of electronics. (Very danceable.) Incidentally, if you just want to hear the music, you can skip dinner (and pay less). Proceeds support EPIC's mission, "to ensure the national forests, state parks, private-industrial forests and rivers in Northwest California are managed to maximize their benefits for conservation," which, of course, involves a lot of politics.
Two sisters, Leah and Chloe, currently based in New Orleans, form the folky, Ani DiFranco-ish Rising Appalachia, singing in harmony in the service of various eco-political issues. "Music is the tool with which we wield political prowess," says Leah in a note of the duo's webpage. "We are building community and tackling social injustice through melody." Hear what they have to say Friday at the Arcata Playhouse.
The rapper Abstract Rude came out of the scene around the Good Life Café in Los Angeles in the 1990s. He's currently on the road keeping hip hop alive by hosting "four element community showcases" like the one Friday at the Ink People Annex, an all ages benefit for the MARZ Project (co-hosted by Kyle "DJ Knutz" Stasse). Ab will do a short set and help judge four competitions, one for each element: graffiti art, beat-making (DJing), b-boy dancing and MCing (rapping). Express yourself! Make a statement, political or otherwise.
Saturday night DJ Knutz takes his turntables to the Ocean Grove. His monthly funk vinyl parties there are usually on full moon nights, but this time things did not line up right, so this one's just "for the funk of it." Joining him: Funky T-Rex, Zephyr, Truth 1, Spaceman Spliff, Jaymorg and Mantease. Congo Cafe will be cooking up African food on the back porch. (Nothing overtly political.)
Saturday at Arcata Presbyterian Church the Arcata Interfaith Gospel Choir presents its annual Harvest Concert. Now in its 20th season, the choir got its start during the social/political turmoil surrounding riots in LA following the Rodney King verdict. Is singing gospel music a political act? In this case it is (and it's supremely uplifting).
Also on Saturday night, the Va Va Voom Burlesque Vixens present a special Dia De Los Muertos performance at Nocturnum with special guest DJ Itchie Fingaz. The post-Halloween theme means costumes are encouraged (there's a contest). Some of the ladies will be made up like skeletons and there will also be a Muertos altar if you want to honor dead loved ones. The political part: It's a benefit for Six Rivers Planned Parenthood (and a reminder that women's health care, abortion rights and contraception have become political hot potatoes of late).
Incidentally, Va Va Voom is offering a special deal ticket deal for those attending the Eureka Theater's beer-drenched benefit StrangeBrew earlier that evening where No Good Redwood Ramblers and Sumbitch will twang it up for folks dressed up like cowboys.
Wednesday, Nov. 7, at the Arcata Playhouse a collection of local folkies including Jan Bramlett, Joanne Rand, Morgan Corviday, Josephine Johnson, Andrea Zvaleko and Sarah Torres celebrate the 69th birthday of Joni Mitchell by performing a bunch of her songs. Political? When Joni sang about paving paradise to put up a parking lot or bombers turning into butterflies, it most certainly was political.
Not so political: Local funkadelic/rock/hip hop combo Acufunkture hosts a CD release party Thursday at the Jambalaya. Funk it up.
Passion presents Hammond B-3 organ jammer Melvin Seals with JGB at Arcata Theatre Lounge Saturday. Seals is a self-proclaimed "keeper of the flame" for the soul excursions of the late great Jerry Garcia.
Sunday, neo-bluegrass band The Infamous Stringdusters stop by Humboldt Brews on a tour 
in support of a new "high country music" release,

 Silver Sky. It's what you might call jammy bluegrass, or as the band puts it on its Facebook page, "not your granddaddy's bluegrass -- unless your granddaddy was Jerry Garcia."
More stringy music Monday at HumBrews: Vince Herman's Colorado-based band Great American Taxi playing "Americana without borders" along with S.F. alt. bluegrass boys Poor Man's Whiskey on a joint "left coast tour."
The so-called "Porno Stars World Tour" that hits Nocturnum Friday doesn't have anything to do with the adult film industry. Headliners Kool Keith and Blowfly represent two generations of twisted rap with overt sexual content. "Kool" Keith Thornton came out of the Bronx rap crew Ultramagnetic MCs in the 1980s and went solo as Dr. Octagon in the 1990s; at this point he's back to Kool Keith. His surreal raps often draw on sexual imagery -- "pornocore" in Keith's parlance. You could call Clarence "Blowfly" Reid the godfather of pornocore. He got his start in the 1960s as a soul singer but soon switched to novelty "party" records that took popular soul songs and changed the lyrics to make them sexually explicit. That's still the core of his act. Now 73, he delivers his blue material wearing a mask and a spangled cape. Local support for Friday's show comes from alt. boy band Eureka Garbage Company.
Confident supporters of the label-GMO initiative Prop. 37 are throwing a "Victory Party" Tuesday (election night) at Humboldt Brews with music by an eco-groovy songwriter known as The Human Revolution, who is on a California Clean Food Celebration Tour.
Chicago's jazzy alt. rock trio The Sea and Cake plays that Tuesday at the Jambalaya. The band's music is not at all political, so that would be an escape from election madness.
Also on Tuesday night, Jamaica's self-proclaimed "King of Dancehall" Beenie Man plays at the Ocean Grove, apparently the only local venue not deterred by the local gay activist group Queer Humboldt, which tried in vain to stop the recent Capleton show there.
In May of this year Beenie Man took to YouTube to offer what's described elsewhere in this paper as a "reluctant, passive-aggressive quasi-apology" for his past musical sins. What exactly did he say? "I respect each and every human being, regardless of which race or creed, regardless of which religious belief you believe in, and regardless of which sexual preference you are, including gays and lesbian people."
It's easy to dismiss his statement as disingenuous -- he's made it clear that he said it because he's had too many concerts canceled, particularly in Europe. Boycotts are hurting him financially. It was a calculated risk in his homeland: Jamaica did not respond well to his statement. Beenie's performance at the major festival Reggae Sunsplash was booed; he is under attack as a sellout by his peers in the dancehall community.
It didn't get the same attention here, but in July Jamaican reggae/dancehall singer Diana King proclaimed on her blog in all caps: "YES!!! I AM A LESBIAN." In a heartfelt note explaining why she came out she wrote, "The harsh reality [is] that people like me are persecuted, beaten, jailed, raped and murdered everyday just for being who they are or just even being suspected of it." That's why the local gay community is protesting.
Beenie wants to be forgiven, but he can't erase his history -- some will never forgive him. The mere fact that he said anything showing "respect" for gays and lesbians is at least a small step forward. That said, Jamaica still has a long way to go.
Now if we could just get Diana to come to Humboldt. ...