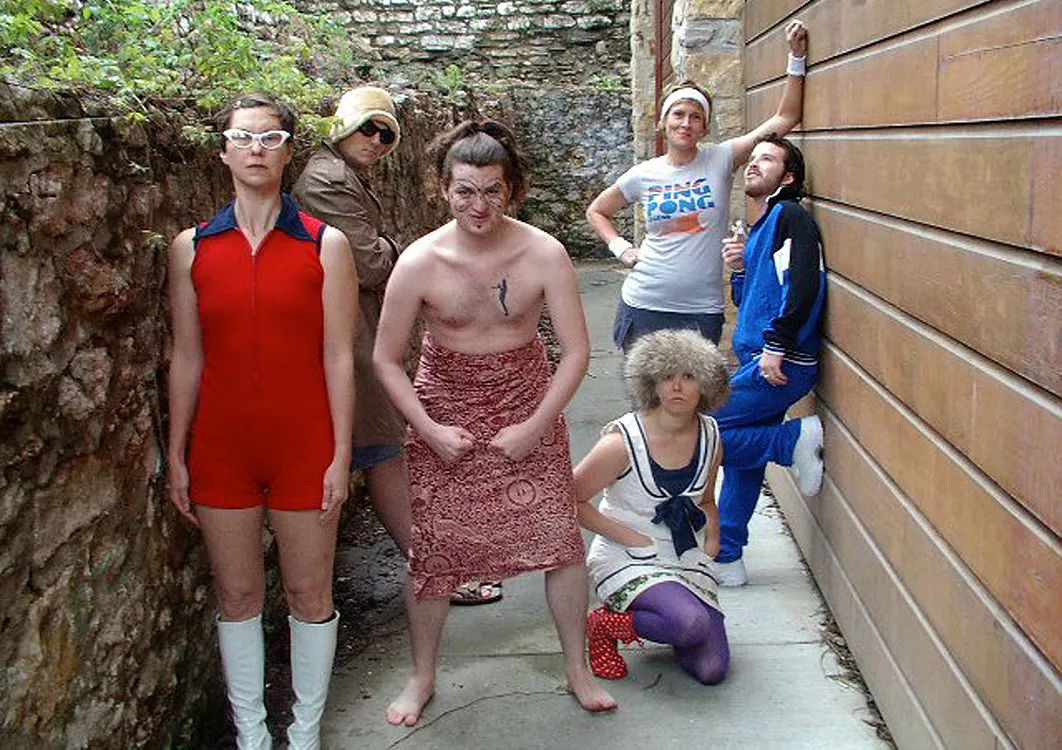 BOOM! An International Lost and Found Marching Band
Arcata Playhouse has a weekend of wild and crazy musical theatre starting Friday night with BOOM! An International Lost and Found Marching Band. The faux sextet from Kansas City is led by Dell'Arte alum Stephanie Roberts, who plays Lily, the strict German ukulele-strumming leader of a group of orphan musicians including Maori saxophonist/accordionist Neil (Peter Lawless), "Roumanian" clarinetist Boris (Daniel Eichenbaum), Hibernian drummer Josie (Carla Noack), trombonist Vinnie from Jersey (Grant Prewitt) and Eskimo glockenspiel banger Baloo (Heidi Van, another Dell'Arte grad). Through the course of the musical review/play, they tell their individual tales of abandonment and salvation through establishment of a new sort of family.
BOOM! runs twice at the Arcata Playhouse (1251 9th St.) on Friday, May 20, and Saturday, May 21, both shows at 8 p.m. Tickets are $10, $8 students and Playhouse members.
Saturday's performance is followed by another exclamation-pointed production, Desmadre! This one is a Playhouse-style cabaret with music and clowning by the borderless clown Rudi Galindo, those boffo belles of Blue Lake The Brendas, various Dell'Artisans, "local luminaries" and the orphans from BOOM!
Proceeds go to the Adrian Cervantes Mejia Fund, established in April of this year on what would have been Adrian's 30th birthday. Originally from Riverside, Adrian was a maskmaker, educator and self-described "lover of food and music" who graduated from HSU in Theater before receiving his MFA in Physical Theater from Dell'Arte International in 2006. He toured with the Dell'Arte Company and with the San Francisco Mime Troupe, traveled with Rudi Galindo's Teatro Pachuco and took his clowning worldwide with Clowns Without Borders. Sadly, a little less than a year ago, Adrian was struck and killed by a hit-and-run driver in Brooklyn, NY. His collaborator and fiancée, Eleni Theodora Zaharopoulos, established a memorial education fund here in Humboldt in his name with an initial gift of $25,000, with help from Adrian's brother, Adolfo, as well as David Ferney and Jacqueline Dandeneau of Playhouse Arts. The plan is to grow the endowment to $100K and establish Adrian's Project, an annual competitive grant to professional performing artists in the early stages of their careers, and to fund Artists in Schools with programs and workshops in K-12 public schools.
The Desmadre! show begins around 9 p.m. Saturday, May 21, after BOOM! Tickets are $10 in advance and $15 at the door. Info: 822-1575 and www.arcataplayhouse.org. For information about the Adrian Cervantes Mejia Fund or to donate go to www.acmfund.org.