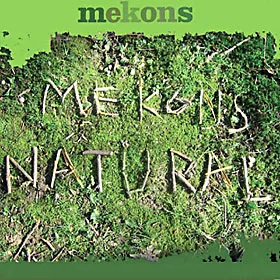 'Natural' by the Mekons. Quarterstick Records
If this record was your first exposure to the Mekons, you'd be forgiven for thinking they were some obscure British folk combo, not one of the original punk bands of 1977, still plugging away after 30 years. The Mekons were contrarians from the start — their first single, "Never Been In a Riot" was a sarcastic rejoinder to the Clash's naive "White Riot." Over the years they've incorporated country music, dub and even electronica into their sound, and can span the distance between bar band raucousness and highbrow critical theory. In the last few years they've cast a net back to British history and have developed a more folk-inflected style.
The Mekons have never stood still, and this record is no exception. They retain their trademark mix of despair, resignation and dark humor, though here they've banked their fires a bit. According to their own bio for the new record, "they recited lines from Darwin and Thoreau and renewed their vows in a remote stone circle high up on the blasted heath where birds and branches sing beneath the roar of jet fighters as they swoop balletically over the sharp crags and dark water, rehearsing for Armageddon."
Natural is a more pastoral Mekons, favoring Susie Honeyman's sweet fiddle and Lu Edmonds' droning sax rather than the guitar histrionics of some of their earlier incarnations. The electric guitars do bubble underneath, but songs like "Dark, Dark, Dark" and "White Stone Door" depend more on skeletal thumb piano and Steve Goulding's subtle percussion. With four vocalists on tap (founders Jon Langford and Tom Greenhalgh, Sally Timms and Rico Bell), they trade off lead vocals on many of the songs, and on "Burning in the Desert Burning" their massed voices blend like a profane choir as they sing about "children queuing up for hell."
As always, the Mekons are magpies who scatter historical and literary references through their lyrics. In their digital meditation "Zeroes and Ones," they quote from Emerson's Nature . ("We are as much strangers in nature, as we are aliens from God.") "Cockermouth" is a reference to William Wordsworth's birthplace, and the record is infused with a dark, doomed romanticism. "Dickie, Chalkie and Nobby" is yet another Mekons warning not to let work eat your soul, but here that sentiment is tinged with a more mature regret for friends lost and absent. The Mekons might be going back to nature, but they're hardly blissed out hippies — "Perfect Mirror" sketches an initially bucolic scene that ultimately becomes a wasteland, where the "trees are dead," and an elegy for a lost community. It's a bleak way to end a record, but beautiful.
Though some might miss the more raging Mekons of the past, it's rare for a band entering their fourth decade not to regurgitate the same record over and over. They'll be playing the free Hardly Strictly Bluegrass Festival in San Francisco the first week of October on a rare West Coast jaunt. I'll be there, and you should be too.
— Jay Herzog, a frequent Journal contributor.