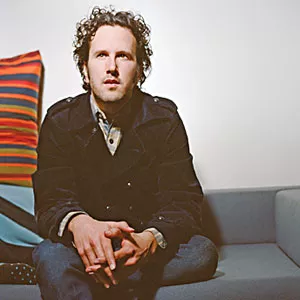 A few months ago when I heard that Mason Jennings is coming to town, I somehow confused his name with Mason Williams, the '60s guitarist mainly known for one song, "Classical Gas." I didn't know about the other Mason, which may be understandable given that his official bio starts out describing him as "one of the best-kept secrets in pop music."
As it turns out, I have a couple of songs sung by him in my iTunes collection: In Todd Haynes' abstract Dylan biopic I'm Not There, Jennings supplies the lip-synched-in voice for Christian Bale's folksinger Jack when he does "The Times They Are a-Changin'" and "The Lonesome Death of Hattie Carroll."
And yes, the Minnesota-based neo-folk songwriter fits the proverbial Dylan-esque mold. He also counts Leadbelly, Mississippi John Hurt, Hank Williams, Johnny Cash and Led Zeppelin among his influences, although he notes, "I have no use for being a retro artist. I want to understand my past and come from something, but move forward at the same time."
Earlier this year he released his sixth album, In the Ever, on Jack Johnson's Brushfire Records label. (He also toured with Jack this summer.) The new disc follows Boneclouds, his 2006 major label debut on Glacial Pace, a division of Epic run by Isaac Brock of Modest Mouse, another band he's toured with. Songs on the new album veer from political to spiritual matters: "Going Back to New Orleans" ties together Hurricane Katrina and the Iraq invasion; "I Love You and Buddha, Too," puts forward the radical notion that one might love Jesus, Buddha, Krishna and Muhammad equally. "I don't believe anybody is on the outside, or excluded," says Jennings.
By chance, Tuesday, Nov. 11, the day Jennings comes to Arcata for a CenterArts show at the Van Duzer, is also the release date for This Warm December: Brushfire Holiday's Vol. 1, an Xmas album that includes Jennings' version of "Santa Claus is Coming To Town" along with Mr. Johnson's take on "Rudolph The Red-Nosed Reindeer" and "Silent Night" by Zach Gill of Animal Liberation Orchestra -- understandable, since ALO is also in the Brushfire stable. That connection also explains why Gill is opening for Jennings on this West Coast tour.
It's a busy week for CenterArts: Tonight (Thursday, Nov. 6) they bring Method Man and Redman's "Still High Tour" to the Arcata Community Center in advance of the duo's coming Def Jam release, Blackout 2 (the sequel to their 1999 disc Blackout!). Friday, Canuck comedian Martin Short hits the Duzer (see Calendar section for details), then on Sunday, Nov. 9, it's the return of Old Crow Medicine Show, one of the best of the neo-old timey wave.
Formed in New York City 10 years ago, OCMS has since relocated to Nashville. A mark of their influence is the fact that just about every young bluegrass/old timey band now covers "Wagon Wheel" (including my favorite gospel/bluegrass band, Huckleberry Flint). Another indication of the level they've hit: The new OCMS record, Tennessee Pusher, produced by Don Was and released in September, debuted at No. 50 on Billboard's Hot 100, moving over 10,000 units its first week. It was also No. 7 among "Top Country Albums", and I suppose it goes without saying it hit No. 1 on "Bluegrass Albums," although the band's sound is not really bluegrass. Incidentally, the OCMS line-up now includes steel guitarist/banjo man Gill Landry, who's been through here a few times on his own and with his old band The Kitchen Syncopators.
Last time Gill was here he split a bill with Lila Nelson, who has a couple of shows coming up. First, on Friday, Nov. 7, Lila plays her songs as part of a wildly eclectic benefit for the Emma Center called Le Rendezvous. It starts with a meal of sweet or savory crepes, soup, salad, desserts, etc. and the requisite silent auction. Expect wandering gypsy-ish minstrels during dinner, then music and dancing by Gregg Moore's madcap multi-culti brass band Bandemonium, bellydancing by Ya Habibi Dance Company, a woman's West African drum group called Guinea Bay, a faux East European gypsy band called The Glasnosts (providing a preview of the upcoming Dell'Arte holiday show) and, last but not least, the first public performance of The Psyclones, a "danceable" psyche/blues/rock combo that I initially mistook for Brian Ladd and Julie Frith's '80s Eureka post-rock/industrial band by the same name. Psyclones harmonica player Sandy Flippin clued me in on the line-up: bassist Tim Clausen, Justin Hoops on drums, Keith Schneider (the ceramics artist) and Jim Lehman (the amp maker) on guitars. Sandy was not aware that there was once another Psyclones locally, now he's reluctantly thinking of changing or altering the name.
Lila sings again on Monday, Nov. 10, opening a show at the Arcata Playhouse for songwriter Peter Mulvey, who was here not so long ago opening for Patty Larkin when she played the Playhouse. Mulvey is a skillful song craftsman adept at dovetailing words and music; he's also a helluva guitar fingerpicker. Want to learn from a master? He's teaching a guitar/songcraft workshop at 5 p.m. before the show.
Another big reggae week: Friday at Mazzotti's you have the I-Grade Showcase with artists from the Virgin Islands known as the Lions of Kush: Abja, Tuff Lion, Danny I and Volcano, all backed by The Red Eye Band. Sunday at the Red Fox it's Jamaican dancehall star Warrior King. Monday at Humboldt Brews Brooklyn-born white-dread Rocker T takes the mic, with Winstrong from Suriname and Lady Passion, another Virgin Islander. Local faves Ishi Dube and Massagana hit HumBrews next Wednesday -- they're also at the Arcata Farmers' Market Saturday morning.
In the jammy world: Play Dead does just that Thursday at Humboldt Brews. While guitar jammer/looper Keller Williams typically plays solo (and sounds like a full band), right now he's on the road with a full band. The members: bassist Keith Moseley from String Cheese, drummer Jeff Sipe from Leftover Salmon and guitarist Gibb Droll. They play a Passion show Tuesday at the Eureka Theater followed by an afterparty at the Red Fox with Steve Watts Band. Another Leftover Salmon alum, Vince Herman, hits town Wednesday for a gig at the Red Fox with his neo-Americana band Great American Taxi.
Some time last year, while surfing the music blogs, I downloaded an instrumental called "My Only Swerving" by the band El Ten Eleven, about whom I knew next to nothing. The mesmerizing track ended up on about a dozen different comps made for friends, and when the band released an album this summer, These Promises Are Being Videotaped, I added that to my music collection too. El 10/11 is Tim Fogarty creating complex rhythm beds on acoustic and electric drums for Kristian Dunn's fretless bass and double neck Carvin guitar. The two necks (one bass, one regular) and a battery of effects pedals allow Dunn to turn the duo into at least a trio, although 10/11's sound is often even bigger, as you'll see if you come to the Alibi Saturday, Nov 8. Humboldt Free Radio booker Francois' description of them: "electro rock from Los Angeles," seems inadequate. On the "about" page at elteneleven.com, the guys offer a list of more descriptive words and phrases: "instrumental, indie rock, post rock, math rock [the complex rhythms apply there] and post post rock." All of the above apply. They're also "hypnotic, druggy, cathartic, anthemic, ethereal, atmospheric, spacey, elegant, emotional, avant-garde, ambient, crap" -- I'd throw out the final self-deprecating word, but keep the rest. Note that Alibi shows typically start late. I'll need to take a nap Saturday afternoon.