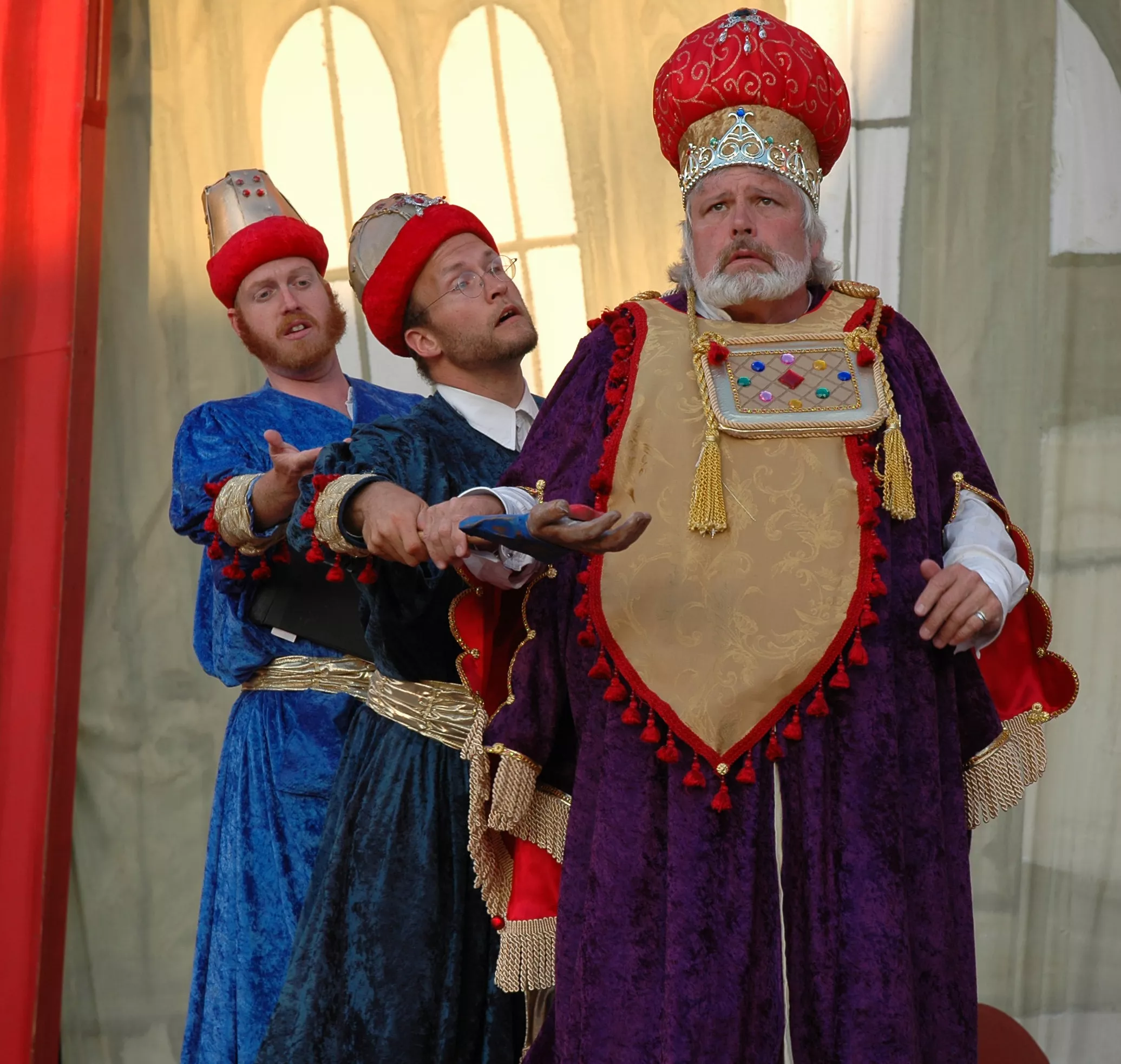 photo by James Douglas
Odd Fellows - David Belton Powell, Tyler Olsen and Michael Fields in Blue Lake: the Opera
Theatre isn't easy anywhere. But it's particularly hard here, for both participants and audiences. Is there a well-equipped facility with comfortable seats and good sightlines, let alone adequate ventilation and amenities, on the North Coast? North Coast Rep is raising money to replace lighting equipment that is so old that parts aren't made for it anymore, but it's hardly the only local theatre with that kind of problem.
Of course other local entertainment venues have their drawbacks, including the self-inflicted, as I experienced recently while trying to watch the dim and insultingly underpowered projection of the latest Harry Potter movie in an ice-cold cinema. But hereabouts theatre creators and audience are partners in what might be described as frontier theatre. Plus there's less media attention than before, while theatre supporters speak up mostly to complain about a review.
Then there are the normal catastrophes. The natural condition of theatre, as Tom Stoppard wrote for Shakespeare in Love, "is one of insurmountable obstacles on the road to imminent disaster." Add common conflicts and emotional overloads, and it remains amazing that theatre gets done at all. These days I regard it as a residual minor miracle, like the continuing existence of libraries with actual books in them.
What keeps theatre alive here? The dedication, perspicacity and effort of the people who run the theatres, community support, a cadre of actors and other theatre people who've found a niche here, and the talent and energy of young people from local schools who stick around long enough to renew North Coast stages -- not just from HSU, CR and the Dell'Arte School, but from theatre programs at (for example) Eureka High, Arcata High and Northcoast Prep.
This year has also seen an increasing cross-fertilization and cooperation among theatres and schools. Though CR's InterAct seems largely moribund, perhaps other efforts to strengthen theatre as a whole may result.
Another vitalizing factor is the at least occasional willingness to take more than the usual chances. Some theatre folk call it "stretching": choosing to do a more challenging, more ambitious work, or to do a production in a more ambitious way, or both.
That kind of ambition is crucial to the vitality -- the lifeblood -- of live theatre. It pushes theatre beyond pleasant entertainment to become startling, troubling, inspiring, thought-provoking, feeling-evoking --and, in a word, important. Even life-changing. Yet it may also increase the chance of failure -- or at least of raising more expectations than it fulfills. That's the risk.
In a year when nothing I saw on the North Coast failed to entertain to some degree, there were also efforts of particular ambition. Such ambitions may get short shrift in a review, which is largely about execution. For example, though I didn't feel all the science-inspired ideas cohered in Charlotte Jones' Humble Boy, the attempt to relate these concepts to how we might live our lives was admirable, as was Redwood Curtain for presenting them.
Rent at Ferndale Rep, Michael Thomas' direction of M Butterfly at HSU, the group creation of An Evening With Rumi at HSU, Doubt at North Coast Rep, all explored beneath the surface of topical concerns and difficult terrains. North Coast Rep took its brave annual Shakespeare challenge. Dell'Arte and the Arcata Playhouse continued to host intriguing visitors, including the nearby artists of Independent Eye and Human Nature.
But the most conspicuous example of successful ambition was Dell'Arte's original production last summer, Blue Lake: The Opera. Though it's rumored that not everyone at Dell'Arte initially wanted to do it, people who saw it are literally still talking about this show.
It was creatively ambitious. "The fun of it was to take this conventional, classical type of theatre, an opera," the show's writer Lauren Wilson told me, "and place it in Blue Lake, a rural -- and in 1910, an extremely rural -- place where one wouldn't expect to set an opera."
Everyone involved rose to the occasion, opening a lot of eyes to the potential of local talent, and changing at least the life of one of its singing stars, David Powell, who subsequently enrolled in the Dell'Arte School.
For Humboldt Light Opera Company, the challenge and ambition of producing the very familiar The Pirates of Penzance was to make it new. Apart from its usual musical excellence, HLOC did this with humor that didn't displace feeling, and showmanship that combined taste with boldness (defying purists but adding color and spirit by increasing the number of "daughters" to absurd proportions). Director Carol Ryder paid careful attention to the basics of audibility and intelligibility, in a memorable production.
As my reviews reflect, I'm not always crazy about the plays local theatres choose to do. And I miss the plays nobody seems to do. I've become resigned to seeing Shaw only on DVD, and only imagining Stoppard outside of Rosencrantz and Gilderstern Are Dead, which CR will do soon. Or (just one example) of seeing any Thorton Wilder except Our Town, though with the popularity of apocalyptic plays, The Skin of Our Teeth could be fascinating. Still, a necessary ingredient in the alchemy of excellent theatre is surprise.