Long have I been fascinated by photographing light in the dark of night. Other photographic interests come and go, but that one is always present, a constant pull on my imagination. If people go through phases in their art, I am definitely deep into a night phase.
A photograph is not merely an impression of light, it is a combination of light and time. We don't always think about that as we snap our shutters in fractions of a second. Not much that we can see changes in a fraction of a second but when that element of time is extended to many seconds, a lot of things can happen and nothing will look as it does in a daytime image, nor will the final image look as the scene did to our eyes at the time. Playing with that element of time is one of the most exciting aspects of night photography.
When something catches my photographic eye, my mind inevitably begins thinking about how it might look at night and how I might make an interesting image under the night's magical light. Light is unique at night, offering the potential to make striking and unusual photographs. I know that compelling photographic opportunities abound in the daytime, as well, for I see and appreciate daylight images all the time. But, for whatever reason, I need to go shoot at night, to play with long exposures, perhaps paint my own light into the scene or watch as the lights of passing vehicles add their own strokes of luminance. Unfortunately, I seem to have a daily need for sleep, which proves inconvenient. Still, I love both taking the photographs and working with them later, as any creative photographer might have done in the darkrooms of old and as I once did, only now we mostly use digital tools.

Photo b y David Wilson
Annotated snowy pre-dawn scene was just outside of Kneeland. at 5 a.m. on Feb. 21, 2018.
Photo b y David Wilson
A little fun painting with light for this snowy pre-dawn self-portrait outside of Kneeland. Feb. 21, 2018.
I will often begin planning long before I shoot. I study the subject, how it lies by the compass, so I can envision the night sky over it at various times of the year. When will the Milky Way rise perfectly over this spot? Will the moon be out and in what phase? Is it low or high tide? As the time approaches, I will also have to consider the weather forecast. When I do go out, I hope to have a good idea about what the scene will look like.
Even with all the planning, I'm small and the universe is large, and unplanned things will happen. The unexpected is never necessarily bad, though, and a surprise often makes the photograph better, while the image I'd planned is less satisfying. I'm thankful for those times, as they help me be a more patient light hunter, suffering through the outings thwarted by fog, overcast skies or something else. The unforeseen has so often made the images great that it more than makes up for the other times.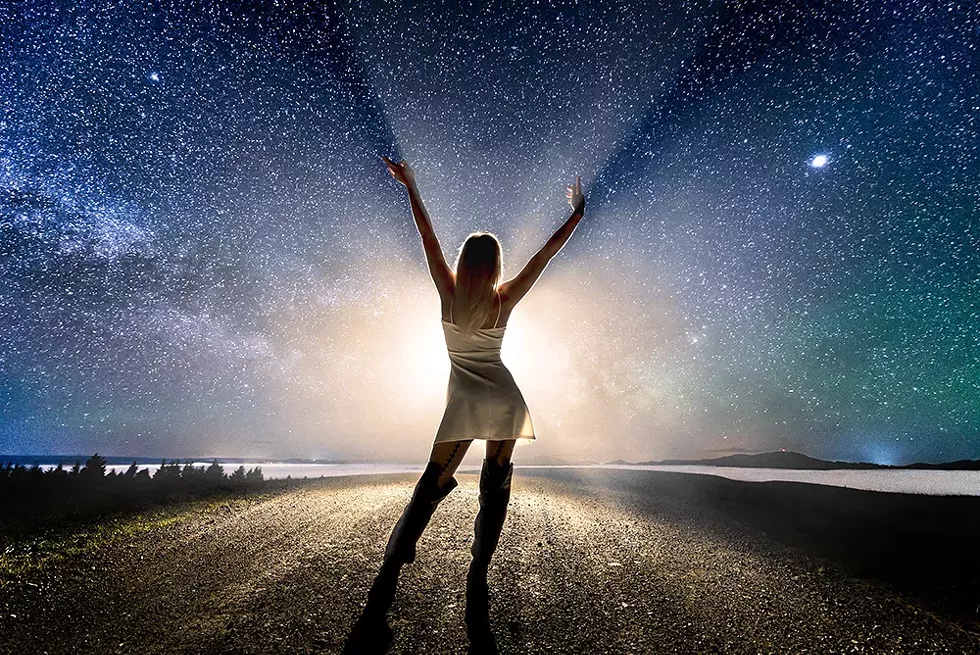 Photo b y David Wilson
"She's Free." Somewhere on Monument Road/Bear River Ridge Road. At about 11:30 p.m. on our ridgetop we were surrounded by a sea of fog. Around us in the distance were other ridges, connecting with each other above the foggy carpet. Model: Morgan Crowl. May 14, 2018.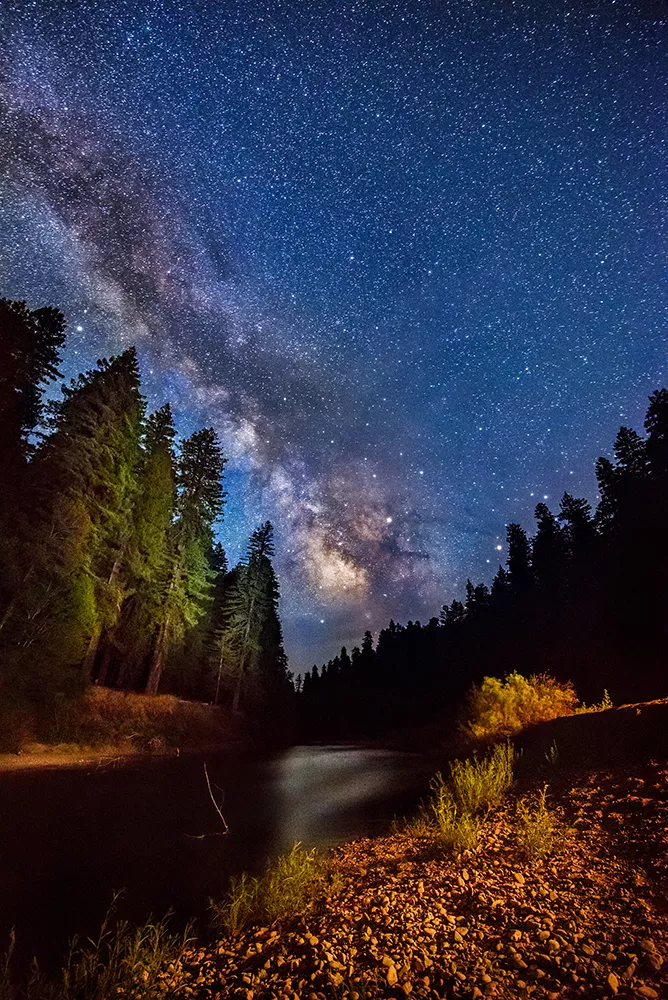 Photo b y David Wilson
Coursing among giant redwoods in Humboldt Redwoods State Park, the South Fork Eel River slipped quietly by the California Federation of Women's Clubs Grove, while the Milky Way made its silent passage across the sky. June 24, 2017.
Photo b y David Wilson
The South Fork Bridge, or Dyerville Trestle, of the Northwestern Pacific Railroad crosses the main Fork Eel River beneath the Milky Way, just north of the confluence with the South Fork Eel River. July of 2018.
My exploration of light at night has opened my eyes to the stars in ways I hadn't thought possible, merely because some things hadn't occurred to me. It seems strange to think of it now, but throughout my life I have seen the Milky Way in the night skies — most of the time. Sometimes it wasn't there. The odd thing is that it never occurred to me to wonder why. I do recall wondering where it was once or twice upon looking up into the starry night and not finding it, but I suppose I shrugged and forgot to pursue it.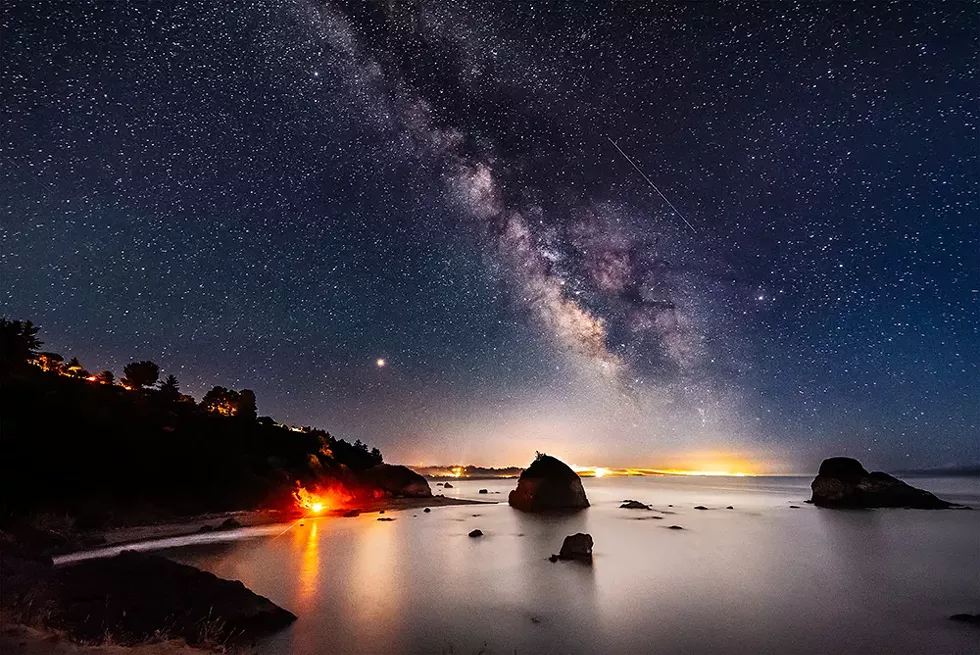 Photo b y David Wilson
Looking south from Tepona Point during the Perseid meteor shower, August of 2018. The bonfire of a group of Perseid meteor gazers blazed on the curve of Houda Point Beach, a beautifully warm counterpoint to the stars and planets above.
Photo b y David Wilson
Fernbridge beneath windswept clouds and the Milky Way. September 11, 2018.
Photo b y David Wilson
The Milky Way rises from the Pacific near the glow of the setting crescent moon outside of this hidden cave near Camel Rock. Sept. 13, 2018.
Now, after years of watching the positions of the stars, and particularly the Milky Way, change day by day through the months and seasons as we circle the sun, I see that it is the very fact of Earth's orbit around the sun and our tilt relative to our orbital plane, that accounts for our nighttime view changing as it does. Earth's night side is presented with a slightly different view of the cosmos each day as we travel around the sun and as our view of the galaxy changes, the position of the Milky Way in our sky also shifts a little every night. Six months from now, when we are on the other side of the sun, Earth's night side will face the opposite direction from what we see now; in a year we will again see the same night sky as tonight. The most spectacular part of the Milky Way, that area nearest the Galactic Core, is now entirely beneath the horizon after dark and for a while we will see less of the denser regions of it each night until we have again swung into position to view it.
You can find more of my night sky images and articles on the North Coast Journal's website at www.northcoastjournal.com.
To keep abreast of David Wilson's most current photography or peer into its past, follow him on Instagram at @david_wilson_mfx or his website www.mindscapefx.com, where you can also contact him, but which Wilson says he updates less frequently.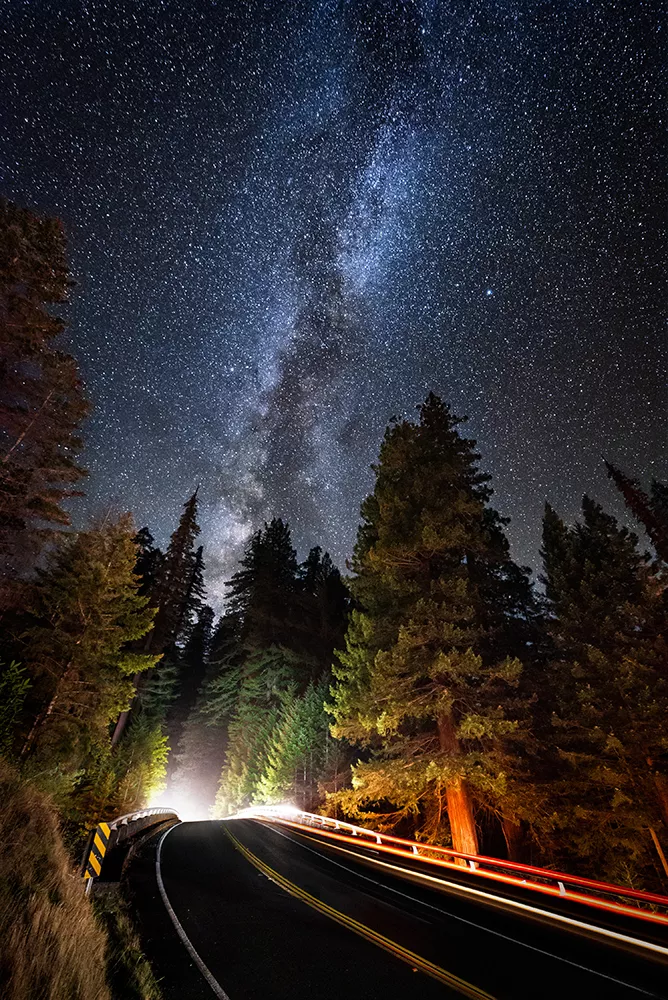 Photo b y David Wilson
The Avenue of the Giants passes over U.S. Highway 101 beneath the Milky Way at Women's Federation Grove. October of 2018.