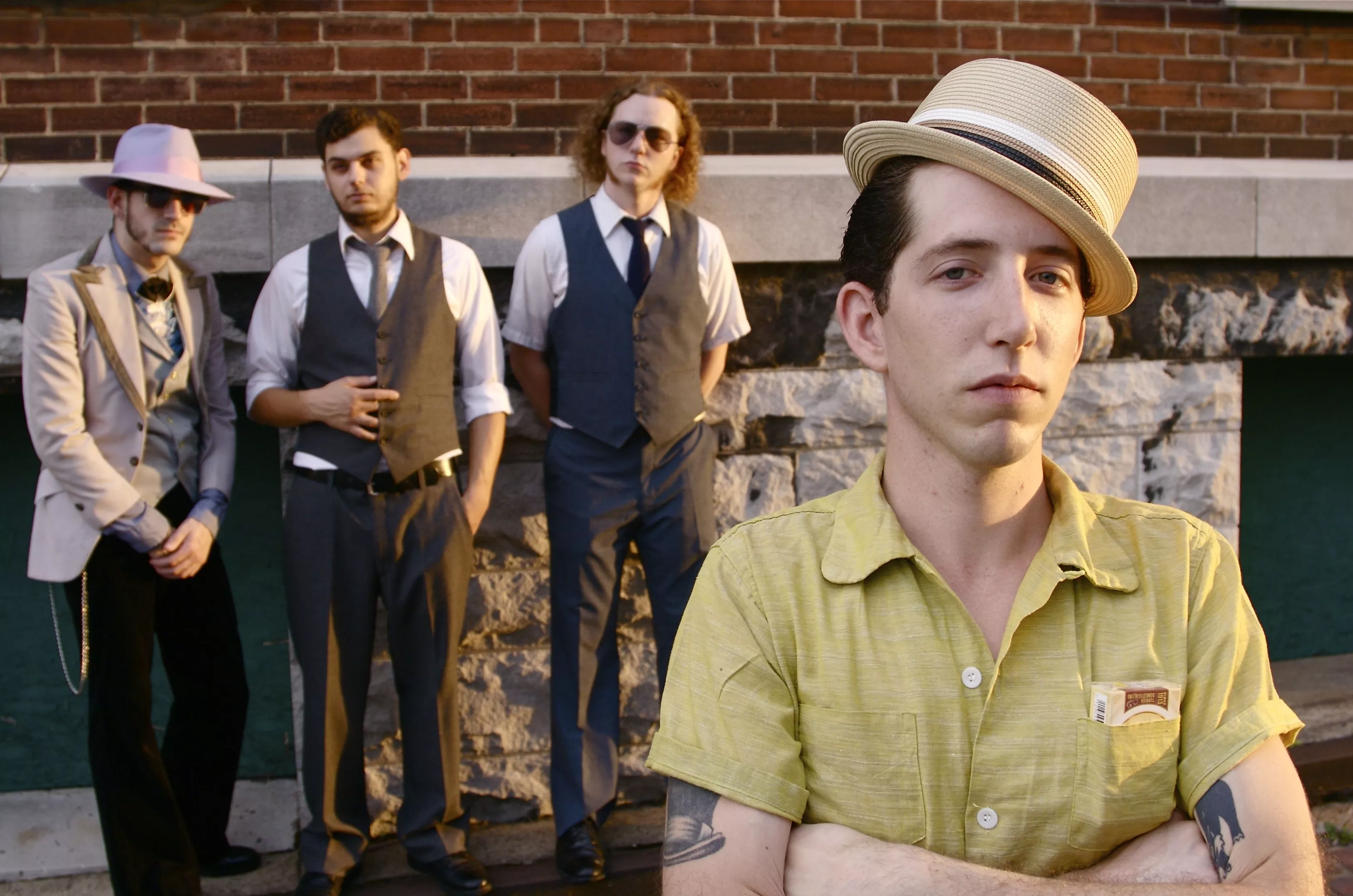 Pokey LaFarge and the South City Three
The year may be 2011, but you wouldn't necessarily know it fashion-wise. Retro is in, particularly styles from the '30s and '40s. Pokey LaFarge, a neo-trad artist on the rise who headlines Saturday's Jefferson State Old Time Review at the Arcata Playhouse, has a fine-tuned retro sartorial sense (also imposed on his band The South City Three, who I'm told would be in jeans and T-shirts if left on their own). His records sound like something that might be spinning at 78rpm, yet he's as current as anything.
Why retro? "You could just say some things seem to work," he said, calling from the road. (He and the band just returned from Europe, but they're not stopping.) "For me, the reason I've always worn old clothes or played old music is because it's better: better made, better quality, made by people not by machines."
And it's definitely not about jumping on some lifestyle bandwagon. "It's about getting back to the basics of life. We live in a space world now with machines doing everything. It doesn't make people feel whole, or feel human. This music, folk music, or music of the people, makes you feel human. I think a lot of music of today distracts you from being human. That's not all bad, but I prefer down-home soul, country music. You need an anchor to know where you actually come from."
In Pokey's case you could say that's St. Louis, but he's really from a timeless place. His new album title, Middle of Everywhere, says a lot. Catch his act at the Playhouse; you'll know where you are.
Start with the name: Greensky Bluegrass. It's a puzzle. You know the sky is blue, not green. Does that mean they're not exactly a bluegrass band, more on the green-grass side? The lineup -- Paul Hoffman on mandolin, Anders Beck dobro, Michael Arlen Bont banjo, Dave Bruzza guitar, Mike Devol upright bass -- fits the traditional Bill Monroe bluegrass instrumental array. But these guys are more likely to cover a Pink Floyd song than a Bluegrass Boys tune and mostly they play their own songs.
The lyrics on their new album, Handguns, are rock solid, drawing influence from Robert Hunter and bands like New Riders in songs often touching on tradition, but from a non-trad perspective. "Old barns don't tear down. Let them stand proud until they fall to the ground," they sing in Paul Hoffman's "Old Barns." His song "Middle Mountain Towns" tells of a country in transition and speaks of learning to get by "without the corporate phenomenon of greed."
While they have not gone corporate, the band from Kalamazoo has been on the rise of late, working the jam festival world big time. Since winning the Telluride Bluegrass Festival band contest in 2006, they've been touring relentlessly, moving up in the circuit until playing Bonnaroo this spring. Around the time this paper comes out they're playing the Northwest String Summit at Horning's Hideout, then they head south, stopping to do a show at Humboldt Brews on Tuesday.
Another act returning to Humboldt Brews (fresh from the Trinity Tribal Stomp): saxophone playing brother Charles Neville and kora player Youssoupha Sidibe with the Mystic Rhythms Band, who manage to meld New Orleans and African traditions with reggae beats in deep improv. Very cool.
Read the "July Twenty-Third" piece in the Calendar section to learn about the plethora of music festivals taking place on Saturday. Guess what. There's yet another festival and several benefits that same day.
The Fieldbrook Summer Music Festival runs July 22-24 at Fieldbrook Family Market, starting Friday at 7 with The Fickle Hillbillies (reminder: they're rockers, not bluegrass). Saturday, same day as the free Folklife Fest, the Fieldbrook action starts at noon with The Trouble, The Bare Necessities, The Rezonators, The Grass Band (also playing Friday at Six Rivers) and, finally, Field Town closing the show at nine. Sunday FSMF starts up again at noon with master of the open mic King Bee, Jennifer Breeze, Scotch Wiggly (also playing Saturday at Old Town Coffee), Rolling Transit, then The Usual Suspects closing the show.
Speaking of The Usual Suspects, a ska/reggae band from Reno named after the villainous Keyser Soze, plays Saturday night at the Red Fox. Pressure Beat Soundsystem (DJ Rotten and Gabe Pressure) spins appropriate discs before the band.
Remember earlier this month when Strix Vega's "Bands Out Back" show at Dell'Arte was called off because of ... well, mainly, festival overload: They were up against the big (free) Summerfest. Strix V. announces via FB, "We had promised a Blue Lake show in July, and you know we hate letting people down. So here it is: Strix Vega and The Trouble return to Blue Lake's The Logger Bar. Bring safety wear and ear plugs. Don't tell anyone, but this is a FREE show." That's Saturday night, post-Folklife. They've since added The Lonesome Roses to the bill, not hard since the trio is closely related to The Trouble.
Across town at Blue Lake Casino that evening, North Coast Rep presents part two of its fundraising campaign for a new lighting system: "Let There Be Light" in the Sapphire Palace is a dinner variety show with talented friends of NCRT singing show tunes and the like.
Then there's the Childhelp Benefit at Elbutmo Barn in McKinleyville, a barbecue with music by Dr. Squid to raise funds for an organization that helps fight child abuse.
There's also the Twilight Summer Concert at Sequoia Park Zoo series that evening with The Bump Foundation providing a funky soundtrack.
Hold on, we're not done with Saturday yet. You have Santa Cruz "guitarist turned dub-stepper" The Builder at Humboldt Brews with Gotcha, Dyaphonoyze and Abstract One.
And over at the Jambalaya, Ponche plays AfroCuban salsa for your dancing pleasure. Expect a full house since that's the first day of Explorations in Afro-Cuban Dance and Drum at HSU.
Last but not least, as mentioned in passing in the other 7/23 piece, Arizona indie country singer Miss Lana Rebel plays late at the Arcata Alibi (after her Jefferson State set) with Colorado-based county songster Gabe Rozzell. They also share a Friday gig at the Logger Bar.
Last week we got as far as Wednesday on the seven days of the Humboldt Folklife Fest. Thursday they have Bluegrass and Beyond with Wet Fez, Clean Livin', Compost Mountain Boys and Kindred Spirits playing out back at Dell'Arte on the Rooney Amphitheatre stage (the rain will be gone by then). We'll let you decide which bands are bluegrass and which are beyond.
Friday the Folk Fest leaves Blue Lake for a Barn Dance at Arcata Veterans Memorial Building. Striped Pig Stringband plays the music; imported caller Tony Mates tells you when to do-se-do. He's also teaching folks how to call for dances in a Saturday workshop (3 p.m. in the Carlo).
Thursday is your opportunity for a double dose of retro rock in Eureka. In the evening, The Neverly Brothers mix '50s rock and rockabilly with '60s British Invasion Mercy Beat sounds for the Eureka Summer Concert series at C Street Plaza by the Boardwalk. Later that night Bad Kitty brings rockabilly bad boys Three Bad Jacks up from L.A. on a CD release tour for a new (old-sounding) disc, Pictures & Memories From Home. Jacks' lead singer Elvis Suissa lives up to his name. They're touring with Blooddrunk Shenanigans from Nashville who also have a new disc, LFAGNO, and a retro punk sound that reminds me of the Sex Pistols. Added bonus: Blue Angel Burlesque, a bawdy retro review from Arcata.
Yes, old is new.