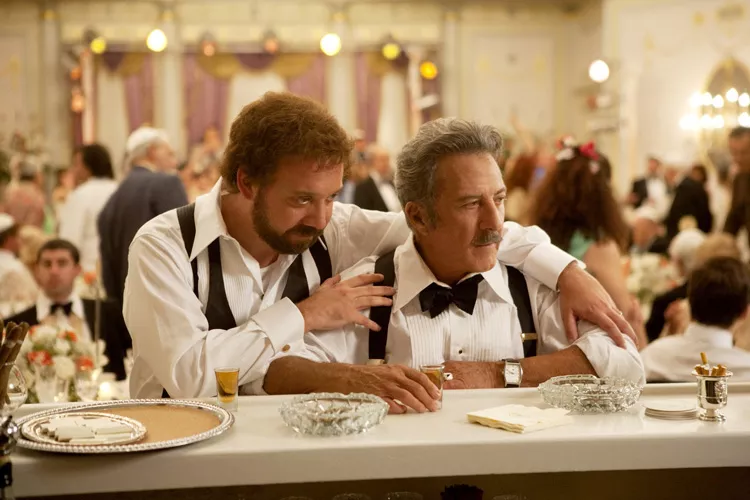 Paul Giamatti and Dustin Hoffman in Barney's Version
Reviews
BARNEY'S VERSION. Based on Canadian author Mordecai Richler's final novel, published in 1997 (he died in 2001), Barney's Version is the story of a garrulous, not particularly attractive and often irritating Barney (Paul Giamatti in what is his best role to date) who, unaccountably it would seem, manages to hook up with some very attractive women.
As the title suggests, the story is strictly from Barney's point-of-view, which makes it very interesting as well as unreliable. In addition, the narrative is not relayed in strict chronology -- there are flashbacks to scenes from his earlier life as Barney now remembers them. The two constants in his life are his father, Izzy (a spot-on Dustin Hoffman), and his best friend Boogie, (a fine Scott Speedman). As touchstones to Barney's version of his life, they are not particularly reliable either: Izzy, a retired Montreal cop, is a soft touch when it comes to Barney, and Boogie, a talented novelist, spends most of his time drunk and/or high. But the ambiguity about the truth of Barney's life is both irrelevant and the source of the film's very interesting and quirky nature.
The primary female characters in Barney's life are his three wives. His first is the very attractive but terminally mentally ill Clara (the striking Quebec actor Rachelle Lefevre who shines in a brief appearance) whom he meets in Paris. He then is pushed into a marriage with his unidentified second wife, (a very good Minnie Driver), only to fall instantly in love with his future third wife Miriam (a wonderful Rosamund Pike who was a standout in An Education), when he glimpses her at his wedding reception.
Miriam's attraction is obvious: Besides being lovely, she is sane, honest, intelligent and humorous. Her attraction to him is less obvious, but Pike makes us believe that Miriam can be attracted to an average looking Jewish guy who talks too much, and the inner energy that Giamatti brings to Barney also makes the match believable. The entire cast seems perfect in this adaptation of Richler's novel. Giamatti reminds me a bit of Richard Dreyfuss in the 1974 film adaptation of Richler's The Apprenticeship of Duddy Kravitz.
What begins as primarily a comedy ends up as a train wreck as we watch Barney destroy a healthy relationship. We see it coming way before he does, but then, this is Barney's version. Highly recommended. Rated R for language and some sexual content. 134m. At the Minor.
UNKNOWN. Unknown is a slick, consistently enjoyable Hollywood-style thriller that provides Liam Neeson with the chance to play an action hero who gets to associate with not just one but two attractive women in January Jones (Mad Men) and Diane Kruger (Inglourious Basterds).
The premise is reminiscent of a Hitchcock film. Neeson is Dr. Martin Harris, a botanist who flies to Berlin with his wife Liz (Jones) to attend a conference. Forgetting a bag at the airport, he lets his wife check in while he takes a cab, driven by Gina (Kruger), back to retrieve the briefcase. Unluckily, the cab goes into a river off a bridge while trying to avoid an accident.
When he wakes up days later in a hospital, he remembers nothing about the accident and subsequently discovers that Liz doesn't recognize him and is, in fact, at the conference with the "real" Dr. Harris (Aidan Quinn) who produces a passport to prove it. He is thrown out and as he has no identification and almost no money, things look desperate. But wait, there was that cab driver who disappeared after the accident -- if only he can track her down.
The film moves along with some intriguing, unexpected twists as Martin tries to figure out what is going on. Gina proves to be a surprisingly enterprising person, although it seemed a little strange having the German Kruger playing an illegal Bosnian in Berlin. Nonetheless, the Bosnian aspect is necessary to the part and Kruger is very good. Frank Langella has a nice turn as Martin's old friend Professor Rodney Cole who, like everything else in the film, is not exactly what he seems. And, I give points to any film that finds a role for the excellent Bruno Ganz, who here plays an aging ex-Stasi agent who recognizes when it's time to check out. Rated PG-13 for some intense sequences of violence and action, and brief sexual content. 113m. All local theatres.
I AM NUMBER FOUR. Based on the young adult novel by Pittacus Lore (a pseudonym), I Am Number Four has an interesting premise. It seems a planet has been decimated by another alien race. Nine young endangered aliens escape to Earth where they are being hunted down in numerical order by the bad aliens. Three are dead and wouldn't you know it, our hero "John Smith" (Alex Pettyfer) is Number Four. His father figure/protector, Henri (Timothy Olyphant, Deadwood), keeps him on the move, but John falls for comely Sarah (Dianna Agron) at his current high school who, unfortunately, is the QB's ex. So much for low profile. Oh yeah, the refugee aliens each have a special ability that only appears as they mature.
At bottom, this is a rite-of-passage story where the son has to separate himself from a father figure in order to become his own man. It just happens that he also has to save both himself and all humans. The young actors are all suitably attractive, but also unfortunately bland. Olyphant is the one exception and his fine acting is the only zest in this concoction. Rated PG-13 for intense sequences of violence and action, and for language. 110m. At the Broadway, Mill Creek and Fortuna.
-- Charlie Myers
Previews
Drive Angry. Start with Nicolas Cage in Ghost Rider mode; send him to action movie Hell. Call him Milton to add a literary reference. Have him escape from Hell on a mission to save his granddaughter from a Satanic cult that murdered his daughter. Send Satan's evil henchman "The Accountant" (William Fichtner) to fetch him back. Add guns, gratuitous explosions and hot cars (1964 Buick Riviera, 1969 Dodge Charger, 1971 Chevrolet Chevelle) plus a hot chick (Amber Heard). Hey, let's shoot it in 3-D! Too bad Charlie's out of town; he'd have fun hating on this. 104m. Rated R for strong brutal violence throughout, grisly images, some graphic sexual content, nudity and pervasive language. Opens Friday at the Broadway and the Fortuna (in 3-D).
HALL PASS. Farrelly brothers comedy stars Owen Wilson and Jason Sudeikis (from SNL) as Rick and Fred, old friends whose wives (Jenna Fischer from The Office, and Christina Applegate, Married With Children) allow their guys a one-week free pass to do whatever they want "without consequences." What do they want to do? Chase hot chicks, of course. As in other Farrelly fare (There's Something About Mary, Dumb and Dumber, Kingpin, etc.) wacky hijinks, often involving "crude and sexual humor" ensue. 98m. Rated R for crude and sexual humor throughout, language, some graphic nudity and drug use. At the Broadway and Mill Creek.
The 13th Annual International Latino Film Festival runs March 1-3 bringing several films form Ecuador to the Minor. Full details in this week's Calendar section.
The Arcata Theatre Lounge has a Saturday screening of Stanley Kubrick's horrorshow A Clockwork Orange based on Anthony Burgess's novel. Malcolm McDowell is Alex, a nadsat baddiwad tooling around a future Britain with his droogs listening to Beethoven while committing ultra-violence.
Sunday at the ATL it's the slightly kinder/gentler animated musical fantasy James and the Giant Peach based on a scary kids' book by Roald Dahl. James' story starts with his mum and dad being eaten by an escaped rhinoceros and life does not get easier when he's sent off to live with his evil aunts. A magic giant peach provides escape.
Next Wednesday it's another ATL Sci-fi Pint and Pizza night with a double feature aimed at Trekkies and Star Wars fanatics. Message from Space is a 1978 Japanese comedy from director Kinji Fukasaku borrowing freely from Star Wars, what's known in the trade as a "mockbuster," sort of along the lines of Turkish Star Wars. Then it's Star Wreck: In the Pirkinning, a feature length Star Trek/Babylon 5 parody from Finnish filmmaker Samuli Torssonen who previously produced a long series of "Star Wreck" shorts with a small group of friends in their two-room apartment. Torssonen plays Captain James B. Pirk alongside characters like Commanders Dwarf and Info (Worf and Data). The dialogue is in Finnish, but with subtitles, including some in Klingon.
CONTINUING:
BLACK SWAN. Natalie Portman and Mila Kunis compete for the top spot in the New York City ballet's production of Swan Lake. Sounds innocent enough, right? Rated R. 109m. At the Broadway.
THE EAGLE. Centurion Marcus Aquila arrives in Scotland to attempt to solve the the mystery of the disappearance of the Ninth Legion. Rated PG-13. 114m. At the Broadway and Mill Creek.
GNOMEO AND JULIET. Yup. Romeo and Juliet, only with garden gnomes. Yup. Rated G. 84m. At the Broadway, Fortuna and Mill Creek.
THE GREEN HORNET. Charlie says: "It is surely the worst superhero movie ever." Rated PG-13. 119m. At the Broadway and Garberville.
JUST GO WITH IT. Adam Sandler enlists Jennifer Aniston to help him find the woman of his dreams. Not her. Rated PG-13. 116m. At the Broadway, Fortuna, the Minor and Mill Creek.
JUSTIN BIEBER: NEVER SAY NEVER. Isn't he adorable?! Rated G. 105m. At Mill Creek.
THE KING'S SPEECH. Based on the true story of the Queen of England's dad and his remarkable friendship with a maverick Australian speech therapist. Colin Firth can taste that Oscar. Rated R. 119m. At the Broadway and Mill Creek.
NO STRINGS ATTACHED. Let's have sex. Rated R. 108m. At the Broadway.
THE ROOMMATE. Thriller where the roommate does worse than drink the last of the milk. Rated PG-13. 92m. At the Broadway.
TRUE GRIT. The Dude conjures The Duke in the Coen Brother's latest. You decide who's Grittiest. Rated PG-13. 110m. At the Broadway.