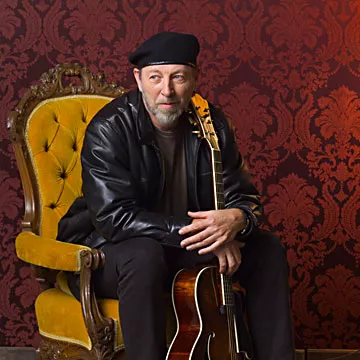 I've never fully understood why Richard Thompson never achieved the popularity and the cultural icon status of some of his compatriots. He's a stellar guitar player -- when Rolling Stone magazine assembled a list of the 100 greatest guitarists of all time, he was in the top 20. And his songwriting is absolutely brilliant. Songs like "1952 Vincent Black Lightning" and "Beeswing" are perfect short stories in and of themselves, with subtle guitar lines that fit like a glove. And when he rocks out, he kills. So why isn't he a star and a household name?
Thompson has been at it for four decades now, having begun his career in 1967 with the British folk-rock band Fairport Convention while still a teen. He went solo in the '70s, then married a singer, Linda Peters. Richard and Linda toured and recorded together for just short of a decade. Their eventual divorce is laid out in heart-wrenching, sometimes bitter songs that are perhaps too honest for most. His work since is less bitter, but never less honest and powerful.
Thompson regularly answers questions from his dedicated fans on his official website, BeesWeb. Amid gear geek queries, some did-you-reallys (Did you really play with Jimi? Yes.) and a few when-might-you-play-here questions, someone asked about the "greatest Spinal Tap moment" in his career. His wry description of a date with Fairport Convention offers a further clue as to detours on the road to stardom.
"Fairport did a BBC radio show in front of a live audience, must have been 1970," he writes. "Mott The Hoople, then little-known, opened for us, but their fans snapped up all the free tickets, so they went down a storm, and we died the death. Thinking our careers over, we repaired to the pub, got plastered and mused on the fickle nature of the pop world. We decided that we needed a bit more showmanship in the act, and thought that Mott's stage antics, i.e. knee-length boots, choreographed guitar moves, rubbing fretboards together, head-banging, etc., would be the way to catch the next generation of fans. Sure enough, next show, which I think was Leicester, a couple of the band had got the boots, and towards the end of the set, we started to ham it up, pissing ourselves with laughter, of course. Needless to say, it went down an absolute storm. The crowd went wild. This was very depressing, and confirmed our suspicion that audiences were gullible idiots. We tried it one more time after that, and then settled on careers of mediocre sales and obscurity."
So there you have it. He decided early on that obscurity was preferable to playing to the wants of gullible idiots. Of course he's not totally obscure. The day before his upcoming Arcata show (Wednesday, Dec. 10 in HSU's Kate Buchanan Room) he'll play a sold out show in Chico; and his Dec. 11 show in Petaluma is sold out too. You might want to get a ticket for the KBR show now.
Got a call last week from Karen Dumont, one of my favorite soul/blues/gospel singers. She's moved back to town, done with Oregon, and next Tuesday, Dec. 9, she'll be the host (or hostess) of the weekly Jambalaya Blues Jam. That date just happens to be her birthday. Would I come down and let her buy me a drink? Of course I already knew she was born that day. Regular readers may recall the story of one Dec. 9 many years ago: I was at the Jam and overheard someone toasting Karen on her birthday. My response was something like that Beatles song: "You say it's your birthday, well it's my birthday too..." When we compared notes we discovered we were born on the same day and in the same year. So yes, I'll stop by for a drink and a taste of the blues (after I go see the Anat Cohen Quartet play jazz in the KBR, see the Calendar section for details on that show).
Also in the blues mode: a show Friday at the Riverwood featuring voluptuous blues belter Candye Kane. When you open up Candye's webpage (www.candyekane.com) you hear her singing, "I'm the toughest girl alive; I walked through fire, but I survived..." which is appropriate considering that she's come through a battle with the Big-C as a survivor. Yes, a recent MRI shows she's now cancer-free. Her music and her life have always been about empowerment, this just adds a new dimension.
Another "Urban Legends Tour" hits the Arcata Community Center Friday with DJ MuziqLement hosting Too Short, Glasses Malone, Mistah Fab and the Mendo Green Team. (It's all ages.)
That same Friday at Humboldt Brews it's a rare appearance by the hot local Afrofunk congregation, AfroMassive. Dancing shoes advised. (And not all ages.)
As always, the reggae keeps rolling in. This week you have Prezident Brown and The Solid Foundation Band playing Thursday at the Red Fox, followed by a Friday show at Mazzotti's with Jamaican singjay Lutan Fyah backed by the East L.A.-based, cumbia/reggae band Quinto Sol. Then on Saturday Jambalaya has DJ Dub Cowboy's mission:Critical, mixing reggae with hip hop, this week featuring JUCE, a band that does the same. Also on Saturday, Madi Simmons and his new band Synergy play reggae/funk at Fernbridge Market.
Elsewhere around the Plaza Saturday there's "dance dance Evolution" with DJ Gone Crazy mixing reggae, funk, hip hop and jazz at Arcata Community Yoga Center (above the Outdoor Store).
Saturday at Mazzotti's Oakland-native MC/songstress Mystic sings about "The Life" with local support from D.W.I. (Driving While Intoxicated?) and Purple Basement.
Across the way at the Alibi that night Bad Kitty brings in some "pure Scumbag Country": Hellbound Glory out of Reno. Their twanger "Ballad of Scumbag Country" speaks of up-all-night hell-raising and a rejection of Nashville in favor of the hard life of an outlaw scumbag playing for like-minded fans suggesting, "Old Waylon just might have done it this way if he were here today."
At Humboldt Brews Saturday the Kim Manning Band mixes funk, reggae, hip hop, jazz, jamrock, etc. Kim is a funkadelic goddess best known for her association with P-Funk Allstars. (She sings for them and her band opened when P-Funk played the Mateel.)
The Red Fox will surely draw the jamband crowd this weekend: Friday they have the Dead tribute band WorkingMan's Ed featuring guitarist Stu Allen from JGB. Saturday it's Moonalice, an all-star combo with G.E. Smith from SNL (and Bob Dylan's band), Barry Sless from David Nelson Band (and Phil and Friends), Jack Casady from the Airplane (and Hot Tuna), Pete Sears from J. Starship (and Hot Tuna), Jimmy Sanchez, who plays with Boz Scaggs and Bonnie Raitt and Ann and Roger McNamee from Flying Other Brothers. There's a legend about the origins of Moonalice, something about a Native American tribe, hippies and hemp. The band today is a harbinger: "A new day has begun. A daring sextet of nomads has emerged to revive the tribe, its music, and its legend. The new Moonalice crosses the land, spreading good vibes and giving new hope to millions whose culture had been laid waste by the prohibition of hemp. With each gig, the tribe grows. There is Moonalice in everyone." Ready to join the tribe?
One more on the funk side of jambandage: A show Wednesday, Dec. 10, at Humboldt Brews with locals Moo-Got-2 opening for On the One, a jazz/funk outfit from the San Diego circle that includes The Greyboy All-Stars, Karl Denson's Tiny Universe and Giant People. Once again, dancing shoes advised.