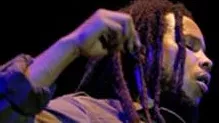 Stephen Marley. Photo by Kim Sallaway.
Since I'm heading out to tour Cali over Easter vay-cay, I've put the Hum on autopilot, basically just dumping the mailbag directly into this space (sort of anyway).

First one from Carol B., via Yvonne: People Productions and KMUD proudly present "Stephen Marley: Mind Control North American Tour" Wednesday, April 18, at the Arcata Community Center. Stephen Marley, Grammy-winning artist and producer, and son of the legendary Bob Marley, has been tearing up the charts and collecting rave reviews with the release of his highly anticipated solo debut album, Mind Control, which represents a new stage in his evolution, one that brings together the genius of his production and his wise and soulful voice with hip-hop beats, smoky bass and winding keyboard runs. This is the sound of a man coming into full realization of his powers -- and his legacy. The tour is happening in association with the Ghetto Youths International Foundation and will feature special guest "Jr. Gong" and acclaimed African artist K'Naan. (Bob notes: Saw K'Naan at Reggae, he's awesome. The Marley bros -- Stephen and Damian (aka Jr. G.) of "Welcome to Jamrock" fame -- are pretty good too.)
E-mail from Justin at the Mateel, received more than once: On Saturday, April 14, the Mateel Community Center in Redway is proud to present Mateel Forever 2, a fundraiser for the Summer Arts and Music Festival at Benbow Lake. The event will function as a mini-Summer Arts, complete with vendors, dancers, fine art, children's entertainment, martial artists and lots of music. The line-up for Mateel Forever 2 will include regional acts like Bayonics, David Jacobs-Strain, Lansdale Station with Ruben Diaz, Axe and Malicki Diallo Bah, plus local favorites Lost Coast Marimbas, Steel Toed Slippers, Dragon Heart Tang Soo Do, Lakshmi's Daughters, Humboldt Capoeira, All Shook Up Belly Dance, Raymond Thoya, Shae Freelove, The Elliots, A'OK The Clown, The Bindis, and more. For more info visit mateel.org.
One of The Brendas writes asking (and answering) the rhetorical question: Who on Earth are The Brendas? The Brendas are an eight-piece all-female band with members from The Czech Republic, Denmark, Canada, The UK and The US, who have come together to be based here in Humboldt, and more specifically, Blue Lake. The ladies formed together as The Brendas one year ago and have been making some interesting sounds ever since. At the moment we are championing the slide whistle, as it has had a hard time in the serious instrument realm, as have those much maligned egg shakers. If you try to pin The Brendas down to a description of their sound the most concise they can come up with is a mix of European folk, bluegrass, country-punk and music hall. The Brendas also emphasize that they like to dress theme-atically, because that is the basis of rock glory. The Brendas are playing on April 14, at the Logger Bar, Blue Lake along side their fellow Blue Lakers, Tainted Zucchini(Byronic rock), and a special line up of The Jade Stems (some original members, and then some members of FUSIQ and Tainted Zucchini lending a hand as well). "We love playing with the Zucchinis and The Stems," says one Brenda. "They are all noise and grime and testosterone, then we step up dressed in cow hide and fishnets and sing ditties about lost love and vacuuming. It's the perfect foil - or alternatively the perfect foil is foil itself, as it's good for hair frosting and roast dinners." The Show starts at 9 p.m. and has no cover charge.
*Tamaras writes to say: "**We start The Pearl Sessions*withTamaras and Nate Kaplan next Thursday April 12, and we need help spreading the word. We are very excited about our Thursday night residency at The Pearl Lounge and how generous The Pearl folks have been to offer it to us. It is free to the public and want it to be a nice experience for all our neighbors and friends to come connect with each other and enjoy our Acoustic Grunge Jazz band."
Note from some record company flak:NUDITY - Thursday April 12, E&O Bowl.They say they are astral travelers, but these four rockers from Olympia, Wash., cite influences rooted deep in Hawkwind, Amon Duul II, Velvet Underground and the MC5. They serve up their singular vision of rhythm and heat through a driving brand of psychedelic rock 'n' roll. The Olympia super-group consists of Dave Harvey (Tight Bros From Way Back When, Behead the Prophet) on guitar, vocals, sitar, harmonica and flute, Chris Sutton (Dub Narcotic Sound System, Spider and the Webs, C.O.C.O.) on guitar and vocals, Jon "Quitty" Quittner (Tight Bros From Way Back When, Behead the Prophet) on bass and vocals, and Eryn Ross (Growing) on drums ... Nudity is bent on making some of the most sonic and insane bionic boogie to come out of the Northwest ... the colors of their lighting and clothing reflecting and intensifying the electric hues leaping from amplifiers and drums. [*Ed. note: Flak, never leave out the local connection. Jon "Quitty" Quittner was, of course, the bass player for Arcata supergroup Brent's TV way back in the day.*]
Via Humboldtmusic.com: What: Strength&Strix Vega When: Friday, April 13. Where: Jambalaya. Description: Portland garage disco vets Strength return to Humboldt after headlining last year's Bummerfest to give the locals another night of sweaty satisfaction; local boys Strix Vega join in on the fun.
Ian from the Alibi always gets right to the point: Saturday, April 14, Dragonheart Records/Cruz del Sur Records artists Slough Feg (folk-tinged power metal from San Francisco -- featuring ex-Hammers of Misfortune) + Ketea (female-fronted doom from Louisiana). Sunday, April 15, DRAGGEDbyHORSES (local heavy rock) + The Long and Short of It (heavy rock from San Diego). All shows @ The Alibi/21 and over only/10:30 p.m. doors/11:15 p.m. music.
(This one was in ALL CAPS, which I did not want to impose on you. P.R. peeps, don't do that.) To Whom It May Concern: What: Eureka Skate Park Benefit. When: Saterday April 14, at Greenhouse Boardshop, Arcata. Skate demo, autograph sessions at noon and after the end of skate demo. All ages. Free admission. Art Show 6 p.m. at The Accident Gallery - live music by The Invasions and Baby Arms, skate art, movies, silent auction. All proceeds go to support the funding and building of the Eureka Skate Park.
Maia from Folklife sent in this last-minute note: The Humboldt Folklife Society is thrilled to snag Laurie Lewis with Tom Rozum for a late-breaking show at Muddy's Hot Cup on Sunday, April 15, at 7:30 p.m. Folklife volunteer Sara Sunstein noticed a gap in Laurie's West Coast schedule, and was able to book her into Muddy's just 10 days out. The Grammy-nominated bluegrass and Americana duo has been a hit on the North Coast (and the rest of America) for many years, and the surprise intimate-venue concert is expected to sell out in advance. Tickets are on sale now at Wildwood Music and the Metro. Info: humboldtfolklife.org or 822-5394.
House concert alert from Patrick:Stacey Earle and Mark Stuart will be appearing in a Big Lagoon House Concert Thursday, April 26, 7:30 pm. He goes on to explain that Stacey is, "the younger sister of country renegade Steve Earle and a gifted singer/songwriter in her own right..." and so on, concluding: "Seating at the Big Lagoon House concerts is limited, so please, reservations are mandatory. Donations to the artists are $15. For information, directions and reservations, please e-mail patrick@khum.com or call 599-6567.
From Levi at The Metro: Wanted to let you know that I've teamed up with Gil from High Art Productions and I'm promoting shows again. We have Glue coming from the Midwest. Glue consists of Adeem (pronounced ADM), DJ DQ and Maker. Adeem is the only MC to ever win the renowned Scribble Jam freestyle battle twice. DJ DQ, along with his turntable crew the Animal Crackers, won the 2006 DMC Team Turntable competition. Maker is a prolific and well respected producer for Glue, the Galapagos 4 label, and many others in and around the Chicago area. These guys have a great sound that would probably appeal to fans of Atmosphere, Sage Francis and that old-school boom-bap. Opening for Glue is Silentarmy from S.F. Franco of the Dirty Rats, J the Sarge of Opti-Pop and my favorite employee and DJ, Itchie Fingaz. The show is Friday, April 13 at The Red Fox Tavern.
And last but not least an excerpt from an e-mail from Adeem, whose addie I got from Levi - (the rest is at whoareyouwhatdoyoudo.blogspot.com).
Who are you?
My name is Adeem and I'm the last person you would expect to make as much noise as i do. I'm also the voice for the newest hip hop soul sensation, Glue. By the way, who are you?
What do you do?
Sometimes i don't do much and other times I'm doing too much. I rap for a living, try to sing for a living, substitute teach when i need to be doing something else for a living, and I also make a mean rice and tempe curry dish.
Why do you do what you do?
The passion i have for music is like nothing else i experience (besides love). It's all i want to do and it's the only thing i want to make a career out of. I also make music for people who still believe they have power to change things for the better. My music is about the life i live and it's for whoever can relate.
OK - I'm outie...C-Ya.