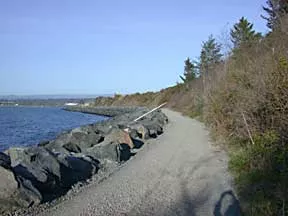 Trail along King Salmon Beach. Photo by Helen Sanderson.
We were at the end of our walk on King Salmon Beach. My dog led the way along the worn path through the dunes toward the seawall, where our car was parked. It was chilly out, gray-skied and getting dark - similar to my state of mind. April was a piece of crap month and I was rehashing everything that made it so. I wanted to go home, warm up, comfort myself, eat some Cheetos. Cope, in other words. Scout got to the seawall and turned to me with that look that says, what are you waiting for?
I was hesitating at the edge of the dunes, contemplating the earthmoving equipment parked near the grassy entrance. Some entity - the county, I figured - was carving a new trail past the bluff and along the shore to lengthen the beach access. But how far it traveled, I couldn't tell from that angle. I stood there weighing my options - go home and sulk or check out the new path? Curiosity got the best of me - or at least my reverence for curiosity did. Reluctantly, I put self-pity on pause and kept walking. Scout booked it over to me, happy for any extension of her beach time, and we headed around the bluff - aka Buhne Point.
I told myself at first we'd just walk a little ways, size up the construction and turn right around to head home. The new path, though, was bigger, clearer, more inviting than I imagined. And the coastline being so curvy, I still couldn't see where it ended. I zipped my coat to the top rung to shield myself from the wind and kept walking. The tide buffeted the riprap, creating a deep bass rhythm - booooom, booooom - echoing in the man-made caves where starfish clung for their lives. The rocks, which were dumped there by the Army Corps of Engineers to protect the shore from erosion, were marked with orange spray-painted numbers.
When I got to 17 I stopped. Fighting the urge to let my mind think about cruel April again, I looked around me, past Humboldt Bay's entrance and toward the horizon, wanting to feel connected to something. A seagull hovered above us, balanced itself motionless in mid-air, then let the wind take her away. I remembered how my sister came to this beach once, when she was in similarly bad frame of mind. She asked God for a sign, and up washed a coconut. No lie. She moved to Hawaii a month later and met the man of her dreams. I wanted that to happen to me, or something like that anyway. I put my hand against the orange paint, closed my eyes and imagined it hot against my skin, branding my palm with a 17. All I felt was my heart lurch strangely in my throat. I looked around. No coconut. Keep moving, I told myself.
Scout and I walked languidly on, past number 22, past the Humboldt Hill exit 'til we got to a little hill that met a barbed wire fence. Pacific Gas and Electric was on the other side. We scrambled to the top and peered in. A man with a white hard hat waved at us. Even from this vista point, I still couldn't see where the trail stopped so we started back to the car.
This week, I asked HumCo Supervisor Jimmy Smith - the soft-spoken fisherman whose district includes King Salmon - for details on the new trail. He said the path was not a county-constructed road like I'd assumed, but a PG&E project. In exchange for permits to build a dry cask storage facility for nuclear rods (slated for completion in 2009), the California Coastal Commission asked the utility to create and maintain a public trail along the shore. For decades the rods have been stored in a cooling pool situated above a fault line. With a new underground storage facility, King Salmon would be safe from radioactive contamination, even in a devastating earthquake - 9-plus on the richter. Plant manager Roy Willis said that construction of the trail, which will be three-quarters of a mile long, should be completed by the end of the month. It will end where PG&E's property meets the derelict railroad tracks by the Elk River.