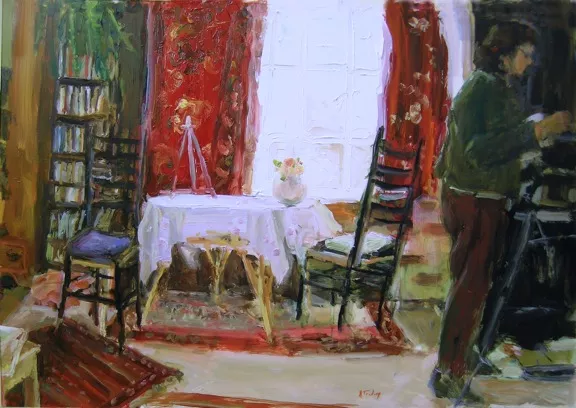 painting by Alicia Tredway
Interior with Figure
Extended congratulations to Jack Sewell for a gala opening last month of his new Sewell Gallery at 423 F St. This welcome addition to our art scene includes a wide array of work by some of our finest local artists. In August, that includes a section featuring the paintings of Alicia Tredway -- good timing, as much of Tredway's work evokes the high, bright light of a flawless summer's day. For several years, she has been perfecting a method of painting on Mylar that imbues her subject matter -- from still-life to animals to people -- with a freshness usually found only in the best watercolors. Leave the coastal gray at the door and step into Tredway's luminous world.
Arts! Arcata takes place Friday, Aug. 12. Check the listings here in Muse to plan your walkabout.
Plaza Design (8th and G on the Plaza) continues its display of assured new works by Bea Stanley. The selection, framing and setting all come together to show Stanley's studied still lifes and florals at their best.
Arcata Artisans, across the Plaza, always has a special section in its gallery to highlight the work of two or more of its co-op members each month. August's stars are Natalie DiCostanzo, ceramics; Susan Bornstein, acrylics on paper; and Kris Patzlaff, jewelry. Patzlaff is an exceptionally fine craftswoman; her pieces incorporating "up-cycled" airplane parts are refined and truly original.
Speaking of jewelers, the North Coast Metal Arts Guild is joining with Hunter Plaid Gallery, 90 Sunny Brae Center, where the "Aggregation of Artistic Aptitude" show continues. This gallery has just gotten even more energetic with the creative talents of Erin House, Lia Sharp and Erin Austin adding their metal to the mix. The brio has always been high at "The Plaid" -- Jeff Hunter and the other young artists associated with the gallery are dedicated and fervent. The guild plans an opening night Arts! Arcata fundraiser Aug. 12. "Be there, or just stay that way!"
Southern Humboldt's Persimmons Garden Gallery (1055 Redway Drive in Redway, across from the KMUD studios) is a place of many delights: flat-out posh garden furniture and sculpture, a wine-tasting room representing several local wineries, a venue for great music (especially jazz, since one of the owners is a jazz drummer), with a gallery that has consistently featured artists from all over the world (and you didn't even know).
This month's featured artist is Rosemary Wick, who has Humboldt ties but currently resides in Arizona. Her watercolors and Giclee (zhee-clay) prints are vibrant, meditative and full of reverence for the heightened spirituality of the Southwest.
Persimmons is open Thursdays through Saturdays 4-10 pm with a Jazz Sunday Brunch 11 a.m.-4 p. m. Check their website (persimmons.net/persimmons_garden_gallery). There's a lot going on; it's worth the trip.
While you're enjoying the SoHum vibe, check out the Mateel Co-op Gallery (on Garberville's main drag, Redwood Drive). This month Marty Flora's pottery and gyotako (Japanese fish printing) are featured. This long-running collective is full of good stuff by fine artists, craftsmen and craftswomen.