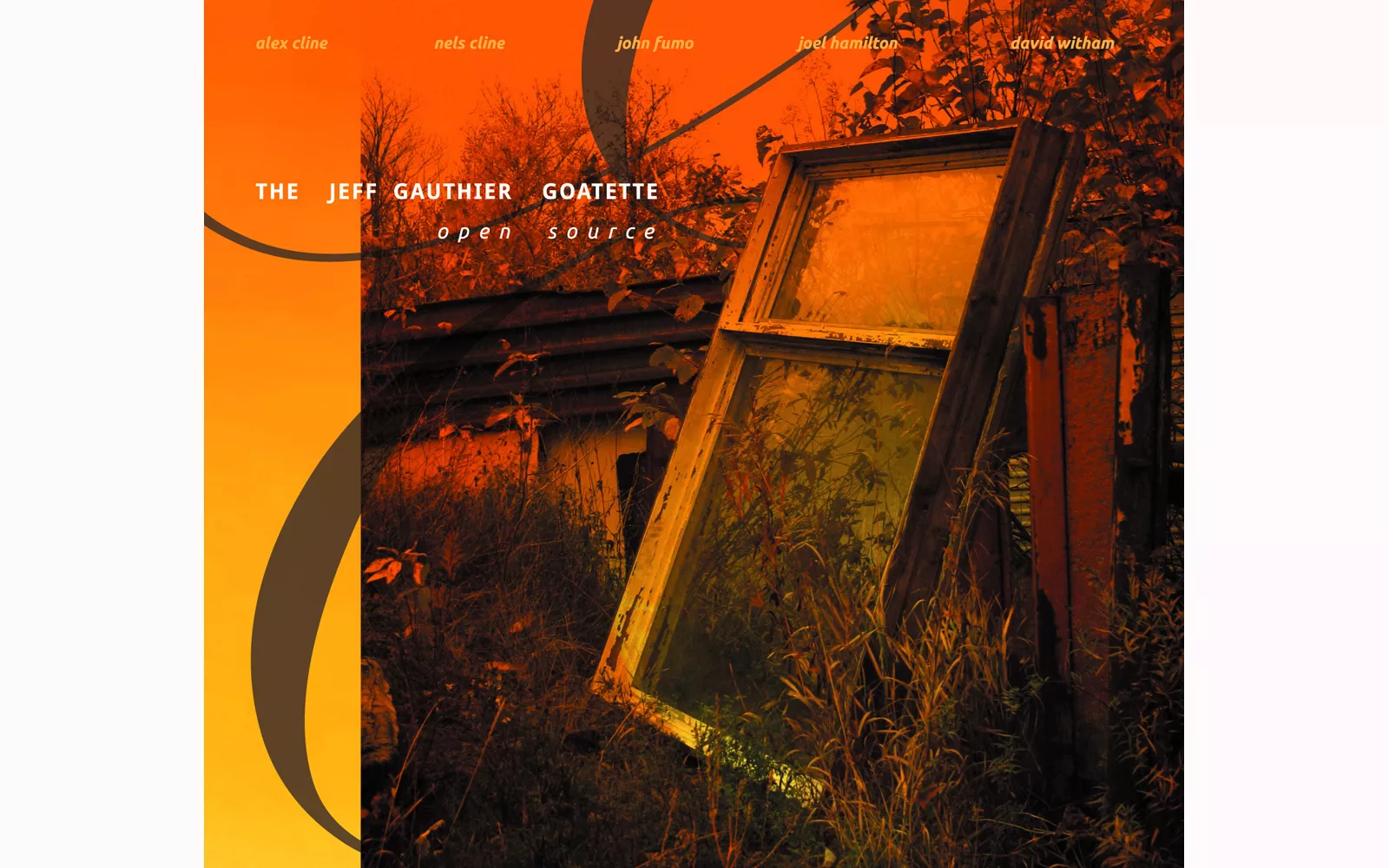 By The Jeff Gauthier Goatette - Cryptogramophone
Open Source
It's logical that accomplished jazz violinist/composer Jeff Gauthier, founder of Cryptogramophone, makes eclectic music reflective of his label's community of diverse musicians -- from The Nels Cline Singers to Ben Goldberg to Todd Sickafoose -- just as his own playing has contributed to his colleagues' recordings. With his "Goatette" line-up, featuring the Cline brothers (percussionist/drummer Alex and Singers/Wilco guitarist Nels), keyboardist David Witham, Joel Hamilton on bass, and new addition John Fumo on trumpet, Gauthier has formed one of his strongest groups to date, as shown by the excellent new release Open Source.
Interestingly, legendary Los Angeles reed player and jazz improvisation advocate Vinny Golia plays a key role here. All Goatette members have played and collaborated with Golia, who nurtures a collective spirit amongst a huge number of younger players (including Gauthier) that has drawn attention in the contemporary jazz scene.
With Open Source, Gauthier creates his own engaging sonic L.A. metaphor. Both the album's opening hard cut, "40 Lashes (With Mascara)," and "Prelude to a Bite" combine a noirish tribute to the L.A. landscape with nods to Miles Davis and earlier L.A. free jazz pioneers Eric Dolphy and Ornette Coleman. While "Prelude" leans more towards the funk-fusion of Davis' On the Corner, "40 Lashes" contains the denser distorted tones of Bitches Brew. And yet, the foundations for both songs are rooted in the angular arrangement of early '60s work by Dolphy and Coleman.
The elegant "From a Rainy Night" and a rendition of Eric von Essen's "Things Past" display the group's ability in executing a more lyrical and minimalist approach. The deceptively breezy surface to these pieces shadows a complex, subtle interplay running beneath. It should also be noted that Gauthier has released three posthumous anthologies of von Essen's work. The young bassist and prolific composer formed the chamber-jazz ensemble Quartet Music in the late '70s with Gauthier, and the Cline brothers died unexpectedly in 1997 in Sweden.
Gauthier takes his biggest artistic leap with the closing title track, an experimental composition that blends past and present. Alex Cline opens the piece creating a darkly ethereal atmosphere that the rest of the quintet builds on. Gauthier and Fumo provide an "old world" melody that peaks through this surreal din. Open Source is a fitting title -- Gauthier freely and confidently taps into own eclectic sources of inspiration, one that is inclusive of traditional and improvisational forms of jazz, and one that he and his group articulate with depth and masterful energy.