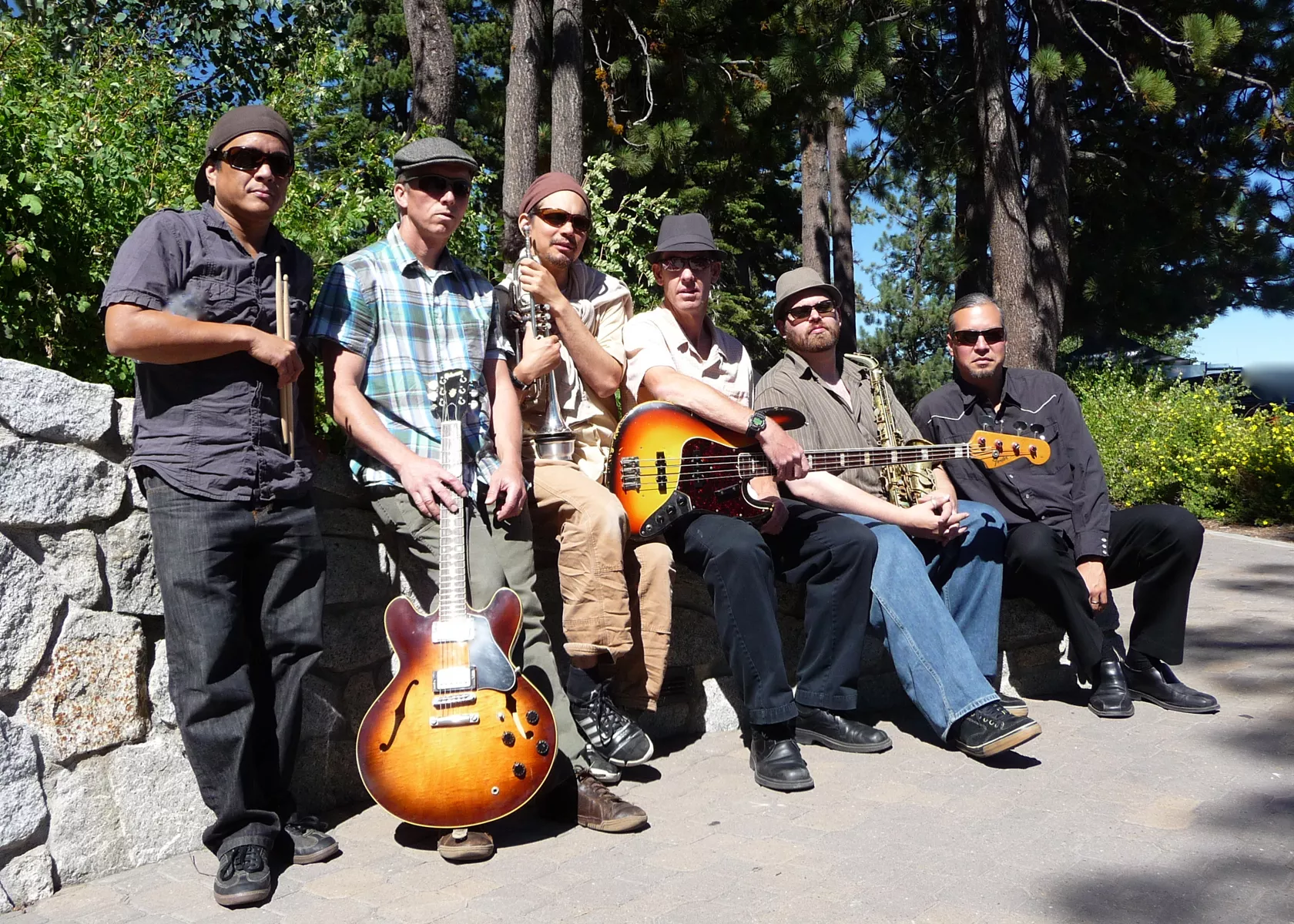 It's kind of amazing for a band founded 16 years ago: Five out of six players in the current line-up of the Marin-based jamfunk combo Vinyl are founding members.
One reason for the longevity is the way it started. "It was just guys getting together in a garage to jam," said bass player Geoff Vaughan. "Bring your instruments and get together, see what happens. There was this chemistry so we kept rolling on it. The intention from the start was to create grooves that moved us."
If you've heard the band play, you know that those grooves are mostly based on literal grooves. "The name Vinyl is a nod to our various record collections: old school funk, R&B, jazz, soul," Vaughan explained. To be clear, this is not a cover band, although it throws in tunes you might describe as deep covers, tracks only a serious crate digger would recognize. Vinyl is an instrumental powerhouse inspired by deep archives.
Vaughan notes that the focus has shifted over the years, "We used to play more reggae and Latin, putting our spin on those genres. We still play Latin and love it, but find ourselves moving more to the funk."
Funk will definitely be on the agenda this weekend when Vinyl does a two-night run at the Jambalaya with special guest Radioactive (formerly of Spearhead) on the mic. "Laying down grooves for him to rap over will be a big part of it," said Vaughan. "We've done maybe a half dozen shows with him in the last few months, and we've written a few things around him, so every show we do we're more and more in sync."
To add to the funky fun in Arcata, Vinyl will have a different opening band each night: Friday it's Seattle jamrockers Flowmotion; Saturday Humboldt's own Bump Foundation brings on the funk. The guys from Vinyl are friends with both bands, so collaboration is likely. "We expect stuff to be created that will be unique to that night," said Vaughan. "Radio will probably get all James Brownsy and start directing the musicians. We'll see what happens." Sounds cool to me.
Speaking of vinyl: Humboldt Brews pulls out the record players this weekend. Thursday, "Missing Link's Got Soul" finds the Arcata store's crate diggers/vinyl slingers Matt and Adam on the wheels of steel alongside their funky friends King Maxwell and DJ Mantease. Friday, DJ Red is back in action. Apparently a casual remark in a previous Hum about his dissatisfaction with Katy Perry requests led many to believe Red might be retiring. He is not. "I still love DJing, and I'll keep doing it as long as people keep coming to my shows," he says. "Speaking of which, I will be spinning '80s this Friday, an extended set of music for the diehard '80s geeks. Not for the squeamish. Oh, and I think the fine folks down at HumBrews want to make this a regular thing, but only if people come out and support."
If you're more into folk than funk, Humboldt Folklife Society presents alt. folk singer/songwriter Jeffery Foucault Friday evening at the Arcata Playhouse. He'll be playing hauntingly deep tunes from his latest record, Horse Latitudes, which his label explains is named for "the equatorial reaches where only ocean, sky and desert obtain; where legend says becalmed Spanish sailors put their horses overboard as the cisterns ran dry." You might remember Foucault from his last Playhouse visit opening for Peter Mulvey. This tour he's the headliner with Colorado-based songwriter Rorey Carroll opening, joined by her fiddler friend Zebulon Bowles.
On the international folk side (music for folk dancing) you have Bulgarika this coming Wednesday at the Humboldt Unitarian Universalist Fellowship in Bayside. The group plays traditional Bulgarian music (not surprising considering the name) with mother-daughter team Donka and Maria Koleva on vocals accompanied by accordionist Ivan Milev and Nikolay Kolev on the gadulka, a trad instrument that looks like a lute but is bowed like a violin.
If you know anything about the history of West Coast underground hip hop, you know the story of the open mic nights at The Good Life Café in Los Angeles, Project Blowed and the roots of Freestyle Fellowship, where Aceyalone, Myka 9, P.E.A.C.E. and Self Jupiter all got their start. For the first time in a decade, the old crew has reassembled to record a new disc, The Promise, with a politically charged message. The FF tour hits Nocturnum Thursday night.
Former teen street hustler/prostitute/junkie Mickey Avalon has the look of a glam rocker, but he's a rapper whose autobiographic rhymes delve into sex, drugs and debauchery. Bonus is bringing him to the Arcata Theatre Lounge Thursday, where he'll share the bill with Kiki, Hunny Beats and Swisher Streets with MXMSTR KRSHN2N keeping things going in between.
Parallel choices Thursday for lovers of Jamaican music: At the Jambalaya, Kingston dancehall queen Macka Diamond counters the typical macho braggadocio of JA male dancehall with raunchy rhymes of her own. Meanwhile at Trinidad Town Hall, two brothers, Richie Spice and Spanner Banner, stick more to the roots, culture and Rasta side as they play a benefit for Trinidad Elementary School that also incudes "authentic" Jamaican food.
Guess it's school benefit weekend: Saturday's Unity for Our Community Concert at the Mateel features the lyrical wisdom of Wisdom (in hip hop rhyme) plus local reggae fave Ishi Dube, the organic liquid grooves of Lost Coast Marimbas, tunes by the South Fork High School Band plus BBQ tri-tip and lasagna served up by the SFHS Booster Club, all to raise money for the cash-strapped school. Forgive a sidestep toward politics, but shouldn't we be supporting our schools with taxes? What was that old bumper sticker about bake sales for military spending? Let's add bank bailouts to that.
Darius Brotman's third Friday jazz night at the Westhaven Center for October finds the pianist working with tenor saxophonist Francis Vanek, a former Humboldter who now lives in Mendo. Next Saturday, Oct. 29, Darius does another night where he improvs soundtracks for rare silent movies. They're expecting a full house, so if you're interested let them know by Oct. 21 (677-9493).
Zach Deputy is among the new generation of one-man-bands armed with an array of FX-pedals and looping devices processing and layering sounds from his guitar to create his "island-infused, drum 'n' bass, gospel-ninja-soul." With his latest song collection, Another Day, he could add laid-back songwriter to the description, with numbers in Jack Johnson mode with touches of Al Green and Stevie Wonder. Check him out Saturday night at Humboldt Brews.
Bad Kitty never rests. Norm is back at the Red Fox Sunday with Viva Le Vox, a zombie swampabilly outfit from Florida, dark old time "junkyard folk and nefarious jazz" by Portland's Professor Gall and alt. Americana by Gunsafe from Arcata with music readymade for a Day of the Dead celebration (not the Grateful kind).
Tribute of the week: Broken Wheel, one of several local congregations carrying the Dead/Jerry flame, this one with Don Barry on guitar sharing vocals with Sarah Maninger and Amanda Squires; bassist Gary Davidson and drummer Tofu Mike holding down the rhythm. At least that's the configuration Saturday night at Clam Beach Inn. Careful, "If the thunder don't get you, then the lightning will."
The music of the Ryan Montbleau Band combines good time rock, blues, soul, jazz, folk, reggae and funk, all at the service of Montbleau's handcrafted songs. Ryan and company have been working out of Massachusetts for a while, winning fans all over with tireless touring. They're back in Humboldt Tuesday for a show at HumBrews with the Jason Spooner Trio opening, but first RMB hits KHUM for an afternoon in-studio. (KHUM describes the band as one of the station's "all-time best guests.")