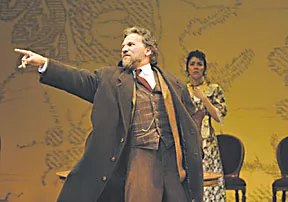 Lopakhin (Armando DurÁn) exults after buying the cherry orchard. Dunyasha (Nancy Rodriguez), looks on. Photo by David Cooper.
North Coast stages were relatively quiet in recent weeks (which is about to change - see below) so it was a good time to catch the early offerings at the Oregon Shakespeare Festival in Ashland. Four of the eventual 11 plays this season are playing now. Two will continue through the summer (Shakespeare's As You Like Itand Tom Stoppard's On the Razzle- likely to be one of this year's hits), so in this column I'll concentrate on the two that end earlier: Chekhov's The Cherry Orchard (on stage until July 8) and Rabbit Hole, a new play by David Lindsay-Abaire, which closes on June 22.
Anton Chekhov intended The Cherry Orchard to be a comedy, and was furious when Konstantin Stanislavsky directed its first production as a mournful tragedy. In her final play as OSF's artistic director, Libby Appel strikes a lovely balance, illuminating both aspects. The comedy comes in part from her own fresh adaptation, including choices of language (so this early 20th century stage classic ends with the accusation, "Nincompoops!") She also injects some motion into staging the social whirl - not quite as frenetic as Renoir's film classic, Rules of the Game, but to the same effect. The giddy movement behind designer Rachel Hauck's gauzy screens in the party scene was particularly evocative.
The tragedy is partly in the destruction of a home that embodied generations, and of the cherry orchard itself: Chekhov's ecological prophecy of nature's indifferent destruction. (Though oddly we never see even a representation of the orchard itself in this production.) But in this elegy to an aristocracy falling apart after Russia emancipated its serfs, there is also the tragedy of wasted lives, in the past and to come. Like the Renoir film, this play exposes the destructive decadence of the upper class while honoring the characters' humanity and individuality, including their pretensions, ambitions, weaknesses and superficialities: the human comedy.
The play's key character is Lopakhin, the businessman whose parents were serfs on this estate, and who eventually buys it, intending to cut down the cherry trees to build vacation homes for the new middle class. Often treated as the crass villain, he was played as the sympathetic voice of sanity in a production I saw at Carnegie Mellon University. Again, Appel strikes a Chekovian balance, with Armando Duran's expansive portrayal of Lopakhin as a man of energetic contradictions. He embodies the Working Class Hero syndrome by professing shame for his crassness one moment, then reveling in it the next. He expresses admiration for the wealthy family, followed quickly by contempt. The scene in which he looks around in amazement at this great house he now owns, where his "father and grandfather were slaves, where they weren't even allowed in the kitchen," while another kind of shame paralyzes the former owners, is a riveting high point.
Twelve individually drawn characters and their various relationships is a lot to absorb, so audiences take some of the drama with them, to sort out in recollection or in seeing the play again. The crispness and clarity characteristic of OSF productions (along with the courage to present the play's full length) makes that possible, while providing a superior theatrical experience.
Unlike Lindsay-Abaire's fantasy/comedy Fuddy Meers(produced at OSF in 2001 and here at Redwood Curtain in 2002), Rabbit Hole is a naturalistic drama, about a contemporary middle-class family coping with the death of a young child. The conflicting ways that the husband and wife cope with their grief are further complicated by the wife's pregnant sister and her mother, who is still dealing with the death of her own son. Despite this description, the play isn't heavy. The playwright's skillful storytelling and light touch seem designed to make the audience as comfortable as possible, but that may also result in characters that seem a little prepackaged, involved in situations out of a grief management manual (it's not surprising that the play is being adapted for the screen). But capable acting, evocative music and the usual superior production values keep it all afloat. The actors' commitment is especially apparent - even in the fairly predictable role of the mother, Dee Maaske brings nuance and real emotion.
One subtextual element I liked was the class difference between the mother's generation and the couple's, a change that adds to the confusion of living with this horrific break in the fast track middle class flow, for which our living-in-TV-commercials society makes no allowances, and has no adequate rituals. But then, class awareness probably comes naturally to a playwright with a South Boston working class background and a Sarah Lawrence and Juilliard education. I suspect many will find reasons to respond to this contemporary problem drama.
Coming Up: North Coast Prep opens Edmond Rostand's Cyrano de Bergerac,directed by Jeanne Heard Bazemore, on Wednesday, March 21 in the Gist Hall Theatre at HSU, with performances through Saturday.
North Coast Repertory opens Shakespeare's Henry IV: Part Ion Thursday, March 22, with a benefit for cast and crew.
McKinleyville High and the Shake the Bard company present the musical Oliver!at the D Street Neighborhood Center for two weeks beginning March 22.
Clowns Without Borders performs on Saturday, March 24, at 2 and 8 p.m. at the Dancenter in Arcata, to support expeditions by local performing artists to Mexico, Haiti, Guatemala and South Africa.
And next Saturday, March 31, Ferndale Rep presents Repfest35, an all-day series of events and entertainments to celebrate the Rep's 35th anniversary. This is worth planning for, so check for details on the Rep website at ferndale-rep.org.
Finally, as "conflict of interest" in newsprint has become a matter of local interest recently, I've posted my own thoughts and disclosures at the Stage Matters blog: stagematters.blogspot.com.