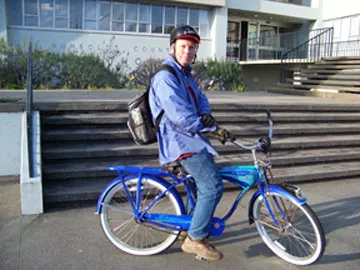 Rodney Brunlinger on his new "Ol' '55". Photo by Heidi Walters.
For the past three and a half years, Rodney Brunlinger has ridden his bicycle every weekday to the Humboldt County Courthouse, where he's worked for the same amount of years on the third floor in the assessor's office. Come rain, fog, high winds or sloth.
And at first, when the 40-something assessor's technician started bike commuting, everything was sweet. He was reducing his carbon footprint. Saving money. It was fun. He'd sold his car and outfitted himself with a 2005 remake of the 1955 Schwinn Deluxe Seven cruiser. Two-tone paint job in true blue and turquoise. Faux gas tank. White wall tires. Shiny chrome handlebars and fender stays.
But then those shiny chrome parts began to rust. And the bike rack Brunlinger uses -- on the I Street side of the courthouse -- is so close to the curb, he says, that his bike's been banged up by car doors. Once, someone left a partially eaten ice cream bar on the seat.
Brunlinger blames the county, which 15 months ago banned employees from parking their bikes in the rack in the courthouse basement.
"It's the best bike Schwinn ever made, going to hell out here," said Brunlinger last Wednesday evening outside the courthouse as he was getting ready to bike home. "It's gotten rusty, vandalized, knocked over. Because who comes to this building? Criminals and wackos. But, I mean, screw my rust. You know what's worse? Less people are riding bikes. Two people I work with have not ridden since they closed the garage. There used to be three to six bikes in the basement. I don't see three to six bikes out here every day since they closed the basement."
Meanwhile and contrarily, accuses Brunlinger, the county has launched a new campaign to ... yes, get employees out of their cars and onto their bikes and feet.
The basement ban came in December 2008 after the county, under state mandate, installed the new courthouse security system that by now we're all familiar with -- those X-ray baggage scanners and walk-through metal detectors in the front and back lobbies of the courthouse, the guards, the "empty your pockets" and "lift up your pant legs to the top of your socks." No security system was installed in the basement, however, where there's another entrance into the building. Only department heads and uniformed law enforcement can park their cars in there. Other employees used to be able to park their bikes in a rack in there, at least, but now the rack is off limits to everyone.
"They think we have bike bombs or something," Brunlinger said.
But he thought of a solution: Fence in that space under the elevated front entrance walkway, where there's already a bike rack, and put a locked gate on it.
"I said this to the risk manager, Jo Ann Gath, one day while she was sitting outside the courthouse smoking a cigarette," Brunlinger said. "And she said, 'Yeah, we'd like secure parking for our cars, too.' And I thought, that's such a smarmy reply, because cars are made to be in the weather. Bikes aren't."
Last week by phone, Gath said bikes were banned from the basement for safety as well as because of the new security protocols.
"It's a very confined space and there are blind corners, and it was not a good mix, in such a small space, to have bicycles and cars," she said. She also said, yes, most employees' cars and bikes get the same treatment.
Gath's heard from other employees who want better bike parking, and she said she's considering two options: a gated, locked space under the front stoop, as Brunlinger suggested, or a slab of roofed concrete by the big windows at the 4th Street entrance, where security guards could keep an eye on the bikes (the public could use that space, too). Or both. She said she's been looking for money to do something, to no avail.
"I fully, fully support alternate transportation," Gath said. "And we will find the money for parking. But it's not going to happen in the next six months. Money is so very scarce."
Meanwhile, last October, 1,650 county employees got a survey asking about their modes of transportation. This month, 240 of them got a follow-up survey if they had expressed interest in a pilot project called "Shifting Gears," in which the county will offer classes on getting around safely on foot and bicycle, among other things.
Joan Levy, the Senior Health Education Specialist with the county's public health branch, said by phone last week that the county received a two-year, $275,000 grant from The California Endowment to study the transportation behaviors of all county residents. The county employee surveys are just one part of it. Levy said of the 834 county employees who responded to the first survey, 2.9 percent said they bike to work most weekdays, and 15.8 percent said their secondary mode of getting to work is a bike.
"We're trying to just kind of motivate people toward more active transportation, you know, moving from place to place using their own body," Levy said.
Brunlinger's annoyed.
"'How do we talk to people about riding safely?'" he mocks. "'How do we talk to people about wearing helmets? How do we encourage people to ride?' It's all talk, talk, talk talk. And I'll tell you, after being in the private sector for 30 years, I'm not used to people endlessly talking. They can't just send these stupid surveys out and encourage people to wear helmets and ride bikes. They actually need to build a bike center and say, this is where you can park your bike. I just want bike parking. That's it."