From the outside looking in, the announcement came like the explosive crack of a falling tree limb after its center gives way, under too much pressure to bear its weight.
On Dec. 28, the eight to 10 people organizing this year's Eureka Women's March sent out a short press release announcing they would not be holding a rally on Jan. 19 in conjunction with hundreds of cities across the nation, where women and others will gather in a public show of resistance to the policies and rhetoric of President Donald Trump.
"The local organizers are continuing to meet and discuss how to broaden representation in the organizing committee to create an event that represents and supports people who live here in Humboldt," the release stated. "Up to this point, the participants have been overwhelmingly white, lacking representation from several perspectives in our community. Instead of pushing forward with crucial voices absent, the organizing team will take time for more outreach."
Within a couple of days, the group's announcement had made national headlines, with media outlets from The Washington Post and Fox News to Newsweek and Breitbart picking up the news and zeroing in on the phrase "overwhelmingly white." Some treated the story purely as novelty — the notion that a rural town with a population that's 75 percent white would cancel its march because the majority of the people who turned out were white. Others tied it into national news and reports that marches had been canceled in Chicago, New Orleans and Washington amid allegations of anti-Semitism. And some conservative pundits treated the news with a mix of indignation and glee, using it both as an example of "reverse racism" — what would happen if a march were canceled for being "overwhelmingly black," they asked breathlessly — and that the left is turning on itself, consumed by politically correct infighting.
A few days after its initial release, on Dec. 31, the Eureka organizing committee sent out another press release, trying to make clear its decision was about the makeup of the committee, not the demographics of the march itself. The organizing committee was entirely white, they said, and they feared that without incorporating the voices of people of color and varying gender identities, they wouldn't be able to organize an event that spoke for all women, especially those most vulnerable. Instead, the organizers said, they were doubling down on their efforts to form a more diverse committee, with an eye on holding an event on March 9 in conjunction with International Women's Day. The release included a statement from local NAACP chapter President Sharrone Blanck applauding the committee's decision.
"They want to do it right," Blanck said. "That means the organizers want to build relationships with the larger community of women so that the march actually reflects the diversity of experiences of women in Humboldt County. The organizers checked themselves. They want to do it right, not just have a march."
But, while some voiced support for the organizing committee's decision and attempts at inclusion, it quickly became apparent a large swath of local community really wants to march Jan. 19. On Jan. 3, a former Eureka city councilmember, Linda Atkins, filed a permit application with the city to put the event on in conjunction with cities throughout the nation.
"I heard that the march was canceled and I was really disappointed and I was looking for someone to come in and start it again and nobody did. So I did," Atkins said, adding that she really didn't understand the organizers' decision. "There was a problem with the organizing committee, they thought they should have had a more diverse group. But if they had been organizing for a while, why didn't they just do that?"
A few days before Atkins filed the permit application, several organizing committee members — Allison Edrington, Kelsey Reedy and Beth Wylie — appeared on KHSU Magazine to discuss their decision. Asked about people in the community who wanted to proceed with a Jan. 19 march, Wiley said she worried it had the potential to be a "divisive event."
"I applaud those who really want to march and I ask them to check themselves and ask what their purpose is in marching," Wiley said, adding that she hoped such introspection would cause them to join her and her colleagues in planning the March 9 event.
As the Journal went to press Jan. 8, Atkins and a small cohort of volunteers were busily planning for Jan. 19. While some enthusiastically supported the effort, others locally pledged to boycott the event.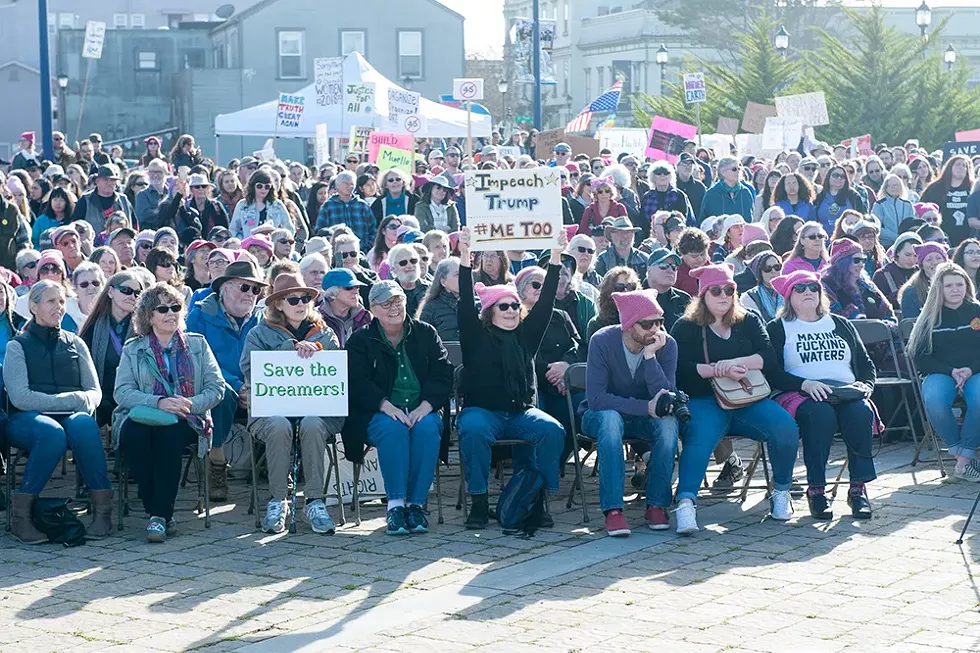 Photo by Mark McKenna
Demonstrators gather at the foot of C Street in Eureka to listen to speakers before the 2018 Women's March.
The first Women's March was held Jan. 21, 2017, the day after Trump's inauguration, planned as a public showing of resistance to the election of a presidential candidate many in progressive circles felt is simply anti-women. In what was heralded as the largest single-day protest in U.S. history, people flooded the streets in communities throughout the nation denouncing Trump's harsh campaign rhetoric — including disparaging comments about minorities and women — and to advocate policies of inclusion, reproductive rights and equity.
The unmistakable symbol of the march quickly became the "pussy hat," a nod to Trump's infamous "grab-them-by-the-pussy" comments in a leaked Access Hollywood tape. The hats, knit of pink yarn, have floppy cat-like ears on the corners, an effort to reclaim the term — one echoed by many march signs that read "This Pussy Grabs Back."
In Eureka, the 2017 march was planned in less than three weeks.
"By then, (Trump) had pretty much insulted people across all demographics — veterans, immigrants, people with disabilities, members of the media, people of all ethnicities," Julie Fulkerson said. "It was an endless onslaught of vulgarities and insults. A group of us who had spent entire lives fighting for human rights jumped in to organize the first march."
Fulkerson said the effort was largely led by Terry Uyeki (who declined to comment for this story) but included task-specific teams of volunteers.
"There were several subgroups who worked day and night to pull this off, everything from coordinating with police and fire and ambulance service, raising funds for equipment and toilets to making sure the speakers on the podium represented as many aspects of the community as possible," Fulkerson said. "We worked hard to make sure that everyone felt welcome in the march."
The march drew as many as 8,000 people, by police estimates, becoming the largest march or rally in Eureka history — eclipsing those held in recent decades to protest foreign wars, timber companies and immigration laws. It was heralded as a success, and many expressed that they walked away feeling empowered and emboldened.
After the march, Fulkerson said the original organizers went back to their lives, following other passions and causes, content to hand the march off to a new group in the coming year. A new organizing committee ultimately stepped forward a couple of weeks before the 2018 march and put it together on the fly.
While down from 2017, the turnout was strong again, with up to 5,000 people flooding the streets of Old Town to protest Trump, promote the #MeToo movement and advocate for women's rights. But almost immediately some fissures surfaced.
Photo by Mark McKenna
The 2017 march moves up F Street and turns down Third Street.
In the week after the 2018 event, some in the community voiced concerns. The speakers list was less diverse than the first year. It included a cisgender man and left some voices absent entirely.
Tina Sampay, a Humboldt State University graduate and member of the local NAACP, posted to the Women's March Facebook page about a week after the event: "As a black woman in Humboldt County I did not feel included or represented at that march. #DoBetter #WomensMarchEureka."
In a follow-up comment, Sampay lamented that organizers had only asked the NAACP about scheduling a speaker a "day or two before the event."
Edrington quickly responded. "That is a completely valid criticism of this year's march," she wrote. "We can do better. ... The organizing team was also distressed about this lack of representation of black women. Planning will start much sooner for next year's march so I am hopeful that we can get commitments from speakers earlier and include more people in the planning process, both to respect people's time and to ensure the facets of our community are represented."
Other issues quickly became apparent, too. Some said that the march — with its high turnout and visibility — was failing to bring energy to other local social justice efforts.
"I held out hope that my sisters' visibility and amplified voices on mic in front of hundreds of neighbors would mean more folks showing up to directly support explicitly anti-racist, pro-justice efforts being led primarily by women of color, young women, queer and trans women and non-binary folks," Leila Roberts posted to the Women's March Facebook page on Jan. 28, 2018, lamenting that "hardly anyone showed" for a pair of events that had been plugged at the march.
Reedy said she heard from people that the event didn't do enough to spur change.
"I received input from local individuals and groups ... that protesting the inauguration of Trump is missing the underlying issue when Trump is only a symptom of the larger problem of patriarchy, white supremacy and capitalism, which are all under the umbrella of colonization," she wrote in an email to the Journal. "This march is a single action event where all these women, particularly white women, get to mark the box of being 'politically active' and then are nowhere to be seen within the social movement world the rest of the year. Where are these 5,000 people when other marches/rallies/campaigns are happening for women facing more systems of oppression than patriarchy?"
Meanwhile, some also voiced that they found the pussy hats — the most visible symbol of the march — offensive. First off, they noted, the pink color didn't seem inclusive of people of color. Second, they said, the hats seemed to intone that a certain type of genitalia is integral to womanhood, leaving some transgender women and non-binary folks out of the movement. Finally, some Native women, including Tia Oros Peters, executive director of the Seventh Generation Fund, said they found the hats terribly offensive, given that after the massacres of native people in some places whites would cut off their victims genitalia to fasten to hats or belts as trophies.
When the march's organizing committee reconvened in late September to begin planning this year's event, it's clear all this was at the forefront of their minds. Edrington and Reedy both said members felt an urgency to broaden the committee and bring in a more diverse swath of voices.
"Primarily, our outreach consisted of connecting with individuals and groups whom the organizing team was aware of and/or connected to, and we used the Facebook group and our email list developed from the event," Edrington wrote in an email to the Journal, conceding that the group "definitely should have done more outreach."
When the committee reconvened for its second meeting, it was clear the outreach efforts had not borne fruit. Reedy said she then pushed the committee to commit to canceling the event if it could not diversify the committee in the coming weeks.
What's unclear — and what Reedy and Edrington didn't directly answer — is why the committee didn't opt to take their effort public, to issue a press release inviting participation or to let the community know the event was in danger of being canceled or postponed. The only thing intoning there were issues surrounding the 2019 event on the group's Facebook page was a cryptic Dec. 17 post by Wylie: "Our march is at a crossroads as we seek to create an event that represents all members of our community. Come help us decide the march's fate." It invited people to attend a meeting the following day.
It's also unclear when the final decision not to hold the Jan. 19 march was made. But when it was announced Dec. 28, the backlash from some circles was fierce.
"Some individuals (on the committee) have been getting an influx of hate mail, primarily from white men out of the area, and at least one person has received death threats," Edrington wrote.
There was also an uproar locally from some who — like Atkins — expressed the feeling that the Women's March was being taken away from them.
Photo by Mark McKenna
A group of Native women near the front of the 2017 march.
The controversy surrounding the women's march — both locally and nationally — shouldn't necessarily be surprising, said College of the Redwoods political science professor Ryan Emenaker.
"This is a common struggle with social movements and event planning that is looking to promote social change," he said. "The first one, sometimes it's enough to just have people be in a space together to vent frustrations. But after you've done that, people start to look for more than a parade or a rally and start asking, what are we doing to push things forward? The first year is always easier because people are happy to grab a sign and show up."
One of organizers' biggest goals in holding these events is to galvanize people, to inspire them to do more. But by their nature the organizers are almost always more invested than the majority that shows up to these very visible rallies and marches.
Emenaker said this was a recurring issue in the civil rights movement, when organizers would struggle to get handfuls of people involved in actions, sit-ins and protests only to see thousands show up for a speech from a notable leader, like Martin Luther King Jr.
"The infighting between organizers and others engaged, that's one of the common themes throughout all social change work," he said. "It's how you then address and deal with that. Sometimes, I guess, that's canceling a march and other times it's probably keeping it going."
And sometimes, apparently, it means divergent factions, each doing what they think is right.
For her part, Atkins said she attended last year's march and walked away energized, and wants folks to have a similar experience this year.
"It was just an amazing coming together from all the different communities that make up Humboldt County, and it was a time when people were talking to people they didn't normally talk to," she said. "It just felt really good to participate and I didn't want to see us not have one."
As to whether the event will prove divisive, Atkins said she's not concerned.
"We really want everyone to join in, in the march and the rally, and there's no barriers to anyone doing that," she said. "I'm not trying to create any division. I'm just trying to bring people together. ... It's a fairly simple thing."
Simple, in this case, is clearly in the eye of the beholder. After Atkins' announcement that the march was back on, Oros Peters took to Facebook.
"This region has serious wounds," she wrote. "There are many deep holes — vacancies in the thinking and actions of people of this area who consider themselves progressive, or even 'woke.' This is especially in regard to bringing into public discourse and most importantly into positive action remedies for the issues ... regarding Indigenous Peoples and, also, the unresolved murder of a black student, Josiah Lawson ... There has to be more than a sea of smiling pink hats with pats on their own backs for an annual walk around Old Town, while silencing, marginalizing and ignoring real issues of justice and ongoing colonization.
"I am boycotting the Eureka Women's March. I encourage all Peoples of Conscience and Honor to do the same. No justice, no peace."
Thadeus Greenson is the Journal's news editor. Reach him at 441-1400, extension 321, or thad@northcoastjournal.com. Follow him on Twitter @thadeusgreenson.