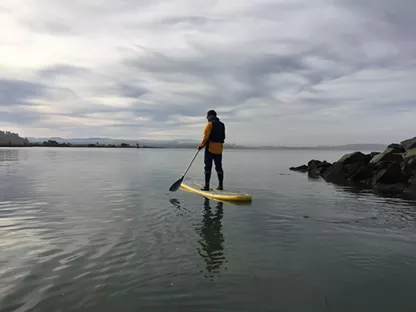 Photo by Peri Escarda
On the water in King Salmon.
With the smell of coffee wafting from a nearby restaurant, we place our paddle boards on the glassy surface of Humboldt Bay. Earlier that morning, my husband had woken me and suggested we take our boards out to the King Salmon canals. Now he waits until I am safely launched before pushing his board out to join me. I smile at him, suddenly glad that I decided to come along. I didn't sleep well the night before, woken — as I had been many nights of late — by worrisome thoughts regarding our nation. Just a few weeks ago, I returned from the
Women's March on Washington D.C.
, filled with hope and inspiration. But as my Facebook feed blew up with links to articles, as I listened to the interviews of immigrants and refugees on the radio, and as I talked to people directly affected in our community, a debilitating anxiety threatened to rule my thoughts.
I adjust my feet on the board in rocking steps that send gentle wakes out into the marina, breaking up the reflection of the stony seawall. I take up the long pole and, reaching across my body, dip in my oar and pull. My board responds with a light skimming over the water. A seagull lands on the pier and offers me its sideways glare as we glide by. We pass the chatter of patrons on the deck of Gil's by the Bay and turn the corner into the canal.
As we pass the jumble of brightly colored houses and docks that line the canal, I review my pledge to carry the activism of the March forward. I have written letters, signed petitions, made donations, emailed and phoned elected representatives. In my job in the public schools, I have cared for the children of immigrant families, offering all the compassion and support that my heart can hold. These things I will continue. But at 3 a.m., one thought awakens me:
It isn't enough
. And then:
What more can I do?
Those few Saturdays ago, I was in our nation's capital, listening to the thundering voices of thousands. This Saturday, there is only the splashing water, creaking docks and morning birdsong. Remembering how our voices rose up in protest, I marvel at how easily our new president ignored our chants with his series of executive orders, cabinet picks and Supreme Court nominee. Many have wondered if protest marches effect any real change and a cynical voice inside me wonders if they are right.
I lift my oar from the water and sink to one knee, resting in that memory. I read the names of the boats around:
the Corazon De Acero, the Marsha, the Dixie D
. Some of them gleam with polished care, while others drift derelict. But all linger here together, waiting for someone to steer them back out into that heaving sea. I feel a great impatience. Safe harbors exist to revive us but we cannot stay sheltered forever.
I stand, dip my oar into the water and pull forward, leaning into all the work yet to be done.
A Starting Place: Resources to #Resist