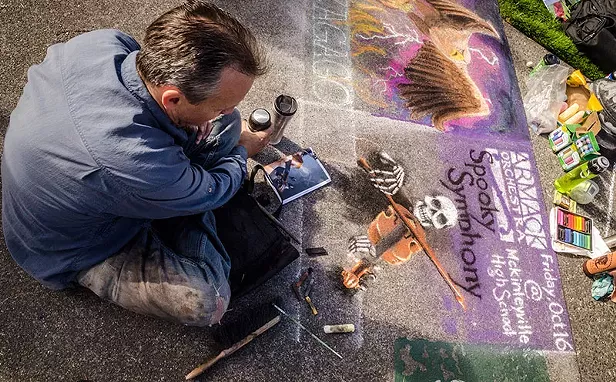 Mark Larson
Artist Mike Craghead has teamed up with the ARMACK Orchestra for over 20 years to create its sidewalk art.
Mark Larson
Jessica Slayton (foreground), Crescent City, makes her debut at Pastels on the Plaza, having been asked by the owner of Libations to create the business' sidewalk square after showing her work there.
Mark Larson
Zina May, 3, of Arcata, does some informal but creative pastel work on an available curb.
Mark Larson
Autumn Indrebo, McKinleville, finishes off her client partner's name below her dog portait. This is her fourth year participating.
Mark Larson
The logo for Primal Decor re-created in pastel.
Mark Larson
Deanna Sanders, McKinleyville, sits back and relaxes by playing her ukulele after completing the Humboldt Ukulele Group's sidewalk square (with the help of Robert Franklin, Eureka (not pictured).
Mark Larson
Trevor Shirk's vivid pastel rooster.
Artist Mike Craghead incorporates the ARMACK Orchestra's theme for its Friday, Oct. 16 performance in his design.
Mark Larson
Cartoonist and Journal contributor Terry "Torg" Torgerson's imaginative piece for his client, Pacific Builders.
Mark Larson
The Shanty's image by Dane Orchard, Eureka.