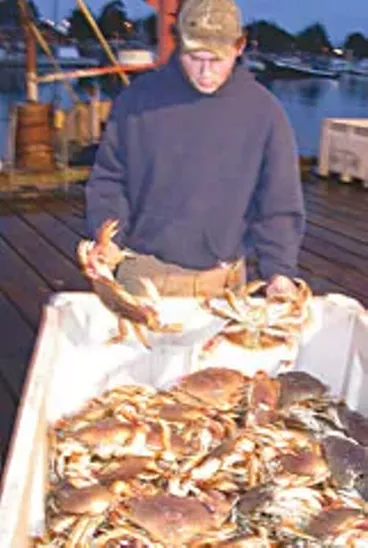 11 slides
Weathervane
Almost 6 p.m., dark. Two of the resident boats at Woodley Island Marina have strung Christmas lights from their masts, Vs of cheer hanging upside down in the blue-black night. Other boats lie dark, or with one white spotlight ablaze to aid a last repair. Except on Dock B, where a broad yellow glow suffuses the bulk of the Jenna Lee. A stocky, wary-eyed black dog on board the boat puts his paws up on the edge and sniffs. He's just being friendly, says 19-year-old Jenna Lee, who's cleaning up the cabin and trying to close shop for the night.Her dad, Kevin Pinto, goes out all day to pull in crab, which he drops off in the afternoons at the dock for his daughter to sell. Theirs is the big square yellow "Live Crab" sign on Highway 101 south that you see as you enter Eureka.
"The first weekend was out of control," she says. "Tons of people down here. We sold out the first day."
Dead calm tonight. The only things blowing around are small, flash-white killdeers, calling out plaintively as they mimic scraps of paper in the grass and parking lot next to Woodley Island's sparkly marina. Jenna Lee says she can't wait to spread her wings, branch out, get out of Humboldt. But she says it like a Humboldt girl, smiling around at the familiar sights she loves. To the south, the pulp mill down on the north spit glitters from every window and its white steam plumes rise straight up into the night sky, unwavering.
"Someone said, when the pulp mill plumes are parallel to the water it means strong winds," says Jenna Lee. "Straight up, it's calm."
The plumes are straight up. Anyone looking to that lone mill on the north spit — it and the anachronistic woodchip power plant, sputtering nearby, so squarely out of place amid the stripped post-industrial lots, the run-down former company houses, the lumpy dunes stalled by beach grass — might shiver as if sensing a ghost before nodding, yes, the white steam plumes corroborate what the weather service says.
Even so, the pulp mill plumes can't help much beyond plain weather. They can't speak of ill winds between processors and fishermen. Nor predict oil spills and late openings. Or whether your wife is going to leave you. Or if your buddy will have more crab pots than you this year. They certainly reveal nothing of what goes on below the wind, under the waves on the ocean floor: can't tell you how many sad-eyed crabs will wander into your round, wired-cage traps lured by gory bait, or how many small ones will wander back out the escape holes, or whether any crabs of any size are even around to do any wandering in or out at all. As far as the plumes can tell, you might just catch a pod of sticky starfish, or moonglow.
But the crabbers know some of this, by now. They've been out there, crossing the bar — in all weather, bucking through the gnashing maw of Humboldt Bay's entrance — or, if they're moored up in Trinidad, gliding by Prisoner's Rock and around the Head and on 'til they've cleared Pilot Rock. Out there in the open sea, night and day, dropping pots, pulling pots. A pot heaves up, about one a minute, and the moment of truth...
Bloody Mary morning
Leo Vargas and his remaining crew, John Willis and Jeff Kostick, are tabled up at a sunny window inside the Woodley Island Marina café. It's just past 9 a.m., and a mocking sunshine glitters on the harbor; the pulp plumes tease, slanting a little to the northeast. Good day for crabbing. But a storm is coming: 15 to 25 knots with gusts to 20 to 30, seas at 14 feet, that's the prediction.
Sabrina, the waitress, writes fast while the boys order big but not ridiculous: modest variations on a theme, eggs, toast and hash browns.
"You want a beer?" Sabrina, who's young and blonde and once married a fisherman, asks Kostick. Yeah. "A Bud?" Yeah.
"I'll have a Bloody Mary," says Willis.
"It's his birthday," Vargas says. Willis smiles, blushing. "He's 40 today. And I'll take Baileys in my coffee," he adds as Sabrina walks away.
She's back quick enough with the drinks.
The only other patrons are some white-haired couples sipping their coffee — eating up memories of a different, rougher, busier port, perhaps. Admiring the pretty-boats view.
"Can I have that?" Kostick asks Willis, eying the feathery celery stick propped in Willis' drink. Willis says he isn't gonna eat it. "Yeah, baby, come on," Kostick says, grabbing the celery and taking a chomp. "That's what I'm talking about."
Around 1 or 2 this morning, out at sea, Vargas lost his temper. That was unusual for him. In fact, his was a happy boat: rock 'n' roll music blasting all day, good grub. "He's one of the best bosses I ever had," says Kostick. "Down to earth, laid back, works with a person, doesn't yell or scream, isn't a prick."
"And he tells good stories," says Willis.
"He's got the best stereo on a boat I've ever seen," says Kostick.
Vargas, Vargas — is it Spanish? "I'm Portuguese, Cherokee and, right now, Dumb Mutha," Vargas says.
Earlier today, out on the ocean in the cold dark a.m, when he lost it, Vargas decided he was done with this stillborn season. Just two weeks into the first month of it — usually the most profitable time — and he'd had enough. It'd been one thing after another. Back in November, he and his crew ran the Miss Hailee from Fort Bragg, her home port, down to Pt. Reyes, thinking they'd crab there once that season started on the 15th. But the oil spill in San Francisco Bay gobbed those plans and the season, which traditionally starts earlier than the North Coast crab fisheries', was delayed. So the Miss Hailee hightailed it back up to Fort Bragg and tied up to wait and wait and wait. That was two days running, 16 hours to the city and 16 hours back, 200 gallons of fuel each way. "And nothing to show for it," says Willis. Plus, says Vargas, he bought $1,358 in groceries — crew's gotta eat. So then they figured they'd just do the season up here in Humboldt — which started with a nasty bluster at midnight on Dec. 1. And, the other day, one of his crew members quit — bad attitude, didn't want to work.
But the worst of it? The pots were coming up crab-shy.
"Let me put it this way," says Vargas. "Fuel's $3.54 a gallon and we burn 200 gallons a day. Bait's 85 cents a pound. We get two bucks per pound of crab. And this last string of pots we pulled averaged two crabs a pot." A Dungeness crab that's legal to take — male, and at least 6 1/4 inches across — weighs about two pounds. A decent year, they'd get maybe 25 to 30 per pot. And, in a really good year at the start of the season, like in 2004, he's seen a pot stuffed with 50 to 60 crabs.
"Everybody I talk to is belly-up," says Vargas, who has 340 pots and, this last trip out, caught just 3,200 pounds of crab after three days straight on the ocean moving gear around and running some of the pots twice. "Crab fishing's in the numbers. Yeah, there's scoopers with 800 pots, 1,000 pots. They can cover a lot of area and can let their gear soak a few days while they pick up other pots."
So Vargas is stacking out — quitting. Another storm's coming and he still has 190 pots sunk at 9 fathoms — 54 feet, just inside the tumble zone in a big storm — to retrieve before it hits. But first he and the crew have to unload the empty pots already piled on Miss Hailee to make room, and for that they have to wait until the afternoon when the boats in line ahead of them in port have unloaded their gear. Wait, wait, wait.
After they clean out the rest of their pots they'll head back to Fort Bragg. "I'll switch to dragging for groundfish," Vargas says. "That fishery's really come back. I feel for guys who don't have something to turn to. ... I'll pick mushrooms if I have to. I like picking mushrooms. And I like being home for Christmas. I just don't have good luck crab fishing. It just seems like it's a lot of grief for me."

The clattery night
At the Caito Fisheries dock, foot of I Street, just as the sun sinks, here comes the Aimee June. Slides up to the edge, ties off. Soon two guys down in the boat are scooping large, grasping crabs one by one from the hold and dropping them into a rusty metal bucket suspended from a crane. Scoop and slosh, scrape and scrabble in the watery hold, crowd-panic and no escape. The scrabbling continues in the full bucket, so now there's surround sound. A man on shore cranks and cranks on the crane until the bucket swings over the broad, wood-planked deck. Two men grab the bucket and heave — it tips, whining and clanking, over a white plastic tote and the crabs cascade from one prison to the next. Scrabbledy-scrabble, scrape scrape. If you close your eyes and ignore the fresh breeze mingling with the stench of old bait and the odd sugary fish-tang of crab and just listen, it's like a horde of puppies slipsliding and racing, ears over toenails, across a polished wood floor to scratch at a closed door. An oddly comforting sound. But nightmarish once, eyes open, you see another bucketful tip and another waterfall of crabs — long legs and pinchers and tiny black-bead eyes — pour onto the ones already in the crate. Claustrophobia. A crab misses the tote and lands with a loud clack on the planks, begins to creep jerkily away; a muscular, tall, manly man leans over and tentatively plucks at the crab then flinches at the swinging claws and pulls back, dropping it. He reaches quickly again and nabs it, drops it into a tote.
A worker steers a forklift over, lifts and stacks the totes, and hauls them into the lit-up processing warehouse.
It's full-dark now. The spotlights blaze on — all is bright orange crabs and rubber overalls, glowing white crates and pearly blue-black sky. Appearing from the land-side of night, Paul Huddleson backs his pickup down onto the dock. He's not a fisherman, but he's got friends on the water. He opens the back of his truck and drags out a slatted wood crate full of glum-mouthed black cod heads — special delivery bait for the skipper of the Aimee June. "I have some friends that black cod fish," he says, "and they were kind enough to lop off the heads."
The skipper and a crew member pick up the wood crate and carry it dripping across the deck to the boat, leaving a river of red in their wake. "Ooh, the blood trail," says a man, with relish. "The blood trail!" A guy in green rain gear points an orange high-power hose at the trail and sprays it to smithereens, redistributing bloody water to air, bay and bystanders.
The Albatross, a small boat, comes in from the channel. Sliding in behind her is the large Sea Wolf: white hull, pretty woodwork. More scooping, sloshing, scrabbling. Men in rubber boots and slickers shout "Up!" or "Coming down!" Forklifts beep and rumble, a juvenile gull hop-walks out of the way. Colors reflecting in the wet wood deck merge and shimmer. A gull flying low under the deepening sky barks. Just one more boat comes in — and that's it for the night, shouts a dockhand.

Talk
Morning again. Sunlight on Humboldt Bay, painfully blue sky, hint of fog around the edges. Water calm and just a-sparkle, like there's nothing but good news out there beyond the skinny strip of town-flanked friendly channel, past the tricky bar and into the wide open.
A black and white grebe folds into the scummy green between docks at Woodley Island Marina, bobbles back to the surface with a splish. Tucks under again. Three grizzled fishermen shoot the shit at the end of a pier. Ropes and masts, bright hulls and flags, foamy water, a plopping seal gliding smooth-gray and serious-eyed along the ends of the boats and beyond the facades of spiffed-up Old Town: a colorful backdrop. One says, he was all over the papers, made the front page, a couple decades back. Smuggling pot. Used to fish — crab, salmon, a lot of things. Retired now. People thought he was the ringleader of that marijuana deal, but he wasn't. No, the attention didn't bother him, he thought it was fun. Got nothing to say about crab. Try that guy over there, he'll talk.
No, he won't. The season's belly up, the guy allows. Hands busy, transferring red plastic bait jars from boat to bin on the dock, shifting other gear, hosing bits of squid flesh off the deck. Filthy water gushing through the scuppers into the harbor. Nope, he's got nothing to say. Likes to be low-key. People will say he has a big mouth.
Oh, but there's so much anonymous muttering on the docks. Not just about the low crab turnout — that's just nature, anyway, part of a seven-year cycle they say and this year could be the nadir. No, the reason a lot of fishermen don't like to speak out is because they'll complain — say, about the processors — or say something controversial — like, about trap limits — and then they'll get in trouble. It's like a real small company town that way: Keep your head down.
This day, most of the boats are in at Woodley Island Marina. It's supposed to be choppy out on the ocean, but it's sunny calm in the bay. No matter. "We're going to be off crab soon," says a skipper on a just-moored boat. He'd rather not give his name. "Over half of what's going to be caught in this port's already been caught. It's the way it works." It just isn't worth it to go out in iffy weather.
He warms to a rant:
"We're still fishing for crab at $2 a pound, and we're not seeing any price raises, and we're probably not going to. In 1985, the price was $1.50, and in 2007, the price is $2. In 1985 fuel was 69 cents, and now it's $3.50. We used to have things called associations, and they were strong. Used to be everybody paid two cents a pound per crab to maintain the association."
"And there used to be unity," says another guy helping unload the boat. "Everybody used to stick together."
That got busted up, and eventually one big fish processor began to gobble up the scene: Pacific Seafood Group, which has buying stations in ports from Washington to San Francisco, including Pacific Choice Seafood in Eureka. (The Register-Guard of Eugene, Ore. just did a series on the company last week, called "Big Fish in a Big Pond.")
"There are very few processors now, so there's no competition — largely because there's one dominant processor, a very, very monopolizing company. But don't say I said that — we need to unload this product. But just look at their corporate profits; they're doing very, very well. Here's an example of how we're getting screwed. Whole, cooked crab are going for $4.99 a pound, that's the cheapest I've seen. And here's the problem: We're getting paid $2 a pound. And all those people have to do is cook 'em and wrap 'em. Five bucks."
A couple years ago, crab season was delayed while crabbers and processors haggled over what price to set.
"Bottom line is, nobody knows what's out there until we go fishing. So it's really hard to get a good starting price for us."
And then there's the added stress of the rising competition from fellow crabbers. Some Humboldt State University professors did a survey a few years back that concluded the crab season in California has become like a derby, especially chaotic and fast at the beginning of the season, when most of the crab get caught, because there are no trap limits. Catch as many crab as you can, as long as they're male and of legal size. It's become a race to get as much gear — pots — in the water as fast as possible. The only limit is on the number of boats — you can't just gear up any old boat and go out there; it has to be one of the permitted crabbers. So every year there are more pots in the water and the crabs get caught faster and faster. The competition also causes crabbers to go out in unreasonable weather. So maybe California needs trap limits like they have in other states.
Ooh, but careful bringing that up at the marina. On deck the Pacific Seas one night, the skipper, Tommy, and his friend Alan Baird hedge around the topic.
"Oregon now has pot limits," says Tommy.
"This is the last state with no pot limits," says Baird.
"It means we have to keep getting more pots," says Tommy.
"But this is a real touchy issue," says Baird, backing away from it.
"There've been fistfights over this," says Tommy.
"But if everyone had less pots, there'd be more crabs in the pots," says Baird.
The life
Midday, another sunny day, and Alan Baird is back at his own boat, the Lora Lee. He bought it from Tommy, actually, three years ago. But he's fished for years, fell into it in Alaska after leaving Scotland, where he grew up, and backpacking around the world. One year, he spent 11 months in the Bering Sea on a freezer boat — it had no need to go into port.
"I like the ocean, I always have," the 49-year-old Baird says, his accent blurred by years in the United States. "I can tell you what grabbed me: The first time I ever fished for black cod, I made $4,000 in 24 hours. I'd never made that kind of money."
His crewman, Leonard Daniels, comes over and lounges on the boat's side.
"He's a good man," says Baird. "He saved his uncle's boat a couple years ago from sinking."
"It was my dad's boat, actually," says Daniels.
"Tell the story."
"We were going into Shelter Cove, salmon fishing, the shaft broke and the boat was filling with water, and I stuffed some rags and screwdrivers into the hole, packing it."
"He's being modest," says Baird. "He was doing this while he was up to his neck in water."
Anyway, the Coast Guard towed them back to Fort Bragg.
Baird's splicing a rope, listening, his hazel eyes serious. He starts talking about home — in Weaverville. He and his wife, who works in Redding, live in a straw bale house Baird built several years ago. "Two-foot-thick walls," he says. "The first thing I ever built of my own. Passive solar."
Then he gets to what's troubling him. When it's crabbing season — or salmon in the summer — he's not there. He sleeps on his boat in Eureka, and goes home on weekends if he can. "My wife is getting tired of it," he says. "She's not happy."
Over on another crabber's boat, a blue heron stands folded and contained, stiffly at attention. It looks stuck. Or indecisive. Probably it's just resting.
Up the main dock, inside the Café Marina, bartender Sarah Henderson tends to a lone, white-haired customer. Now and then, she looks out at the bay. Her long, dark hair is pulled back and big, shiny red reindeer earrings dangle at her cheeks. Her eyes are kind — she listens a lot. Crabbers will sometimes tell her where they found a sugar hole, where the crabs are plentiful. She never passes it on — and she's only heard of one, this year. It's been tough, starting with the windstorm the night of the season opener. A lot of crab pots turned upside-down, or disappeared. Now, with the crab already about half fished out, a lot of boats are coming into port to wait out even the hint of a storm. As the saying goes down here by the water, there's a fine line between tough and dumb. Good crabbing, bad weather be damned. Bad crabbing — well, it's not worth the risk.
"They're really good men," says Henderson. "They're even-tempered. They're the last of the adventurers. It's like they're the last cowboys. They're out there for days, and you feel sorry for some of them because relationships are really strained because they're out there so long. I hear a lot of stories about wives who have left. And I don't think a lot of 'em's got wives. It's a tough life."

Trinidad
You could actually see the pulp mill from up here in Trinidad if the ocean wasn't fogged over today. But it's such a different world here anyway, so who's looking. There's the one long, broad, wood-plank pier owned by the Trinidad Rancheria. It's picturesque — and old and rotting, and the tribe's going to replace it with a modern concrete number come August of the new year. On one side of the pier, next to big Trinidad Head, people sitting in the little shoreside restaurant can sometimes watch seal families, the babies lolloping alongside the adults, splash about the calm inlet. On the other side of the pier, next to Little Trinidad Head, it's constant wave crash, loud, the green-white marbled water racing in and out, spray wetting the succulents gripping the rock's vertical walls. Aways from the rock, masses of bulbed kelp rock in the current. Around the corner is more of Trinidad Harbor. Some boats are moored offshore there, and a few bob in the water between the dock and Prisoner's Rock. Their owners get to shore in small skiffs or dinghies, after unloading and loading at the pier.
Despite the fog over the water, sunshine floods the dock this Friday; the dock is sleepy. Fewer than 20 crab boats moor here, and most seem to be out working right now. Several recreational crabbers have dangled their netted pots from red lines over the pier's edge into the water beside the pilings. A group of men gather around as one of them hauls a pot up: A lone red rock crab — smaller than a fat orange Dungeness by a mile — huddles in the net next to the grotesque lump of raw pork roast that sealed its fate. A man takes a dollar bill out of his pocket and holds it against the crab — yep, it's legal. For red rock, the limit's 4 1/2 inches across.
Not exactly a haul but the men, gripping their diet Cokes and Hamm's cans, seem happy.
Down at the end, where the commercial operations take place, the dock workers loaf in the sun next to the glassed-in little office, waiting for a boat to come in.
"A couple of years ago we sent off about one million pounds of crab," says Craig Richardson, the harbor manager for the Trinidad Rancheria. "This year, so far, we've probably unloaded maybe 70,000 to 90,000 pounds."
The season runs until July 15, but most of the crabs get snapped up early on. "It could actually be over next month," says Richardson. January.
But nobody here seems grumpy. Sun's out, anyway. "I get to deal with a lot of really great people," says the harbor master. "And this makes for a great office." The bay, the sea stacks, the splashy soundtrack.
Finally, the Sundown comes in. Skipper Mike McBrayer nudges her against the end of the pier, and everybody helps him unload his catch — just a couple hundred pounds today. With the big storm coming in this weekend, he and his crew were mostly just moving gear around, shuttling pots out of mudholes and into deeper water. "Beats punchin' a clock," he says, smiling. "Especially if you own your own boat."
He's got a good crew this year, he says. There's this young guy, just out of the Marine Corps, who moved here from the high desert in the fall to study marine biology at Humboldt State University on a Veteran's Upward Bound scholarship. That program sank, so he thought he'd get an ocean job. And this other young guy — dark-haired, nice smile, silver chain around his neck and wiry know-how looks — two years ago the Sundown almost lost him. It was his first year crabbing.
"It was about 4 a.m. and we were coming around the Head and the boat was listin' and pitchin'," recalls Mike Van Duzer; he's a local boy, family's been here since the Gold Rush. "And I had a heavy tote of bait in my hands and I just got off balance. The railing hit the back of my thighs, and picked me up, and threw me over. The other deckhand, Steve, was standing right next to me."
They swung the boat around, fished him out of the dark with a buoy stick and warmed him back up. "Next day I went back out. It's what we do."
Ruby Rollins, who grew up on the rancheria, comes out of the little office where she works alongside the weighmaster. She's been on the dock for seven years. One of her sons is a crabber — he's out there now. Another son works on the dock. Her daughter works at the casino, up at Cher-Ae Heights. Rollins worked there once, too, but this is much better. She's done everything: flipping bins, weighing them, driving forklifts, and now jotting down catch data and such inside the little pier-end office with the big windows.
"We've had orcas come in here. Last year we had 150 Risso dolphins. They're rare. And last year, on Mother's Day, we had a cow and calf — gray whales."
The worry can get to her, though. "Sometimes it's a blessing and a curse to work with your kids," she says. "Especially when the boats come in late, and last, and it's dark, and you're worried about your kid out on the water. And the other kid's on the dock, and someone drops something, and you wonder, 'Did you just crush my son's hand?' The other scary thing is when you see the Coast Guard helicopter go by."
Moon
Night, again, at the Woodley Island Marina. The pulp mill glitters down on the spit; its spotlit plumes billow near-level with the water, wads of puffwhite breaking off and racing north. Sky's clear, still, though. Wires clang and ring against masts, wind whistling low among them. Wives and girlfriends and children have walked down the skinny piers to find their fisherfolk, and then walked back up to the land and gone home. The few couples out here still, like Marge and Steve Salo of the Jeanette P, have finished sundry repairs and are now staring at the pretty moon and shivering in the sudden sharp cold. Killdeer sweep low and land running in the grass behind the workyards, calling out. Gulls, one after the other, slice overhead, each one letting out a rough short bark into the wind. The fat quarter moon hangs above the masts and wires. Later on it'll be vanquished by the fogbank and then, perhaps, will hook its horn into the heaving sea and sink down, down to the ocean floor.