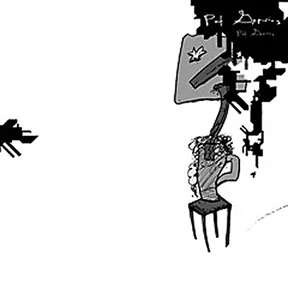 CD by Pet Genius.

Hydrahead.
From the primal angst of Cave In to the quirky pop meanderings of his numerous side and solo projects, Stephen Brodsky has always displayed a penchant for inspired and inventive songwriting. What is baffling, however, is that outside limited circles of the indie underground, Brodsky has not received the success and accolades enjoyed by the likes of Jay Reatard and Ted Leo. It seems quite a shame considering his tireless work ethic and superior musical savvy. With his latest contribution coming in the form of the eponymous album Pet Genius, Brodsky flips to a new page in his repertoire and once again proves his worth.
On a self-proclaimed mission "to play pop songs way too loudly", Pet Genius blends tuneful melodies with the kind of reverberating fuzz that saturates the stereo speaker and warms the listening ear. The band wastes no time in answering their own call by opening with the infectious groove of "Doomsday," a song that combines a swinging vocal performance with nimble guitar harmonies and a heaviness usually reserved for today's desert stoners. It sets expectations high and establishes the band's desire to stay loose and let it rip. Of course not every track is inclined to repeat this formula, but it does highlight the album's overall versatility.
As the band would surely attest, Pet Genius derives much of its pop sensibility from the British Invasion, owing as much to Ray Davies' charm as they do to young Paul McCartney's sharp falsetto, especially apparent over the gentle strumming of "The Visiting Dynamiter." Not quite content wooing their audience via catchy hooks, the group balances its sound with a generous helping of riff-rocking power chords. It's an approach best demonstrated on "Man of the Mountain"s ability to smoothly transition between thundering doses of guitar madness and melodic folksy bliss.
Never one to take himself too seriously, Brodsky is quick to display sharp wit through his tongue-in-cheek delivery and clever word construction. Lines such as "a weeping willow waltzes to some murder ballad now" and "chocolate milk day / my retainer went straight in the trash" are the kind of lyrical musings found sprinkled throughout the album and remind us that music is supposed to be fun. Brodsky's seeming fixation with all things celestial emerges as the band ventures into space rock territory with "Erase the Speed of Time" and "Cosmic Erosion," tracks that could have easily figured their way on to Cave In's Jupiter but fittingly appear now as dreamy interludes setting the stage for the disc's final tracks.
Pet Genius is anchored by formidable performances by Johnny Coolbreeze on bass and JR Conners on drums. Conners, reunited with Brodsky for the first time since their Cave In days, is given a chance to step into the limelight on an oddball instrumental titled "Trash Heap Swing" before the band ultimately makes their way to the disc's best composed track, "Scrapyard King."
Some may be quick to claim that Pet Genius lacks the originality of Brodsky's previous endeavors, but I believe such commentary is slightly off the mark. Granted, tracks like "Walls of Etiquette" and "Chromatic Blues" tread on ground laid out by Queens of the Stone Age. And yes, the album's lo-fi vocal recording invites comparisons to bands like The White Stripes, but I'm not sure these observations have as much to do with originality as they do with the timelessness of rock 'n' roll itself. After all, aren't Josh Homme and Jack White performing a similar role by maintaining rock's legacy through their own musical expression?