More than 600 runners and walkers lined up under warm, sunny skies in Trinidad on Saturday afternoon for the start of the 56
th
annual Trinidad to Clam Beach Run ­Honoring Ford Hess. The race, which was canceled last year due to the pandemic, was shortened to 5 ¾ miles this year and followed the usual route along Scenic Drive, splashing through the shallows of Little River and ending at Clam Beach. (See the slideshow below for highlights.)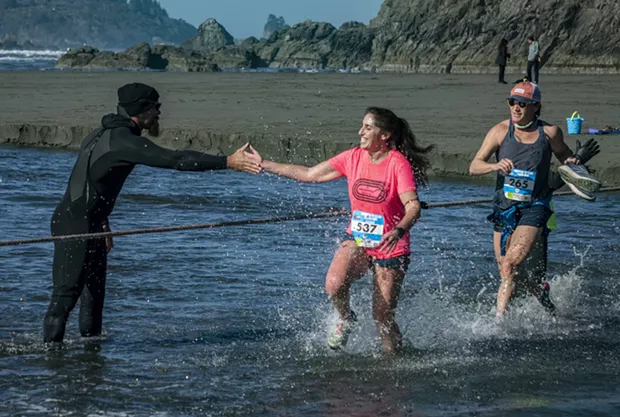 Photo by Mark Larson
Laura Holt (No. 537), of McKinleyville, splashed her way across Little River and finished in 12th place among the women.
Josiah Tostenson finished in first place with a time of 30:44, followed by Micah Clemons and Todd Rose. Alexandra Sciocchetti had the best women's time of 34:30, followed by Ryley Burton-Tauzer and Lindsay Siebert. See all results
here
.
The finish line featured the usual post-race snacks, hot chili supplied by Brett Shuler Fine Catering and live music by the Cal Poly Humboldt Marching Lumberjacks band. The musicians ended the day with their signature rendition of "Rubber Duckie" as they headed west for their traditional quick dash into the ocean.
The Trinidad to Clam Beach Run was started in 1966 as a winter training race by Ford Hess, the then Humboldt State University Track and Field Coach, as a way to get his runners in shape for the coming season. Race organizers hope to bring back all the usual race distances of 3, 5 ¾ and 8 ¾ miles next year.

Mark Larson (he/him) is a retired Cal Poly Humboldt journalism professor and active freelance photographer who likes to walk